Sweet Potato Mustard is a must make condiment for any sweet potato lover. It's quite famous at Jack's Cosmic Dogs in Mount Pleasant, SC where their Cosmic Dog comes with sweet potato mustard and blue cheese coleslaw.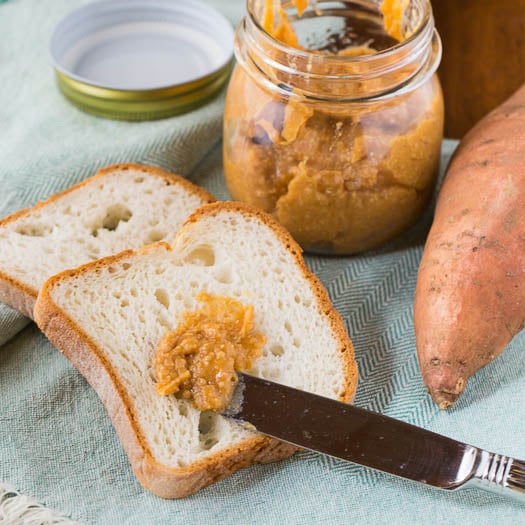 Yesterday I shared a Blue Cheese Bacon Coleslaw recipe that's my interpretation of their slaw. There's doesn't have bacon, but who can object to the addition of bacon to anything? Not me.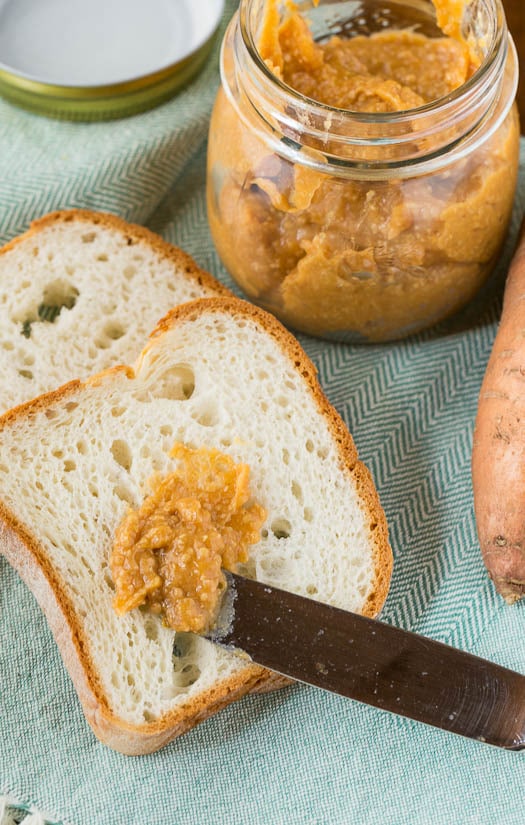 If you're ever in the Charleston area (and everyone should be at some point in their life 🙂 ) go to Jack's Cosmic Dogs and eat a dog or two.  Alton Brown of the Food Network declared the Cosmic Dog to be one of the best things he's ever eaten.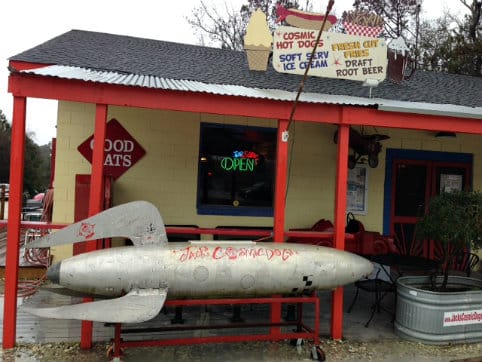 Now I have no idea how they make their sweet potato mustard. The recipe is probably hidden in one of the rockets and missiles that decorate the restaurant grounds.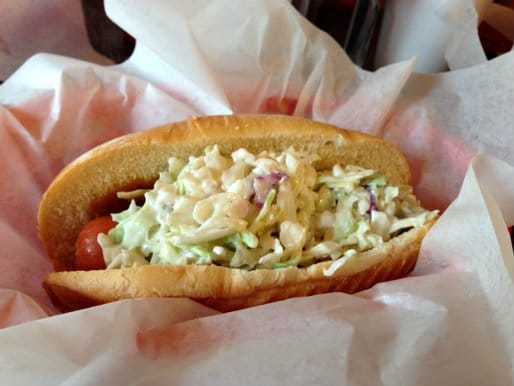 Cosmic Dog at Jack's
But I knew I wanted to make sweet potato mustard, because you have to admit, it sounds like one of the coolest things ever right? I searched the internet and found a wonderful recipe for sweet potato mustard from The Runaway Spoon. By the way, the blogger behind The Runaway Spoon blog just published a cookbook, Pimento Cheese: The Cookbook: 50 Recipes from Snacks to Main Dishes Inspired by the Classic Southern Favorite
. I totally spent 20 minutes at Books a Million last week crushing over it. It's at the top of my Christmas wish list. 🙂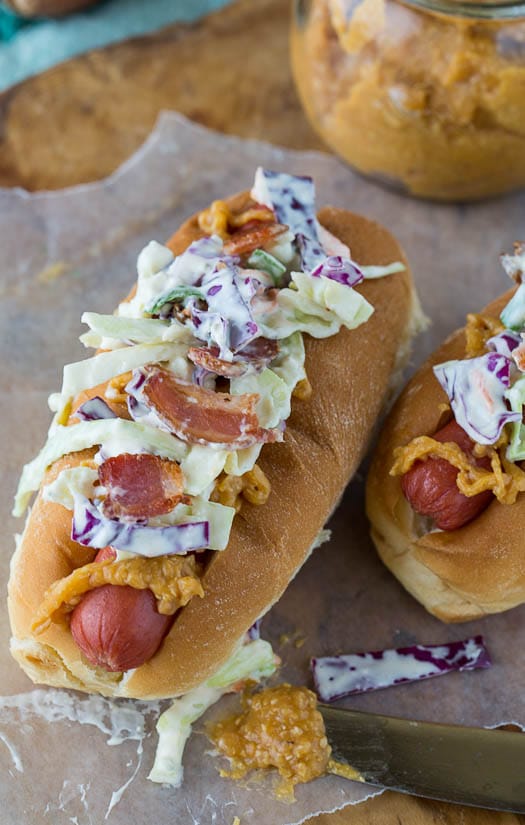 Anyways, I made the sweet potato mustard (with a few slight changes) and the result was a delicious mustard with a fabulous color from the sweet potatoes. It's flavored with bourbon, brown sugar, Pure Cane Sorghum
, and cinnamon. Perfect for fall!
To make a Cosmic Dog copycat, top a hot dog with sweet potato mustard and some of this Blue Cheese Coleslaw.
You need not stop with just adding sweet potato mustard to hot dogs. Try it on a turkey or ham sandwich for a little something out of the ordinary. And a great conversation starter!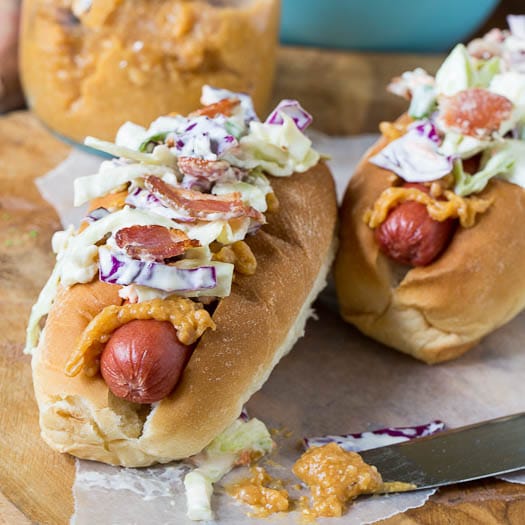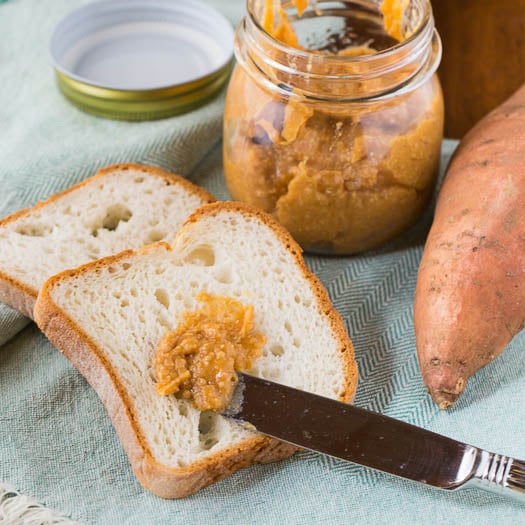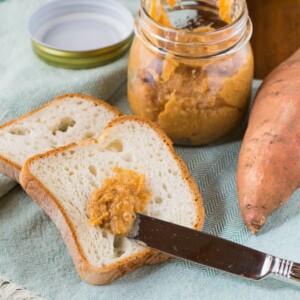 Sweet Potato Mustard
Homemade mustard flavored with sweet potatoes, bourbon, brown sugar, and cinnamon.
Ingredients
1/2

cup

apple cider vinegar

1/3

cup

yellow mustard seeds

1

bay leaf

1

cinnamon stick

1

cup

water

2/3

cup

sweet potato puree

1

tablespoon

sorghum syrup or light molasses

1

tablespoon

bourbon

1/4

cup

packed brown sugar

2

tablespoons

ground mustard

1/2

teaspoon

sweet paprika

1/2

teaspoon

kosher salt

pinch of allspice

pinch of cayenne
Instructions
In a small saucepan, bring vinegar to a boil. Remove from heat and add the mustard seeds, bay leaf, and cinnamon stick. Make sure the bay leaf and cinnamon stick are submerged in the vinegar. Place the lid on the pot and let sit for 1 hour.

Discard the bay leaf and cinnamon stick. Use a spoon to scrape all of the mustard seeds along with the vinegar into a blender.

Add the water, sorghum, and bourbon. Blend until smooth. (Mine didn't get smooth. It ended up more like a coarse ground mustard, but I do have a pretty pathetic blender.)

Add sweet potato puree and blend until smooth.

Pour the mixture back into the pan and bring to a boil. Reduce heat to medium-low and boil gently, stirring frequently, for about 5 minutes.

Whisk in sugar, ground mustard, paprika, salt, allspice, and cayenne pepper.

Continue to simmer until mixture is thick, about 10 minutes.

Store in refrigerator.
Notes
Mustard may taste bitter at first. Place it in the refrigerator for a day or two and the bitterness should lessen.
Want to Save This Recipe?
Disclosure: This post contains affiliate links. That means if you click a link and make a purchase, Spicy Southern Kitchen earns a small commission at no cost to you.