A traditional strawberry shortcake recipe topped with a southern chocolate gravy makes a delicious spring or summer dessert.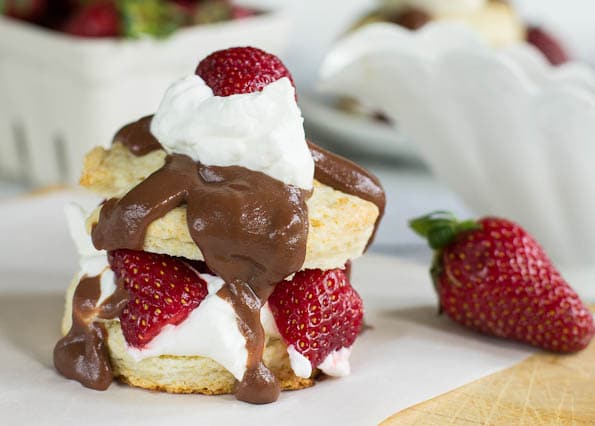 Happy Monday and Happy Memorial Day. Memorial Day is a holiday that brings such a range of emotions with it. Remembering and honoring those who made the ultimate sacrifice for our freedom. That's big stuff.
Of course, showing our patriotism is one of the best ways to honor servicemen and women who have lost their lives at war. Strawberry Shortcake has always seemed like such a patriotic dessert to me. Throw a few blueberries on and you have your red, white, and blue.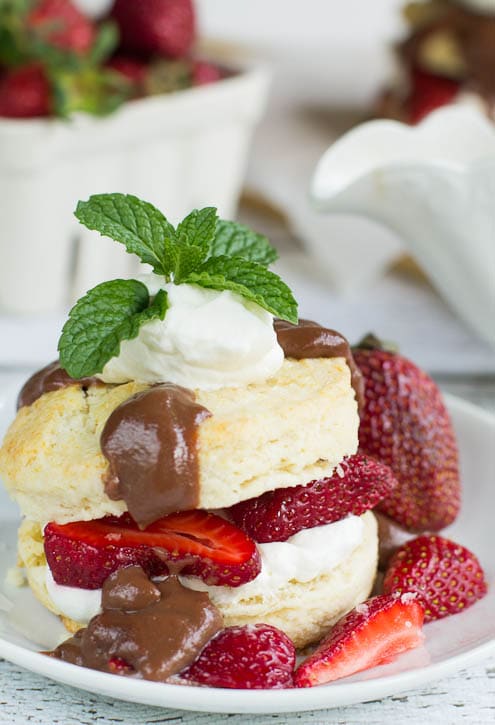 Instead of blueberries, this strawberry shortcake is covered in chocolate gravy. Chocolate gravy may sound a little strange if you are not from the south, but it is basically a flour-thickened chocolate sauce that is typically served with biscuits. It's made from butter, flour, cocoa powder, sugar, and milk.
This recipe combines the concept of biscuits and chocolate gravy with strawberry shortcake for a super delicious southern dessert.
It is a recipe from The New Southern Garden Cookbook: Enjoying the Best from Homegrown Gardens, Farmers' Markets, Roadside Stands, and CSA Farm Boxes
, a wonderful book that consists of every fruit and vegetable you can think of that is available in the south, arranged alphabetically.
I went straight to the strawberry section since we are nearing the end of strawberry season and I wanted to enjoy them a few more times before the first peaches start coming in.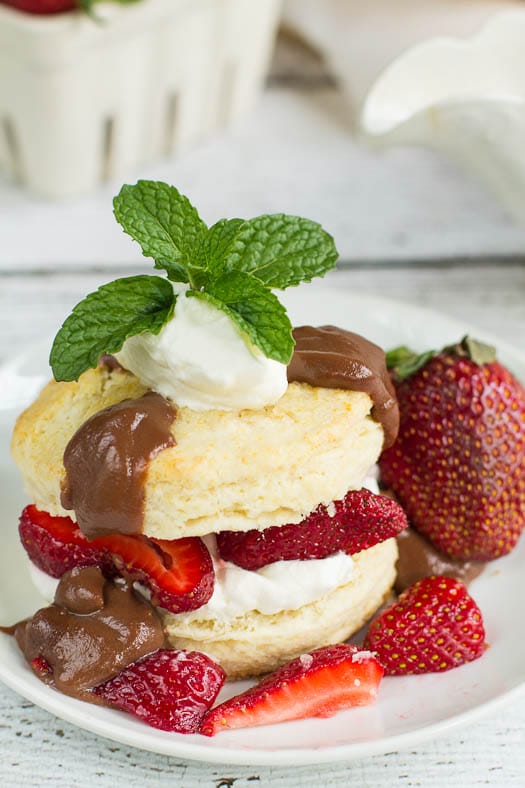 Made with heavy cream, the biscuits are rich and heavenly. Between the biscuit top and bottom, a sweet and creamy filling of macerated strawberries and fresh whipped cream. A big spoonful or two of chocolate gravy on top adds more sweetness and the wonderful flavor of chocolate.
It's a great way to celebrate Memorial Day, or any summer day.
Note: I've changed the recipe in the book some, adding a little almond extract and changing the gravy slightly. The original recipe also does not include whipped cream with the strawberries.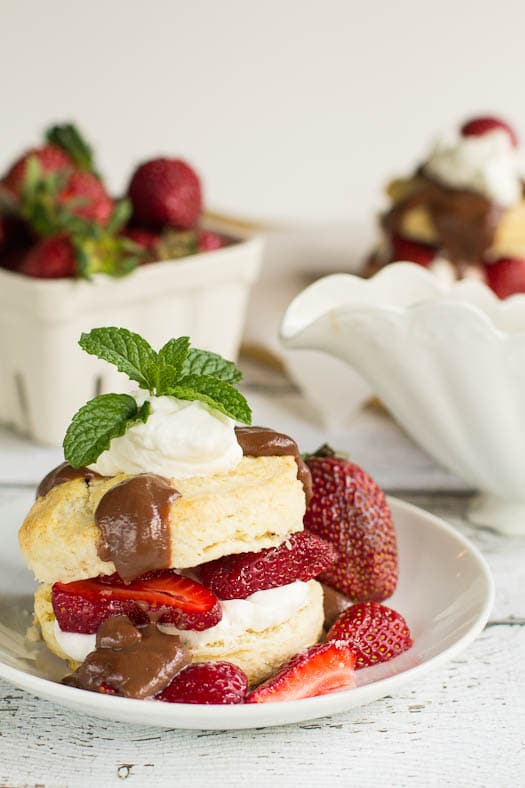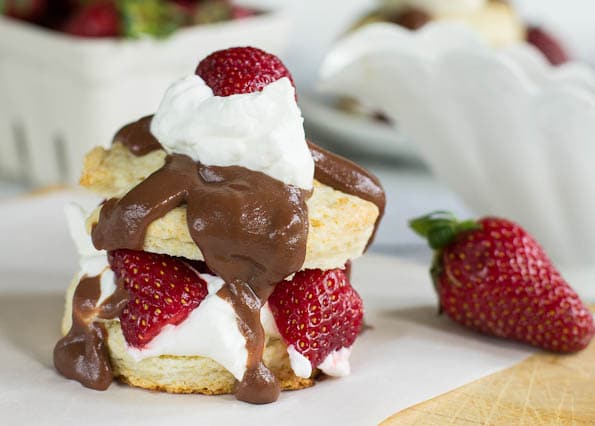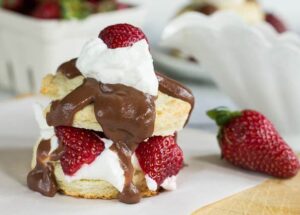 Strawberry Shortcake Biscuits with Chocolate Gravy
A traditional strawberry shortcake covered with a southern chocolate gravy.
Ingredients
Shortcake Biscuits
1 1/2

cups

all-purpose flour

3/4

cup

cake flour

3

tablespoons

granulated sugar

2

teaspoons

baking powder

1/2

teaspoon

kosher salt

6

tablespoons

unsalted butter,

cut into 1/2 tablespoon-sized pieces and chilled

1

cup

heavy cream,

plus more for brushing

1/4

teaspoon

almond extract

1

tablespoon

granulated sugar
Berries
4

cups

hulled and sliced fresh strawberries

2

tablespoons

granulated sugar
Chocolate Gravy
1/4

cup

cocoa powder

1

cup

granulated sugar

3

tablespoons

all-purpose flour

2

cups

whole milk

2

tablespoons

butter,

cut into 4 pieces

pinch of salt
Whipped Cream
1

cup

heavy cream

1

tablespoon

granulated sugar
Instructions
Preheat oven to 400 degrees and line a baking sheet with parchment paper.

In a large bowl, whisk together both flours, 3 tablespoons sugar, baking powder, and 1/2 teaspoon salt.

Using a pastry blender or your hands, work the 6 tablespoons of chilled butter into the flour mixture until the pieces are no bigger than a small pea.

Stir in cream and almond extract just until a dough starts to form.

Turn dough out onto a lightly floured surface and knead very briefly. Pat dough into a rectangle that is approximately 3/4-inch thick.

Using a 3-inch biscuit cutter, cut 5 biscuits. Do not twist the biscuit cutter as you cut the biscuits. Just use a straight down and straight up motion.

Roll the scraps together to cut a 6th biscuit.

Place biscuits on the baking sheet and brush tops with cream. Sprinkle with the 1 tablespoon of sugar.

Bake until golden brown on top, about 25 minutes. Cool on a wire rack.

Toss the strawberries in a medium bowl with 2 tablespoons of sugar. Let sit 15 minutes. Stir occasionally.

To make gravy, place the cocoa powder, 1 cup sugar, and 3 tablespoons flour in a cast iron skillet or heavy-bottomed saucepan. Run a whisk through the mixture to remove any lumps.

Gradually add milk, whisking until smooth. Cook over medium heat, whisking constantly, until the consistency of thin pudding, about 8 minutes.

Remove from heat and add butter. Stir until butter melts.

To make whipped cream, use an electric mixer with a whisk attachment to beat the cream until it starts to thicken. Gradually add sugar and continue to beat until cream is thick and holds its shape well. Do not overbeat though. (The cream will thicken more easily if you chill the bowl and whisk attachment in the refrigerator for 10-15 minutes before using them.)

To serve, split biscuits in half. Fill with strawberries and whipped cream and top with chocolate gravy.
Want to Save This Recipe?
Disclosure: This post contains an affiliate link.