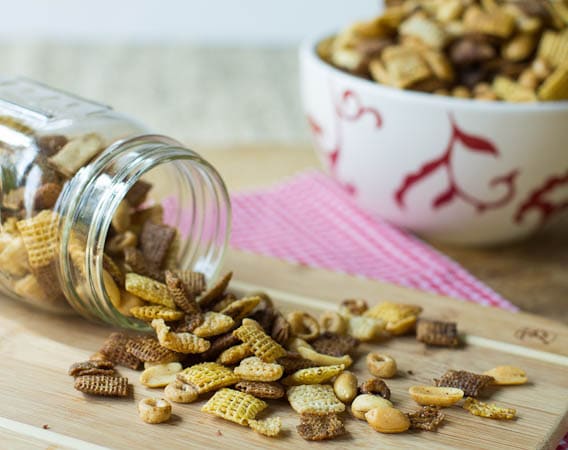 I think just about everyone has fond memories from childhood of eating homemade snack mix. It's such a tasty treat, so much better than the snack mix in a bag. Perfect for an after school snack or to munch on during a football game. This recipe has a little spice (of course!), but not too much. Just enough to give it some zip!
I go a little heavy with the Worcestershire sauce when making snack mix and I always seem to sneak a few extra splashes each time I stir it. When eating the mix, I tend to pick out the pieces that soak up an extra lot of Worcestershire. The wheat ones are especially good at soaking it up and they sometimes turn a little bit chewy. Love that!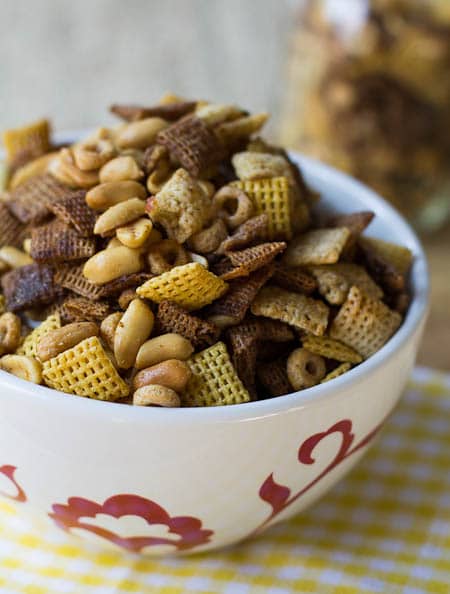 Isn't it obligatory to stand over a bowl- (often ours doesn't even make it to a bowl, we eat it straight off the baking pan) and pick out your favorite pieces from the batch? My favorites are the Worcestershirey wheat chex, the cheerios, and the peanuts.
Hmmm….think I'm getting a little hungry for some snack mix. Be back later.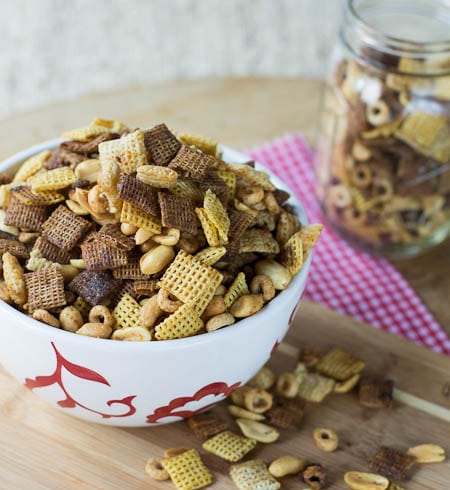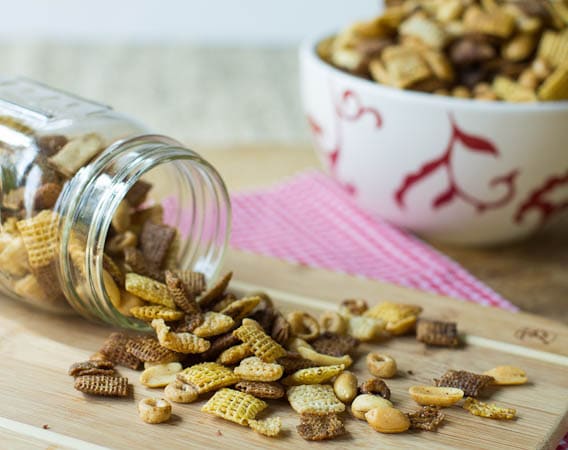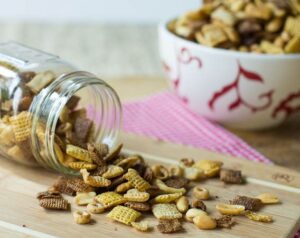 Spicy Snack Mix
Traditional Chex Mix with a little spice!
Ingredients
1/2

cup

butter

2 1/2

tablespoons

Worcestershire sauce

1 1/2

teaspoons

seasoned salt

1/4

teaspoon

garlic powder

1/4

teaspoon

onion powder

1/4

teaspoon

cayenne pepper

3

cups

Wheat Chex

2

cups

Rice Chex

2

cups

Corn Chex

1

cup

Cheerios

1 1/2

cups

peanuts
Instructions
Preheat oven to 250 degrees.

Place butter in a large microwave-safe bowl and microwave until melted.

Stir all seasonings into butter.

Add remaining ingredients to bowl, stir well and pour onto a large, rimmed baking sheet.

Bake for 1 hour, 20 minutes. Remove from the oven every 20 minutes and give it a good stir.
Want to Save This Recipe?