Boneless, skinless chicken breasts sautéed in a skillet and topped with salsa verde, pepper jack cheese, and avocado make an easy weeknight meal. Served with a side of spiced black beans seasoned with cumin and chili powder, Salsa Verde Chicken  is a hearty and wholesome Mexican-style meal the whole family will enjoy.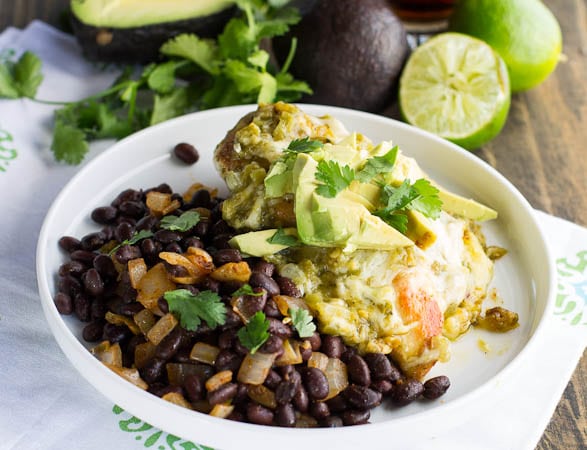 This time of year I tend to switch from cooking complex, laborious comfort meals to quick meals that can be prepared in a flash. Once daylight savings starts and the weather begins to warm, I don't want to spend the evening hours in my kitchen. Does anyone?
I want to be outside sitting on my porch or taking a walk with my dog. The transition from winter to spring is the best
And by the way, this winter weather that snuck back in yesterday better leave in a hurry. We were wearing shorts and flip-flops last week and now we're expecting freezing rain. That's South Carolina weather for you.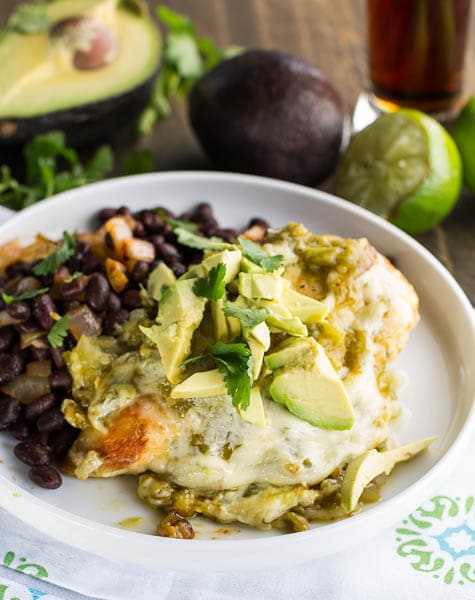 This Salsa Verde Chicken with Black Beans couldn't be easier or tastier and should be a weeknight go to recipe for anyone who loves Mexican food. Any night can feel like a fiesta when you're serving cheese, jalapenos, and salsa!
It's a simple, spicy, and filling meal. I've used jarred salsa verde for convenience, but you could use homemade. Likewise, a can of black beans dressed up with spices, onion, and pickled jalapenos makes a quick and delicious complement. Not to mention inexpensive.
You can up the spice of Salsa Verde Chicken with Black Beans by using extra jalapenos or choosing a spicier salsa verde.
It's sure to be an enjoyable family meal South of the Border style.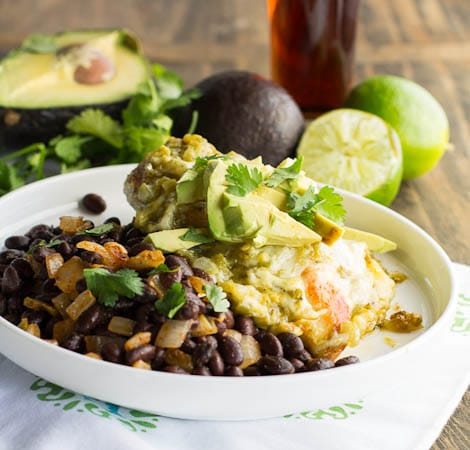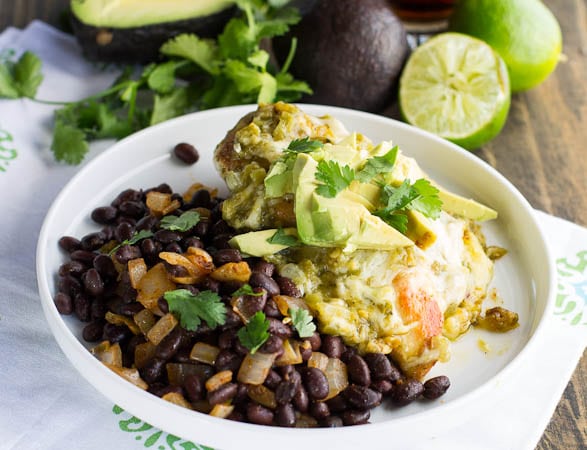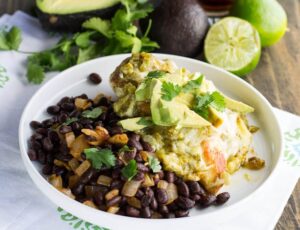 Salsa Verde Chicken
Sautéed chicken breasts are topped with salsa verde, cheese, and avocado and served with an easy black bean side dish.
Ingredients
1

can black beans,

drained

1/2

onion,

diced

1/2

tablespoon

canola oil

1/2

teaspoon

cumin

1/2

teaspoon

chili powder

1

teaspoon

finely minced pickled jalapeno peppers

1

tablespoon

lime juice

4

boneless chicken breasts

1/2

tablespoon

canola oil

1

cup

salsa verde,

I used Guy Fieri's Salsa Verde

1

cup

shredded pepper jack cheese

1

avocado,

diced

fresh cilantro,

chopped
Instructions
Preheat oven to 425 degrees.

Heat 1/2 tablespoon oil in medium saucepan. Add onion and saute until soft.

Add cumin and chili powder. Stir to distribute and add beans.

Once beans are heated through, add lime juice and pickled jalapenos. Season with salt and pepper. Remove from heat.

Heat remaining 1/2 tablespoon oil in an oven-proof skillet over medium high. Season chicken with salt and pepper and cook in pan for 3-4 minutes on each side.

Spoon salsa over chicken, sprinkle with cheese, and place in oven. Bake until chicken is cooked through, 3-5 minutes.

Spoon beans onto plate, top with chicken. Sprinkle with diced avocado and cilantro.
Want to Save This Recipe?