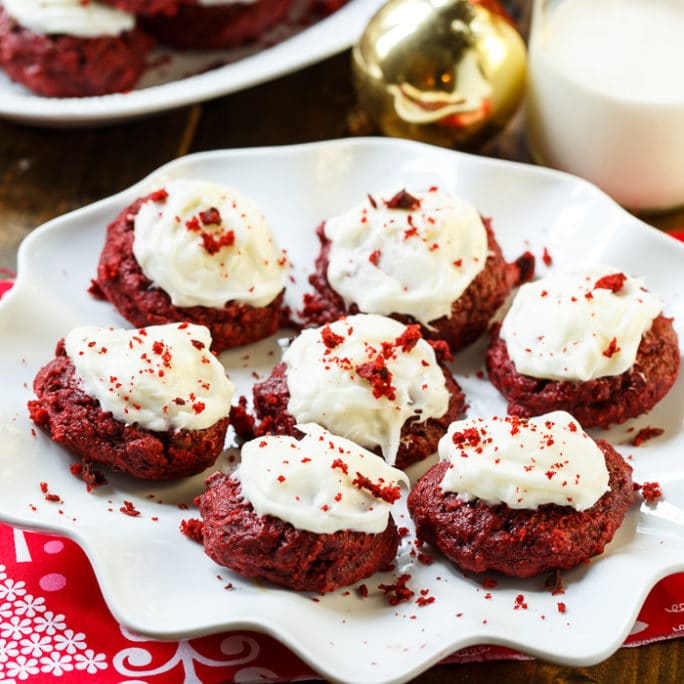 Cookies, cookies, cookies. Can there be too many cookies during the holidays? I'm all about giving homemade food gifts during the holidays and these Red Velvet Cookies with Cream Cheese Frosting are one of my favorite cookies to bake for gift giving. And with their fabulous red color, they are bound to leave a smile on Santa's face if you leave one or two for him.  🙂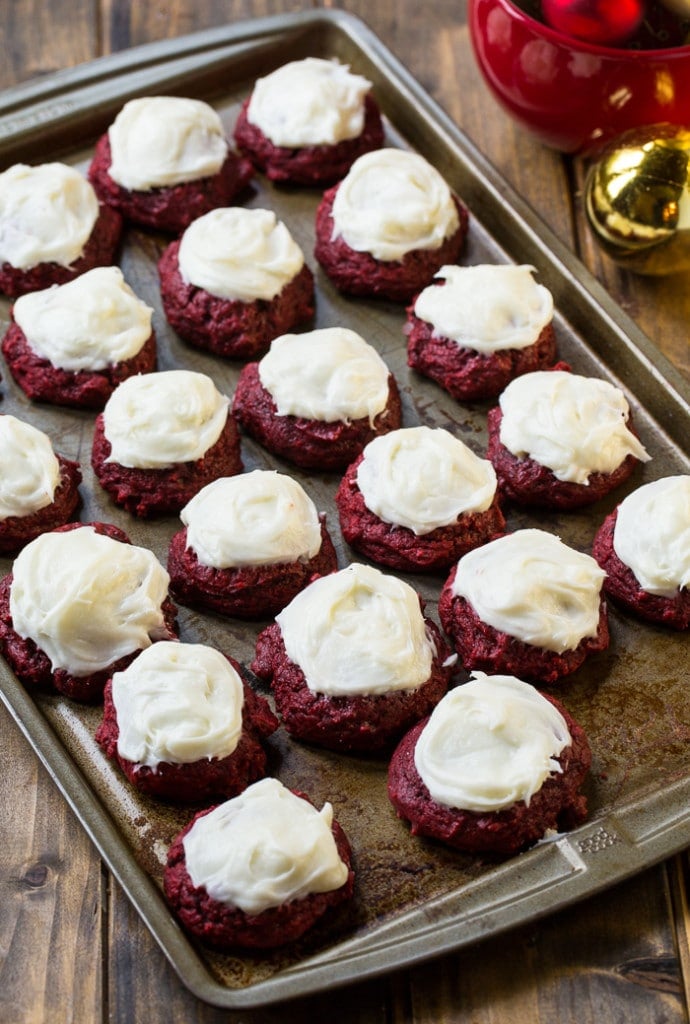 The cookies are fabulously soft and tender and they kind of taste like muffin tops with frosting. Since I believe everything tastes better with chocolate, I added some mini chocolate chips to the cookie batter. Once the cookies are cool, I spread a thick layer of cream cheese frosting on each one. The cream cheese frosting has just the right amount of sweetness with plenty of tang from the cream cheese to really compliment the red velvet flavor.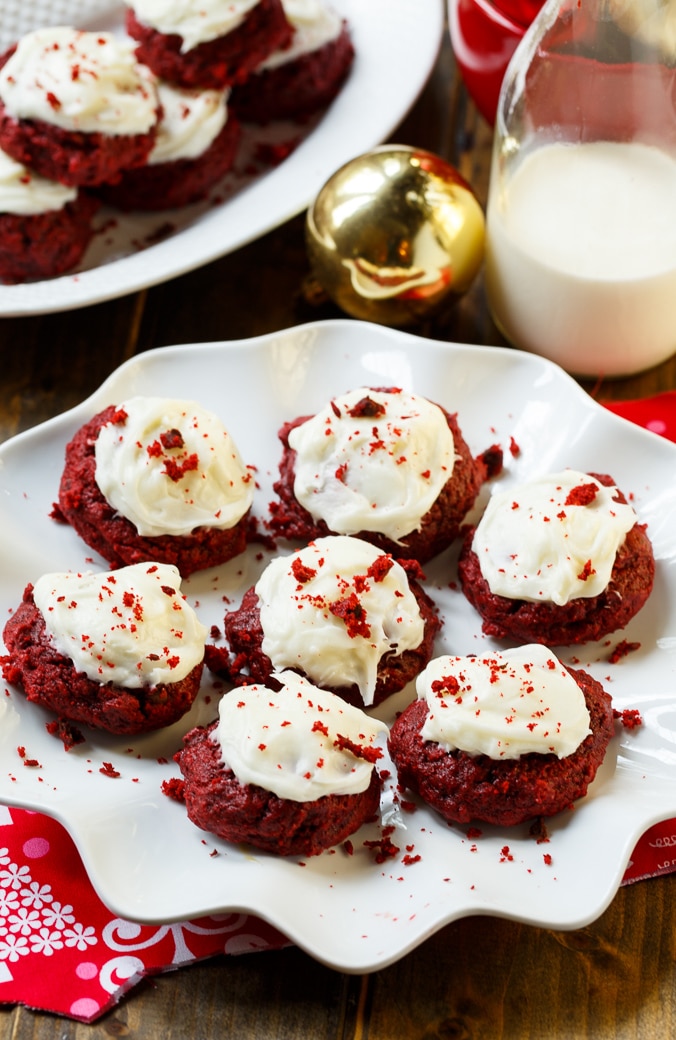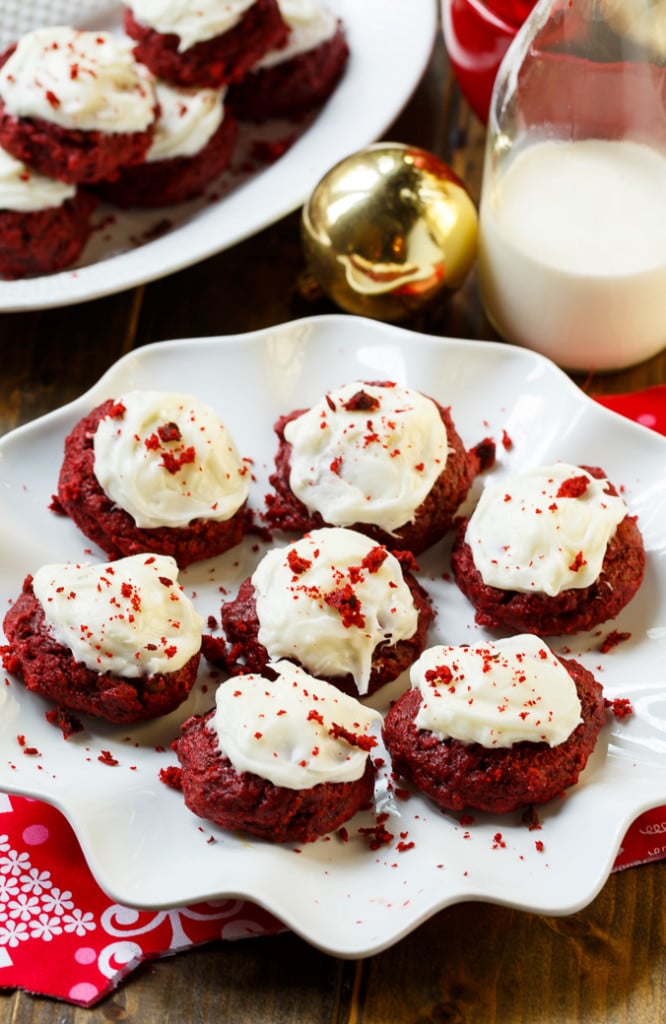 I'm running a little bit behind with my holiday decorating this year as I am every year, but we are never without homemade treats to celebrate the season with. Cookies, cakes, fudge, Christmas candy. They are such an important part of our holiday traditions. And it's fun to always make the old favorites that everyone looks forward to, but also try a few new recipes to keep things interesting. When you have teenage kids like I do who seem to always have an endless stream of friends stopping by the house, homemade sweets disappear in a hurry!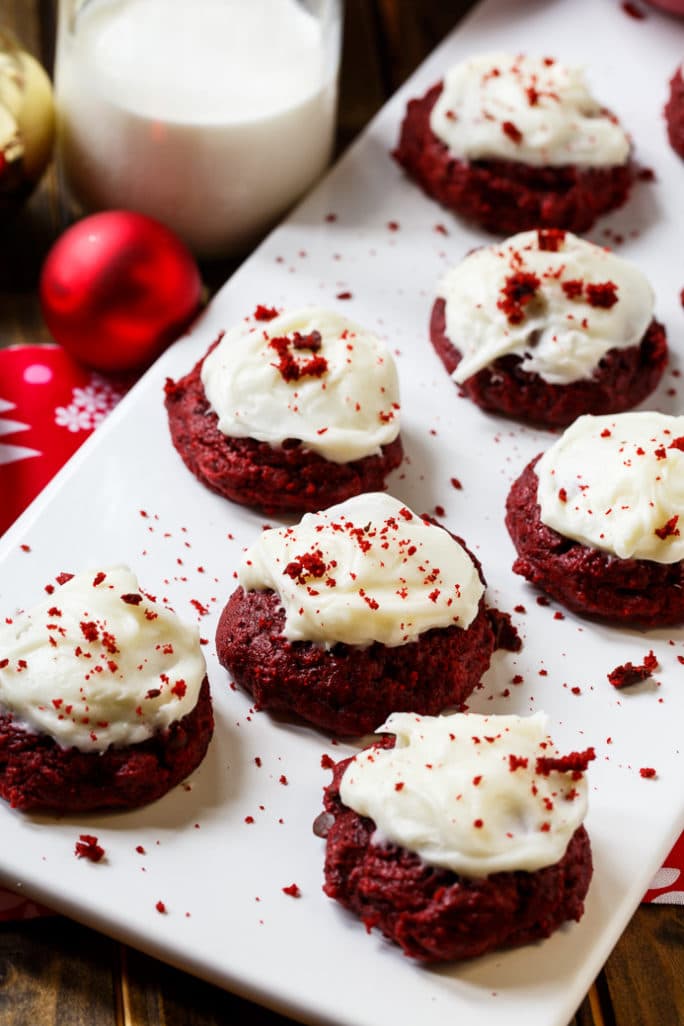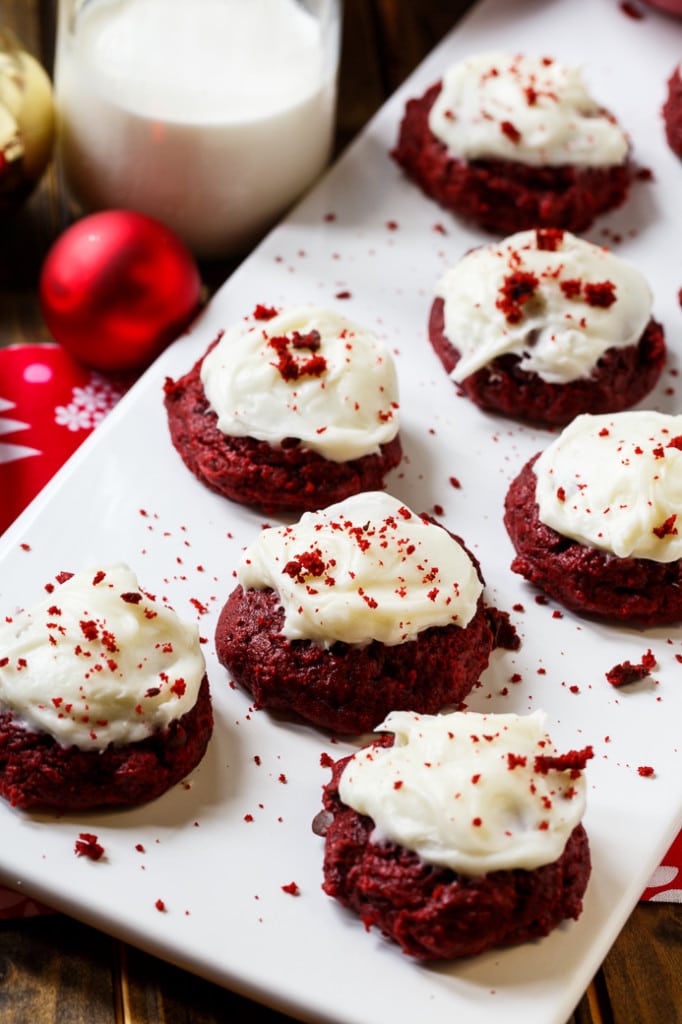 I made these cookies to be part of Challenge Butter's 12 Days of Cookies which features a different blogger recipe each day. Since being introduced to Challenge Butter a short while back it has become my very favorite butter. They also make a cream cheese which is by far the creamiest, dreamiest cream cheese I have ever tasted.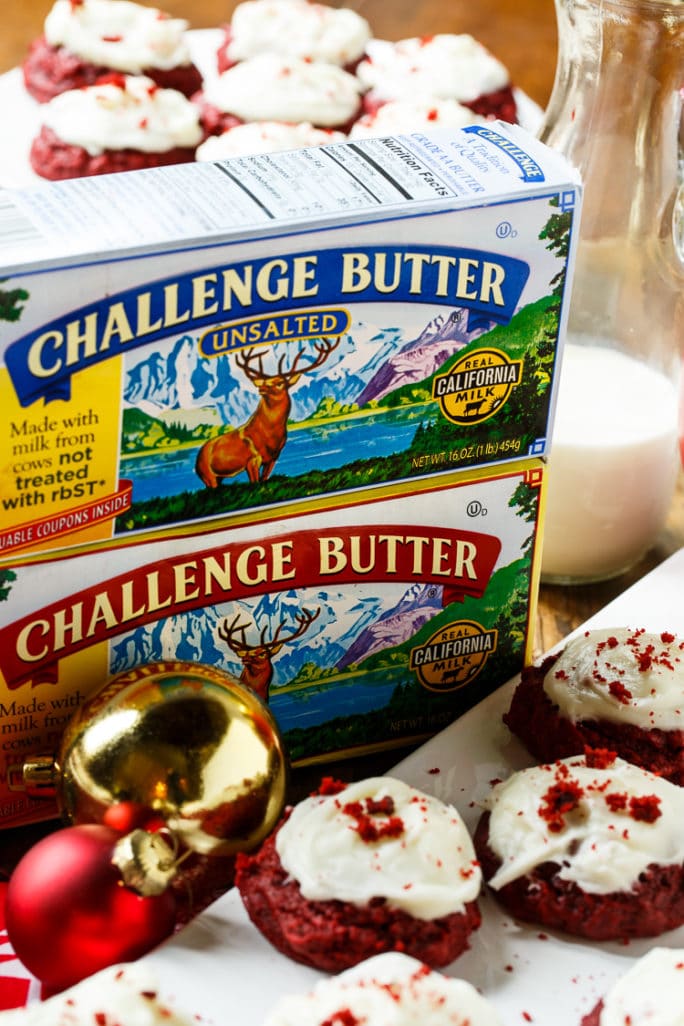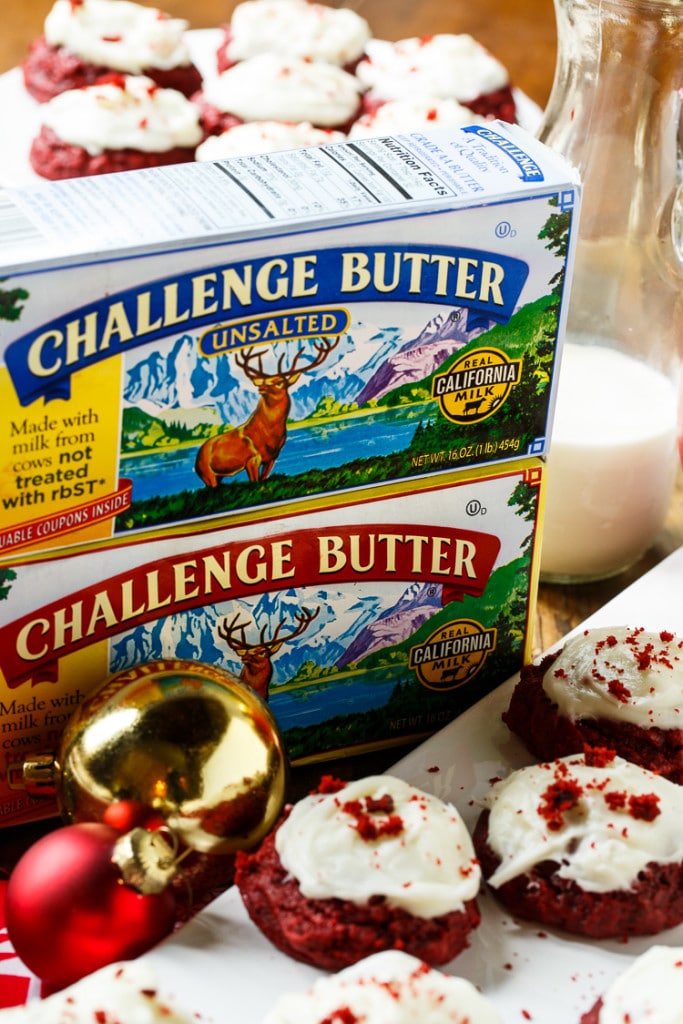 Challenge Butter is 100% real cream butter made the old-fashioned way with no artificial ingredients. One taste of it and you'll feel like it's your first time tasting real butter. It tastes so much better than other butters on the market. Not only is it made from high quality ingredients, but you won't find a fresher butter unless you churn it yourself. Challenge Butter is made in California from fresh milk that comes from local dairies and goes from farm to dairy case in just 2 days. Challenge Butter was the first company to make dairy products without growth hormones. It's a product you can feel good about feeding your family.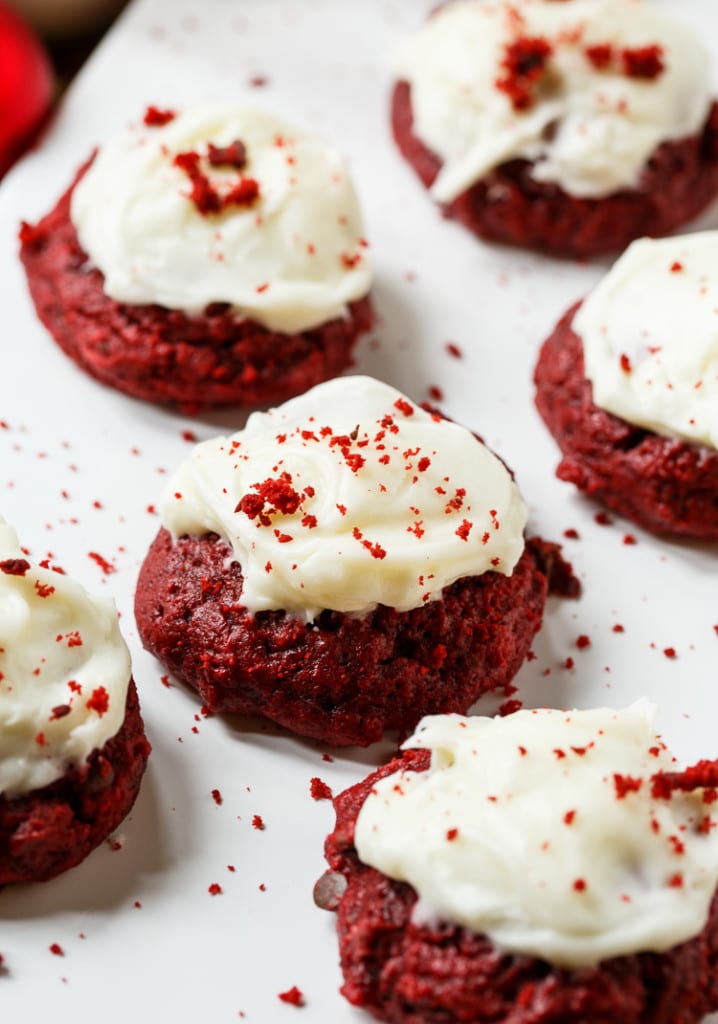 You can really taste the difference in these cookies.
Find the recipe for my Red Velvet Cookies with Cream Cheese Frosting HERE.
What kind of cookies will you be baking this holiday season?
Disclosure: This is a sponsored post. I love having the opportunity to share my favorite products with you.