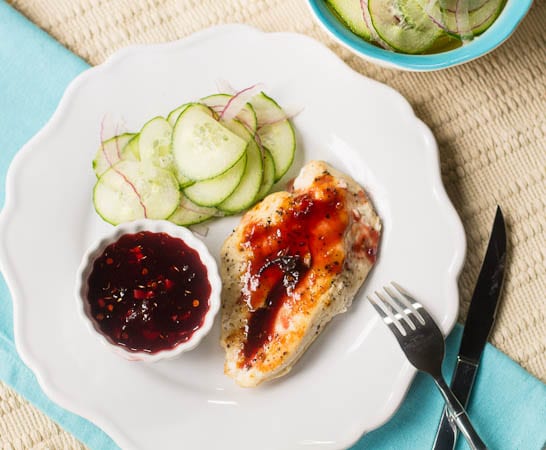 Raspberry-Chipotle Chicken Breasts paired with a cool, refreshing cucumber salad is a quick and easy meal to prepare at the end of a hot, summer day. The sauce is simple to make and only takes 4 minutes to cook.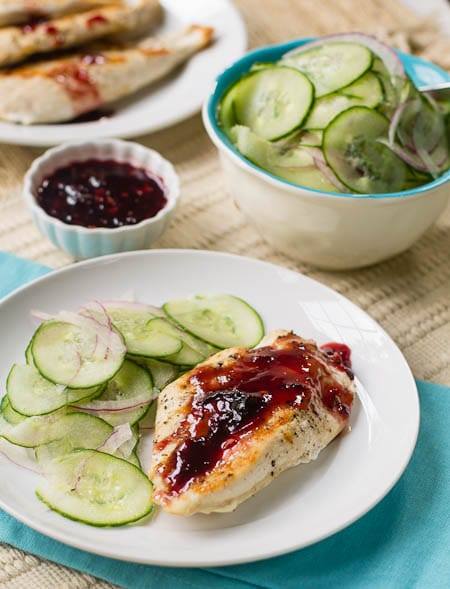 The recipe calls for using a grill pan, but you could use a charcoal or gas grill instead. The sauce is applied to the cooked chicken so no need to worry about the sugars in the sauce scorching on the grill.
The coolness of the cucumber salad pairs nicely with the spicy sauce and will help cool your mouth. I find cucumbers taste better when served cold so make the salad ahead of time if you can and refrigerate.
Chipotle peppers in adobo sauce, which come in 7-ounce cans, are one of my favorite ingredients to cook with. They are super spicy, but also have a wonderful smokiness. If you need some ideas to use up an opened can of chipotle peppers, here are some ideas-
Chipotle peppers in adobo sauce also freeze really well. Just place in a zip-top bag and toss in the freezer. You can defrost them either overnight in the refrigerator or by placing the zip-top bag in a bowl of warm water.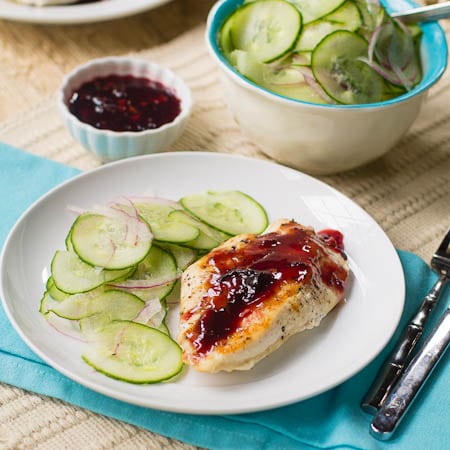 Raspberry-Chipotle Chicken Breasts with Cucumber Salad
4 tablespoons seedless raspberry jam
1 ½ tablespoons fresh lime juice
1 tablespoon minced chipotle chile in adobo sauce
1 teaspoon minced garlic
½ teaspoon grated lime rind
¼ teaspoon dried thyme
Cooking spray
4 (6-ounce) skinless, boneless chicken breast halves
3/8 teaspoon kosher salt, divided
¼ teaspoon freshly ground black pepper
1 large English cucumber, ends cut off and thinly sliced with a mandolin
½ thinly sliced red onion
2 tablespoons cider vinegar
1 teaspoon sugar
Combine first 6 ingredients in a small saucepan over medium heat. Stir with a whisk until smooth. Cook for about 4 minutes, until slightly syrupy, stirring frequently. Set aside.
Heat a large grill pan over medium-high heat and coat with cooking spray. Season chicken with ¼ teaspoon salt and ¼ teaspoon pepper.
Grill chicken 5-6 minutes per side, or until no longer pink in the middle.
Combine remaining 1/8 teaspoon salt, vinegar and sugar in a small bowl. Toss with cucumbers and onion.
To serve, spoon raspberry sauce over chicken.
Yield: 4 servings
Recipe Source: adapted from Cooking Light