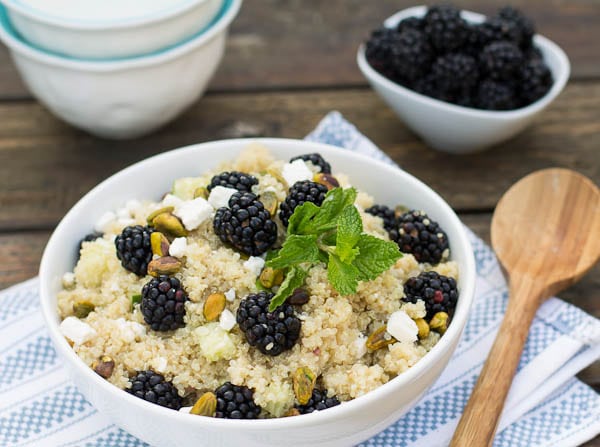 Since my 13-year-old daughter became a vegetarian several months ago, I have been concerned about her getting enough protein, especially since she won't eat beans or tofu. Her main protein sources have been eggs and peanut butter (not together of course!).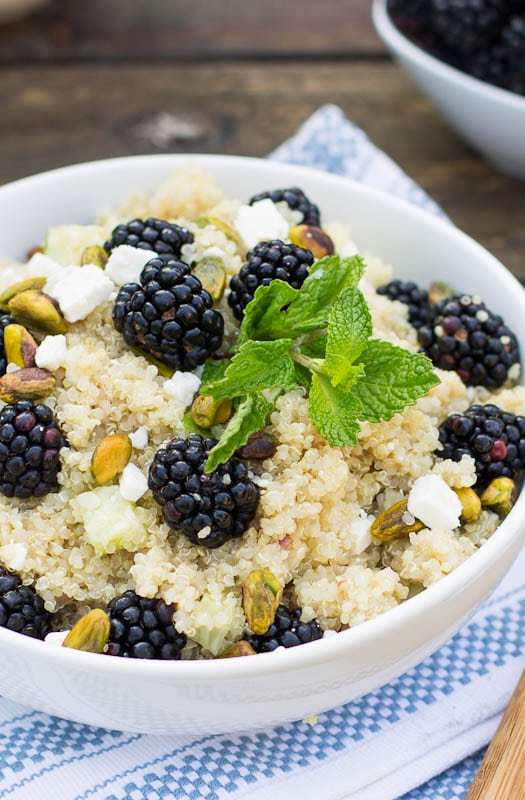 I thought for sure she would have gone back to her carnivorous ways by now, but by golly, when my daughter sets her mind to something, she does it without even the slightest waiver. And this is my child who was born a meat lover. When she was a toddler she used to always ask for a "meat sandwich, no bread". And by meat she meant ham.
Why did she become a vegetarian? you might ask. Well, It has something to do with a food documentary one of her teachers showed the class. The details of it I don't want to know, because then I might become a vegetarian too and I enjoy meat in my life too much for that to happen.
Thankfully quinoa, which has become very popular in recent years, is a great source of protein and contains all 9 essential amino acids. And even better, it is one of the oh, about 6 foods my daughter likes. Her favorite way to eat it is to serve it "fried rice" style with carrots, peas, onions, egg, and soy sauce. Ok, maybe she likes 10 foods.
My favorite way to eat quinoa is mixed with fruit, nuts, and cheese. Just about any combination will do, but I'm especially fond of this combination- blackberries, feta, and pistachios. You can serve it either room temperature or chilled for a light lunch or side dish.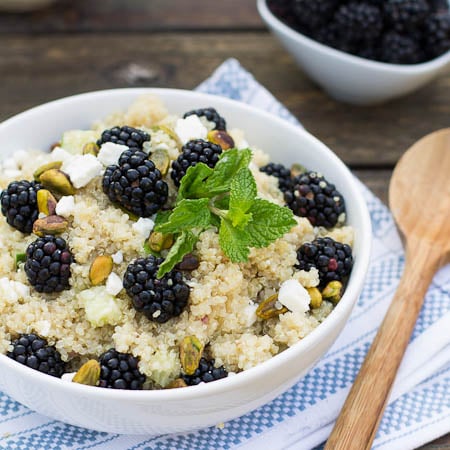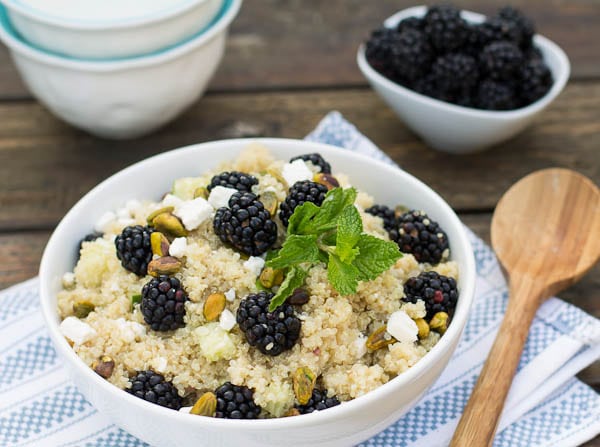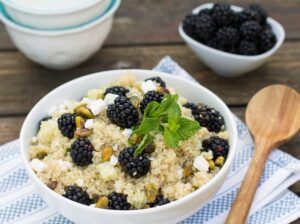 Quinoa Blackberry Salad
Quinoa with blackberries, feta. and pistachios makes a delicious summer side.
Ingredients
¾

cup

quinoa

1 ½

cups

water

1 ½

cups

fresh blackberries

2

tablespoons

Vegetable oil or Olive oil

1

tablespoon

maple syrup

1

tablespoon

apple cider vinegar

½

tablespoon

Dijon mustard

1

tablespoon

finely minced shallot

freshly ground black pepper

2/3

cup

diced cucumber

1/3

cup

feta cheese

¼

cup

shelled pistachios

fresh mint for garnish

optional
Instructions
Place quinoa in a fine mesh sieve and rinse under cold water for 30 seconds. Place in a small saucepan, add water and bring to a boil. Cover and reduce heat to a simmer until water is absorbed, about 15 minutes. Remove from heat and let sit for 5 minutes. Fluff with a fork. Place quinoa in a large bowl.

In a small bowl, whisk together oil, vinegar, and Dijon mustard. Add shallot and freshly ground black pepper to taste.

Pour dressing over quinoa and toss to mix.

Stir in blackberries, feta cheese, and cucumbers. Sprinkle pistachios on top and serve.
Want to Save This Recipe?