This is a Sponsored post written by me on behalf of LIBBY'S Pumpkin. All opinions are 100% mine.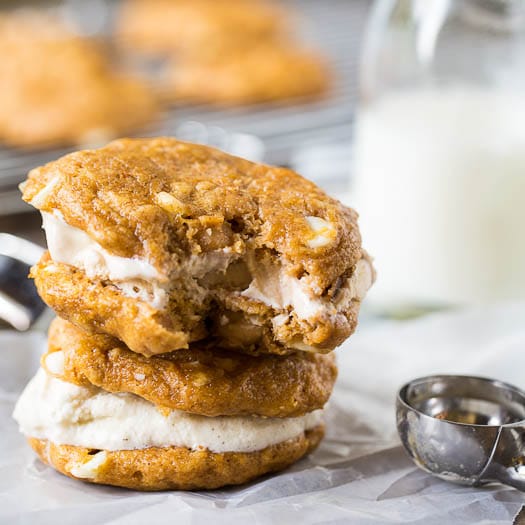 Pumpkin goes a little tropical in these pumpkin cookies with white chocolate chips, macadamia nuts, and just a hint of shredded coconut. Pumpkin is an ingredient I enjoy cooking with year round and I love to try and adapt it to the different seasons. Since it's a gazillion degrees in South Carolina I wanted to use pumpkin to make a soft, cakey cookie that would be well-suited for ice cream sandwiches
I thought white chocolate, macadamia nuts, and coconut would be perfect for summer. The macadamia nuts add a nice crunch and the coconut provides some texture contrast as well as sweetness. You could switch out the white chocolate chips for semi-sweet or milk chocolate and the macadamia nuts for any type of nut. The wonderful thing about pumpkin is it goes well with just about anything.
Whenever I cook with pumpkin, I always use LIBBY'S 100% Pure Pumpkin. It is naturally sodium-free  has no added sugar or preservatives, and is full of good nutrition. Plus LIBBY'S pumpkin allows you to easily cut back on fat and calories in baked goods without sacrificing flavor.
There's no butter or oil in these cookies but you wouldn't know it from tasting them. The pumpkin  is all that's needed to create plenty of moistness and flavor. They are best eaten warm from the oven, straight from the refrigerator, or as an ice cream sandwich. My favorite is as an ice cream sandwich. Even after being in the freezer, these cookies still stay soft and make a super easy to eat sandwich.
You'll have a little pumpkin left over if you use a 15 ounce can of LIBBY'S pumpkin. It can either be frozen (try freezing it in ice cube trays to make small portions you can add to sauces or chili) or you can add a spoonful or two to a bowl of oatmeal, mix it with cream cheese and cinnamon and spread it on your bagel, or add it to mac and cheese. The possibilities are endless when cooking with LIBBY'S pumpkin.
You can also check out my Pumpkin Pinterest Board for more recipe inspiration. I've pinned over 400 pumpkin recipes. Yes, you could say I like pumpkin a little bit.
And if you have a creative way you like to use pumpkin to cut the calories and fat, share it with #PumpkinCan  for the opportunity to win weekly prizes. You can also find great recipe ideas there for using LIBBY'S Pumpkin including a recipe for Pumpkin-Orange Granita. How refreshing does that sound! Somebody please make it and I'll trade you a pumpkin ice-cream sandwich for a bowl of it! Be sure to follow LIBBY'S Pumpkin on Facebook, LIBBY'S Pumpkin on Twitter, and LIBBY'S Pumpkin on Pinterest so you don't miss out on any new recipes or prize winning opportunities.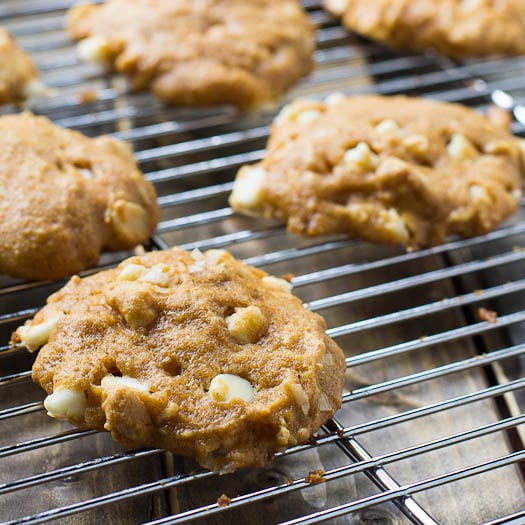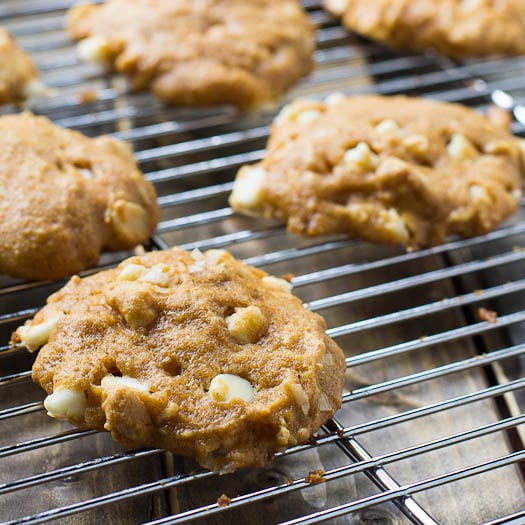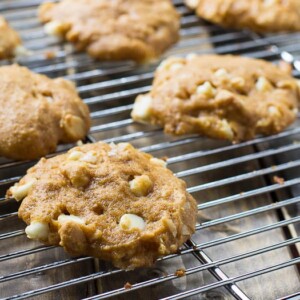 Pumpkin-White Chocolate Chip Cookies
Ingredients
1

cup

LIBBY'S 100% Pure Pumpkin,

find it in the baking aisle

½

cup

white sugar

½

cup

brown sugar

½

cup

apple sauce

1

egg

2

teaspoons

vanilla extract

2

cups

all-purpose flour

2

teaspoons

baking powder

1

teaspoon

baking soda

¾

teaspoon

cinnamon

½

teaspoon

salt

¼

teaspoon

ground ginger

1/8

teaspoon

ground nutmeg

1

cup

white chocolate chips

¾

cups

chopped Macadamia nuts

¼

cup

packed shredded coconut

Ice cream if you want to make ice cream sandwiches

vanilla and salted caramel are good choices
Instructions
Preheat oven to 350 degrees and line 2 baking sheets with parchment paper.

In a large bowl, whisk together pumpkin, both sugars, applesauce, egg, and vanilla until mixed well.

In a separate bowl combine flour, baking powder and soda, cinnamon, salt, ginger, and nutmeg.

Add flour mixture to pumpkin mixture and use a wooden spoon to stir together.

Stir in chocolate chips, macadamia nuts, and coconut. Use your fingers to break apart the clumps of coconut before you add it.

Drop by heaping tablespoonfuls onto prepared pans and slightly flatted mounds of dough with your fingers or the back of a spoon.

Place in preheated oven and bake 12-15 minutes, or until no longer doughy on top.

Let cool for a few minutes and use a spatula to transfer to cooling racks. To make ice cream sandwiches, cookies should be refrigerated first to firm them up some and ice cream should be softened a little to make it easier to spread.
Want to Save This Recipe?