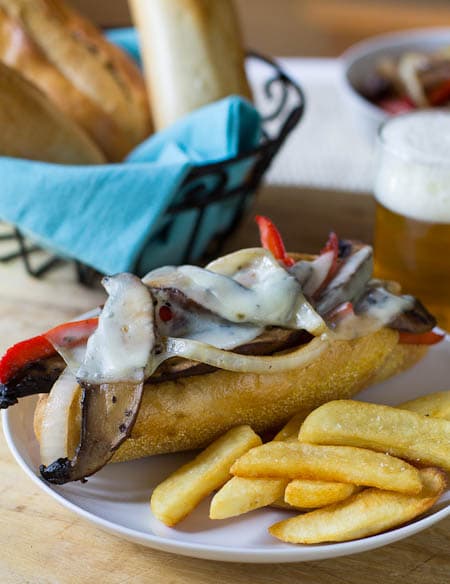 This is one vegetarian dish where you won't miss the meat. And it's a simple dish requiring only a few ingredients. A fresh sub stuffed to the brim with sautéed portobellos, red pepper, and onions, covered with Provolone cheese and toasted. Just a little oil/butter, soy sauce, Worcestershire, thyme, provide all the flavor necessary. The whole family will look forward to these Portobello Cheesesteaks.
When I first started typing this post, I titled it "Portobello Cheesecake" and I almost didn't catch my mistake. How funny would that have been? Although…., it has me thinking. Maybe a savory Portobello Cheesecake isn't such a bad idea. I'll have to think about that one.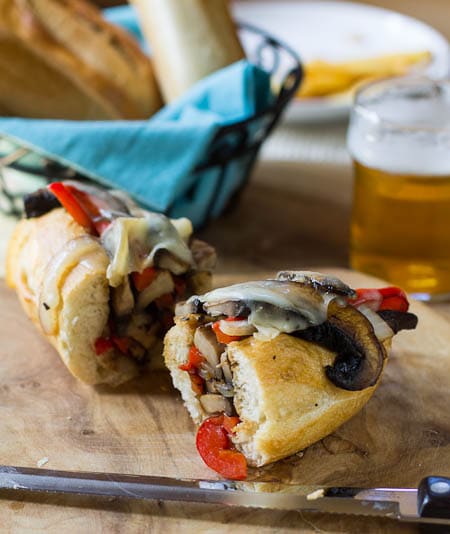 Cheesesteaks (and cheesecakes :)) are a favorite of mine. I don't now nor have I ever lived in Philly, so my definition of a cheesesteak is a liberal one. I will say I prefer thinly sliced Provolone cheese on my cheesesteak over the more traditional cheese sauce. But there's no steak in these Portobello Cheesesteaks so we're no where near traditional anyways.
I always prefer to remove the gills when cooking Portobello mushrooms. They tend to discolor whatever they come in contact with and they really don't add anything to the flavor. Just scoop them out with a spoon and ray good riddance to them.
The sautéed Portobello slices are fabulously meaty and you won't miss the steak in these vegetarian cheesesteaks. Well, maybe a little. But you for sure won't miss the calories. And don't worry about not being full after. This is one hearty meal.
For another hearty vegetarian meal, check out Vegetarian Sloppy Joes.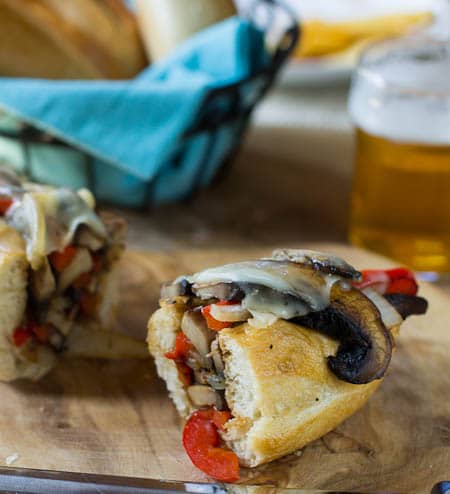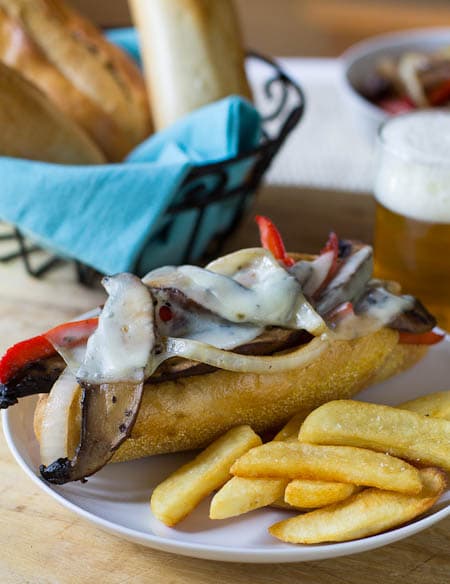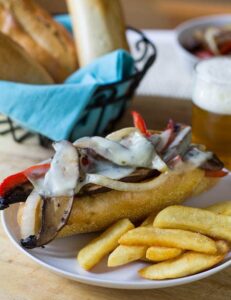 Portobello Cheesesteak
These vegetarian cheesesteaks made with Portobello mushrooms are so meaty, you won't miss the meat!
Ingredients
1

tablespoon

Canola oil

1

tablespoon

butter

3

large Portobello mushrooms,

stems and gills removed, sliced into 1/2-inch slices

1

medium onion,

sliced

1

red bell pepper,

sliced

1

tablespoon

low-sodium soy sauce

1

tablespoon

Worcestershire sauce

1/4

teaspoon

dried thyme

salt and pepper

4-8

slices

Provolone cheese

4

sub rolls
Instructions
Heat 1/2 of oil and butter in a large nonstick skillet over medium-high heat. Add Portobello mushrooms and cook 2-3 minutes per side, until nicely browned. Remove to a plate.

Add remaining oil and butter and sauté the onion and pepper until softened and beginning to brown, about 5 minutes.

Add mushrooms back to pan and add soy sauce, Worcestershire sauce, and thyme. Cook for another minute or two. Remove from heat and season with salt and pepper.

Divide mushroom mixture between sub rolls. Top each roll with 1 or 2 slices of cheese. Place on a baking sheet and broil until cheese melts and bread is lightly toasted.
Want to Save This Recipe?