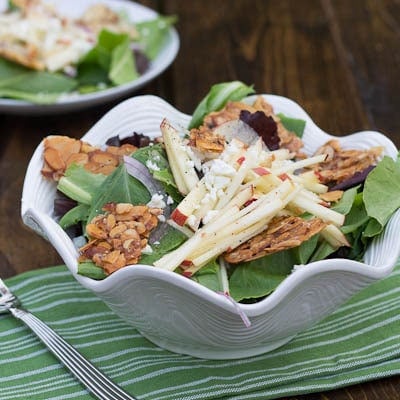 Fall salads are one of my favorite things about fall eating, next to pumpkin and sweet potatoes of course. A mixture of fall fruits (apples, pears), some crunchy nuts, and a little creamy goat cheese or salty blue cheese, mixed in a slightly sweet, slightly tangy salad dressing. Yum!
This Mixed Green Salad with Apple and Almond Brittle is a combo of mixed greens, apple (I used Honeycrisp), red onion, and goat cheese drizzled with an apple cider vinaigrette. A crunchy and sweet almond brittle takes this salad from good to out of this world! You could add a little cayenne pepper to the brittle if you want a little spice.
Cutting the apple in a julienne makes the salad look oh so much more visually appealing.
Soak your onions in some ice water for 5-10 minutes if they have too much bite.
Be sure to check out Apple and Pear Salad with Maple Pecan Bacon and Cranberry Vinaigrette. It's another fall salad winner!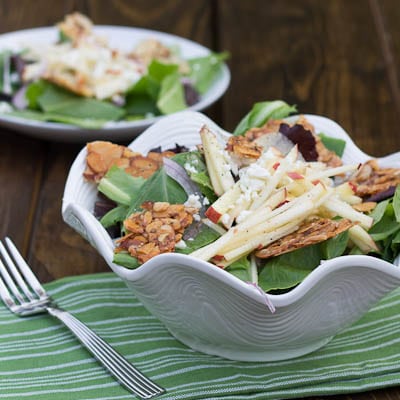 Mixed Green Salad with Apple and Almond Brittle
A fresh and crisp fall salad with apple and a crunchy and sweet almond brittle.
Ingredients
8 cups mixed salad greens
2 apples, julienned (Gala or Honeycrisp are good choices)
½ cup goat cheese crumbles
2 tablespoons white wine vinegar
1 tablespoon apple cider vinegar
1 teaspoon minced shallot
2 tablespoons apple cider
⅓ cup canola oil
salt and pepper
½ cup sliced almonds
3 tablespoons corn syrup
1½ teaspoons honey
1 tablespoon butter, melted
1½ teaspoons all-purpose flour
½ teaspoon salt
⅛ teaspoon pepper
Instructions
To make almond brittle: Preheat oven to 300 degrees. In a medium bowl, combine corn syrup, honey, butter, flour, salt, and pepper. Add almonds and stir to mix. Spread on a parchment paper lined baking sheet, pressing mixture into a ¼-inch thick layer. Bake 30 minutes. Let cool and then break into pieces.
For the dressing: In a medium bowl, combine white wine vinegar, apple cider vinegar, and shallot. Let stand for 30 minutes. In a small saucepan, simmer apple cider until reduced by half. Add to vinegar mixture. Whisk in canola oil.
In a large bowl, toss salad greens, apples, and goat cheese. Drizzle with dressing and top with almond brittle.