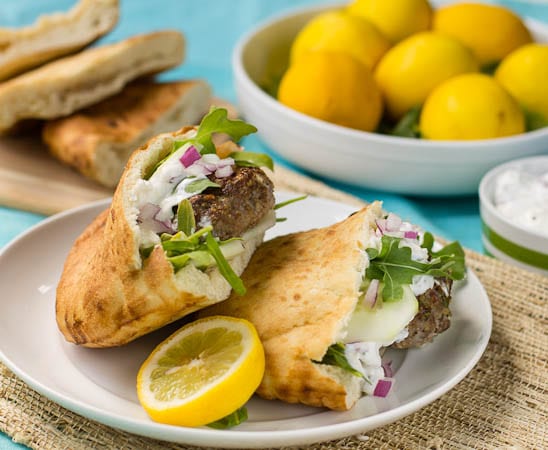 Mediterranean Burgers are bursting with flavor from oodles of fresh herbs- thyme, mint, and dill. Serve with a cool and creamy tzatziki sauce in a pita pocket for a different spin on a traditional burger.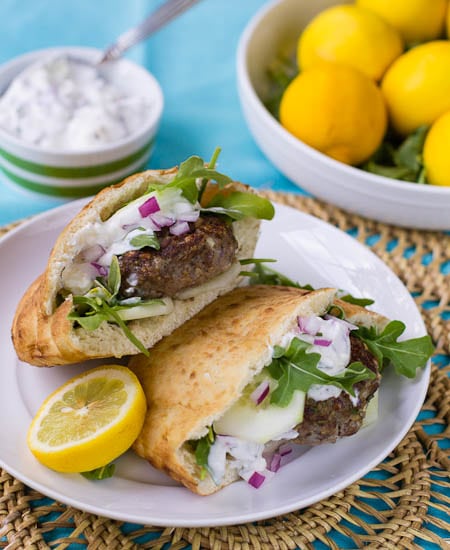 Most avid cooks can probably step right out into their yard a pluck and sprig of dill here, a few mint leaves there. Not me.
This is the time of year I lament not planting a garden. I want to be a gardener, really I do. Both my grandmothers were dedicated gardeners. As a child, I would spend hours looking through the pages of my grandmother's seed catalogs, dreaming about which flowers I would plant in my garden someday.
Ok, maybe I was really looking through them because my grandmother didn't allow us to watch TV and there were no toys in her house. What else was I supposed to do?
But the idea of having a beautiful garden full of flowers, vegetables, and herbs was nice. The work involved in having a beautiful garden, not so nice.
To me, taking care of plants feels like having another mouth to feed. Another responsibility on my endless list of things to do. So until the day that I can afford to hire a gardener, I will continue to buy my herbs at the farmers market or grocery store and be envious of those of you with your lush, bountiful gardens.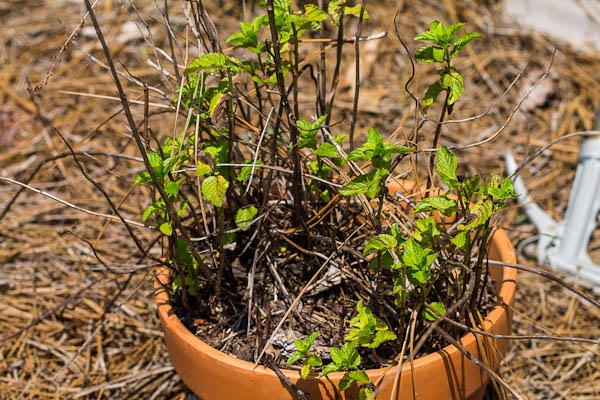 All I have in my garden is one sorry looking potted mint plant that survived from last year. I think I must be one of the few people on the planet who can almost kill mint.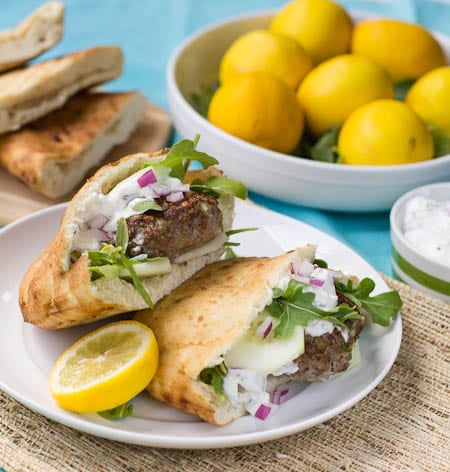 Mediterranean Lamb Burgers with Tzatziki Sauce
½ cup fat-free Greek yogurt
¼ cup crumbled feta cheese
2 tablespoons finely minced red onion
2 tablespoons minced cucumber
1 tablespoon lemon juice
2 teaspoons chopped, fresh dill
1 teaspoon chopped mint
¼ teaspoon pepper
10 ounces ground sirloin
8 ounces ground lamb
1/3 cup panko
1/3 cup minced red onion
2 cloves garlic, minced
2 teaspoons fresh thyme
2 teaspoons fresh mint
¼ teaspoon salt
¼ crushed red pepper flakes
¼ teaspoon allspice
¼ teaspoon freshly ground black pepper
2 cups baby arugula or baby spinach
½ cup thinly sliced cucumber
2 pieces pocket pita bread, each cut in half
To make Tzatziki sauce, combine yogurt, feta, red onion, cucumber, lemon juice, dill, mint, and pepper in a small bowl and mix. Refrigerate until ready to serve.
Preheat oven to 450º. Place a cooling rack (the kind you cool cookies on) inside a rimmed baking sheet. Spray rack with cooking spray.
Combine remaining ingredients in a large bowl, mixing just enough to evenly distribute ingredients. Form into 8 patties and place on cooling rack. Bake for 9 minutes. Turn broiler on high (if baking sheet is not on top oven rack, move it there now) and broil for 2-3 minutes.
To serve, place 2 patties in each piece of pita bread along with a handful of arugula, some sliced cucumbers, and a dollop of Tzatziki sauce.
Yield: 4 servings