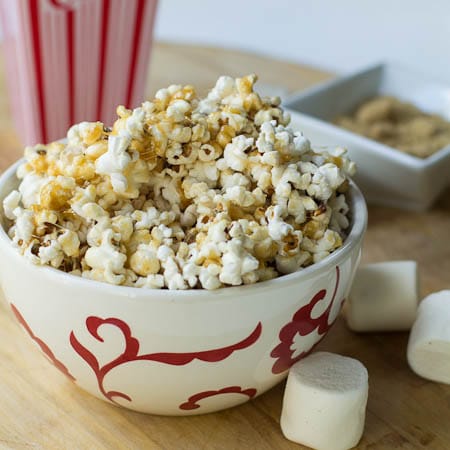 Who doesn't like a salty-sweet treat? With tons of brown sugar, butter, and marshmallows, this Marshmallow Caramel Popcorn is a little heavier on the sweet.  It's buttery, ooey, gooey, deliciousness at its best.
Warning: You may want to portion off a small portion because once you get started popping these soft, caramel popcorn pieces in your mouth, you won't be able to stop.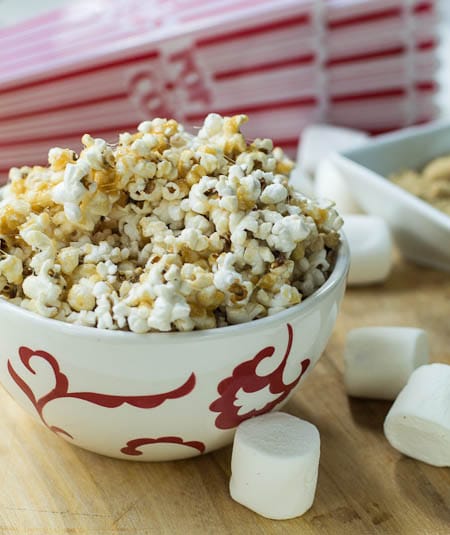 Marshmallow Caramel Popcorn will stay sticky and soft. Store in an airtight container if you don't gobble it all up.
If savory popcorn is more your thing, give this Rosemary Olive Oil Popcorn a try. I love the flavor combination.
For the popcorn, I used Madison Park Food's Petite Maize Popping Seeds. They are a brand new company and their popcorn seeds are an all-natural, non-GMO product that is produced through open-pollination (ie the old-fashioned way) and harvested and processed by family farmers. What is really great about this product is the seeds are "hulless", meaning they have a very soft and small hull that won't cause problems with dental issues. Or give dental issues to people who don't have them. 🙂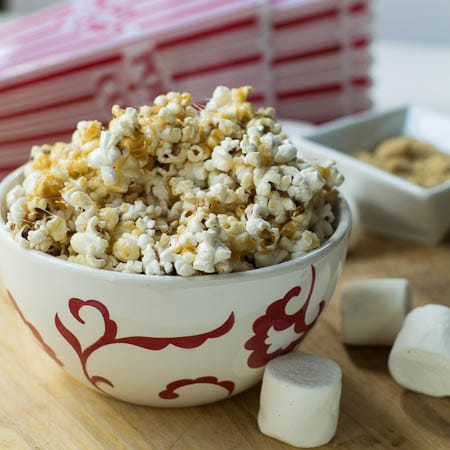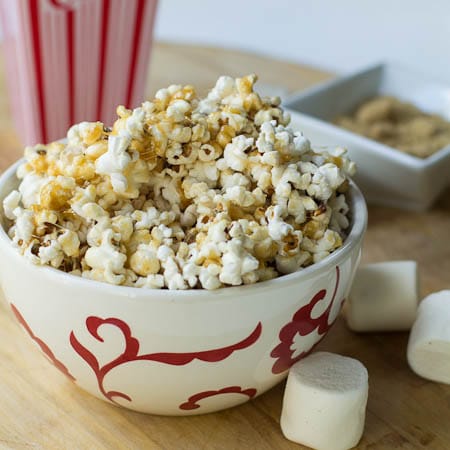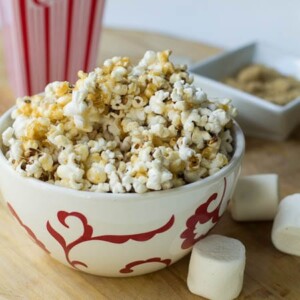 Marshmallow Caramel Popcorn
Ingredients
2-3

tablespoons

Canola Oil

1/3

rounded cup

popcorn kernels

pinch of salt

½

cup

brown sugar

½

cup

butter

1

tablespoon

corn syrup

9-10

large marshmallows
Instructions
Place oil and 2-3 kernels in a large pot, cover, and heat over medium heat. When kernels pop, add remaining kernels in a single layer, sprinkle with a little salt, cover, shake well, and continue to heat over medium heat. When popping slows down to a few seconds between pops, remove from heat.

Place brown sugar and butter in a microwave-safe bowl and microwave for 2 minutes. Add corn syrup and marshmallows and microwave until they are melted, about 1 ½ to 2 minutes. Stir and immediately pour over popcorn and stir to distribute.
Want to Save This Recipe?