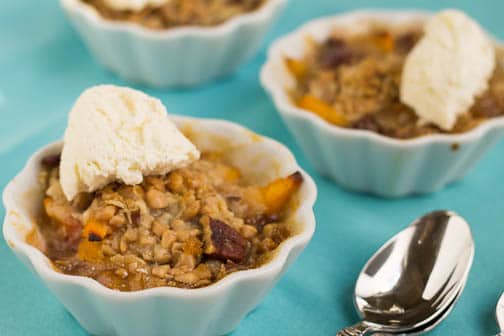 It's not even strawberry season yet and I'm dreaming of summer peaches. Last year we had such an early Spring. It seems like it's taking forever for Spring to get here this year.
I live in South Carolina, which is peach country. Georgia is the Peach State, but South Carolina produces more peaches. Lots more. There are peach orchards about a half a mile from my house and we enjoy them all summer long. There's nothing like a fresh, sweet peach so ripe that the juices dribble down your chin when you bite into it.
Of course fresh peaches are best, especially if eaten plain. But in a dish like Toffee, Pecan, and Peach Crisps, frozen ones will do just fine if you get a hankering for some outside of peach season.
What makes this Peach Crisp really exceptional are the toffee bits and pecans. And all southerners know, the most important thing to consider when eating peach crisp or peach cobbler is the addition of ice cream. The more the better. Make sure the peach crisp is still piping hot when you pile the ice cream on top. I like it when the ice cream completely liquefies. Then it's like a milkshake soup with peach crisp in it. 🙂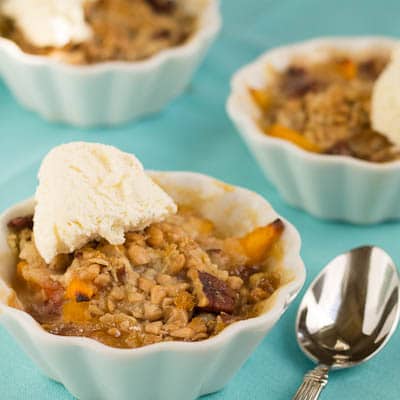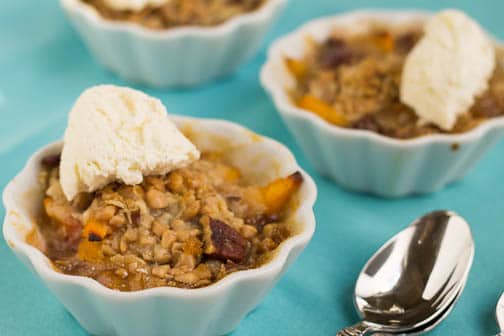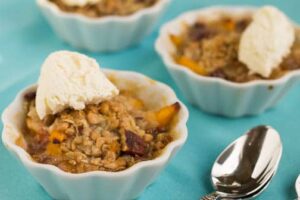 Individual Toffee, Pecan, and Peach Crisps
Ingredients
5

cups

fresh or frozen peaches,

about 2 pounds of frozen peaches, thawed if frozen

3

tablespoons

sugar

1/2

tablespoon

fresh lemon juice

1/2

teaspoon

vanilla extract
Topping
3/4

cup

all-purpose flour

1/4

cup

quick-cooking oats

1/3

cup

plus 1 tablespoon packed light brown sugar

1/4

teaspoon

salt

6

tablespoons

cold unsalted butter,

cut into pieces

3/4

cup

English toffee bits,

I used Heath Toffee Bits, located in the baking aisle with the chocolate chips

1/2

cup

pecans,

coarsely chopped

vanilla ice cream
Instructions
Preheat oven to 350 degrees. Butter six (1 1/4 cup) ramekins and place on a baking sheet

In a large bowl, mix peaches, sugar, lemon juice, and vanilla extract. Divide peach mixture among ramekins.

In a medium bowl, combine flour, oats, brown sugar, and salt. Add butter, and rub it into the flour mixture using your fingers. Stir in toffee bits and pecans. Sprinkle over peaches.

Bake until bubbly and light brown, about 40 minutes. Serve warm with ice cream.
Want to Save This Recipe?
Recipe Source: adapted from Bon Appetit