This is a Sponsored post written by me on behalf of P.F. Chang's. All opinions are 100% mine.
You may recall that my birthday was last week, but we held off celebrating because it fell on a busy school night. I'm happy to say it was worth the wait. On Saturday we celebrated at PF Chang's (the Phillip's Place Charlotte NC location) with my mother and brother, who incidentally was in the hospital recently with bacterial pneumonia. Thanks for all the get well wishes! He's been laying low, trying to get his energy back, but when he heard we'd be going to PF Chang's, there was no chance he'd miss it. It's been a family favorite for years.
I was extra excited for this visit to PF Chang's not only because it was my birthday celebration, but because they have a new Fall Seasonal Menu. Like there weren't already enough fabulous dishes to choose from at PF Chang's, right?
Among the items on the seasonal menu are and Apple Cinnamon Martini, Ginger Jalapeno Mule and Apple Cinnamon Martini, Shanghai Waldorf Salad, Crispy Korean Chicken Wings, Miso Chicken, Harvest Vegetable "Fried Rice", Vietnamese Noodles with Steak & Shrimp, Citrus Mustard Prawns, Apple Dessert Wontons, and Pumpkin Dessert Wontons.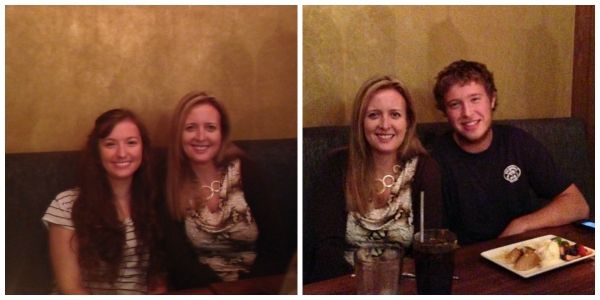 I had a difficult time choosing what to order. Can you blame me? Ultimately I went with my old stand by, the Kung Pao Scallops (nice and spicy!), but luckily my mother ordered the Citrus Mustard Prawns and she shared. They were some of the best shrimp ever- huge, tender, and moist. Absolutely cooked to perfection. They were served over hand cut zucchini ribbons and both the waiter and the lady who cleared our table mentioned that the Citrus Mustard Prawns were there favorite among the seasonal items. It's one of those meals that's so good you find yourself daydreaming about it the next day. Please tell me I'm not the only one who does that.
We also tried the Pumpkin Wontons. One word- Fabulous. Think I may need to try and recreate that recipe for my blog. Crispy wontons filled with a pumpkin/cream cheese filling and served with a vanilla, pumpkin sauce and walnuts.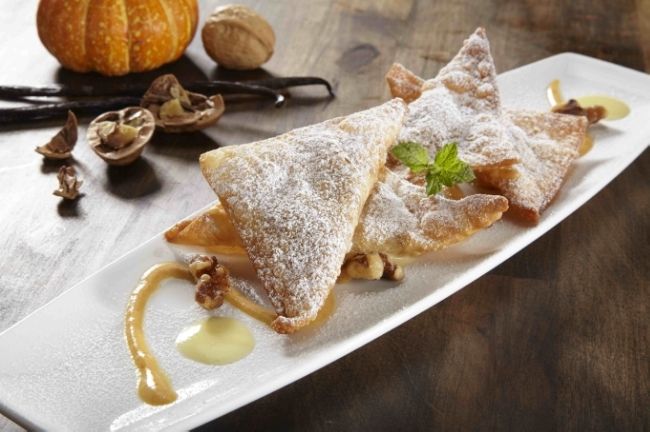 If you like to get creative in the kitchen, I have some great news for you! P.F. Chang's is hosting  The Goodness of Fall Contest and they are accepting recipe entries through Friday November 15. To enter you must create a recipe using at least 3 of the seasonal ingredients listed on the contest page.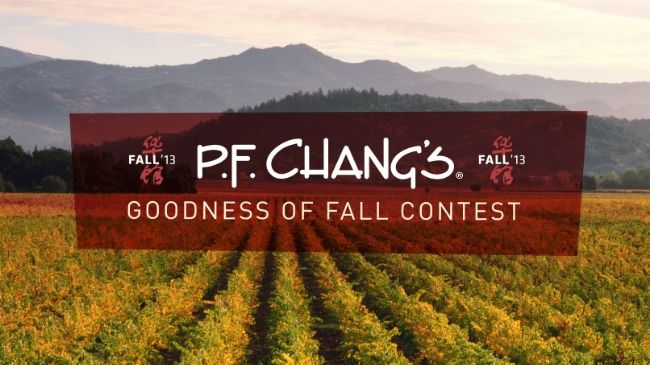 Voting takes place daily on Facebook and a panel of Judges will choose a grand prize winner from the 5 recipes with the most votes. In addition, each day a $50 gift card to P.F. Chang's will be awarded.  Judges for the Grand Prize winner include Philip Chiang, Cofounder of P.F. Chang's; Yuji Iwasa, Head Development Chef at P.F. Chang's; Mary Melton, Director of Beverage at P.F. Chang's; and Jennifer Chong, a prominent blogger partner.
The grand prize winner plus a lucky guest will win a 2-night trip to Napa Valley in the Spring of 2014 which will include an exclusive visit to a guest house at a vineyard where judges Philip Chiang and Yuji Iwasa will cook some of their favorite dishes. Mary Melton, the Director of Beverage for P.F. Chang's will be host an extensive wine tasting. Talk about a once-in-a-lifetime Getaway to Napa Valley. If you win, will you take me? 😉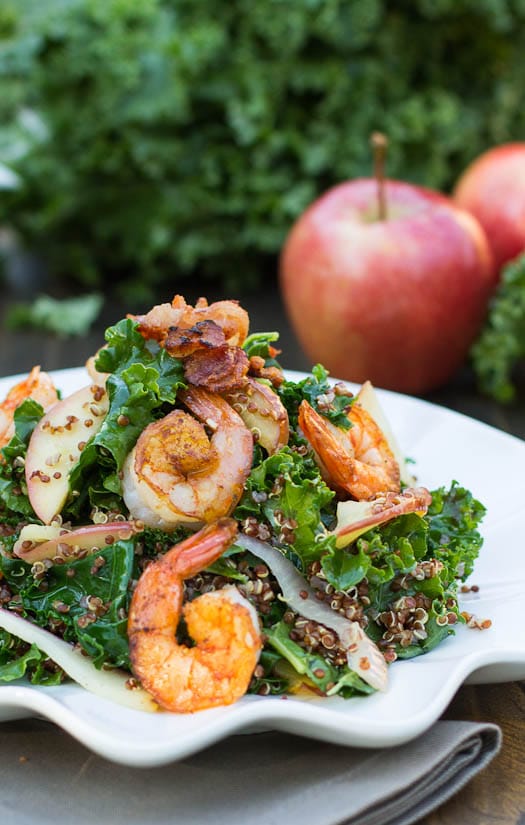 Be sure to  Follow @pfchangs on Twitter and Follow P.F. Chang's on Pinterest to keep track of the contest and other goings on at P.F. Chang's.
Today I made an Apple, Quinoa, Kale Salad topped with Spicy Shrimp and Bacon. This salad has fall written all over it. First I cooked some diced bacon in a skillet. I reserved the bacon crumble to go on top and sautéed some red onion and thinly sliced apple in the bacon grease and added a little fresh ginger. Next I added some torn curly kale and cooked it just until a little softened. I stirred in some red quinoa that I cooked separately.
For a light dressing I mixed together a little apple juice concentrate, white balsamic vinegar, and olive oil. Finally I sautéed some shrimp that I sprinkle with cayenne pepper and paprika. I thought it was the perfect union of sweet, spicy, and salty. Plus with the exception of a little bacon, it's a really healthy salad.
If there's a P.F. Chang's in your area, make sure you try their new seasonal menu. And if there's not one in your area, get in your car and drive until you find one. You won't regret it. Plus, you can visit the Recipe Contest Page and print a $10 off $40 coupon!!! I forgot to print mine before going this past weekend. But that just means I get to go again this weekend. And I'm so trying the Apple Cinnamon Martini.
Which P.F. Chang's seasonal dish are you most interested in trying?
Apple, Kale, Quinoa Salad with Spicy Shrimp and Bacon
½ cup red quinoa
1 cup water
2 slices bacon, diced
2 medium apples, thinly sliced
½ red onion, thinly sliced
1 small bunch kale, rinsed well, stems discarded, and leaves torn into pieces
1 teaspoon grated fresh ginger
1 pound shrimp, peeled and deveined
½ teaspoon paprika
¼ teaspoon cayenne pepper
2 tablespoons olive oil, divided plus additional
1 tablespoon apple juice concentrate
1 tablespoon white balsamic vinegar
¾ teaspoon salt
Freshly ground black pepper
Rinse quinoa under running water if it is not prerinsed. Combine quinoa and water in a small saucepan. Bring to a boil, cover, reduce heat to low and cook 15 minutes.
Cook bacon in a large nonstick skillet until crisp. Remove bacon a reserve. Add enough olive oil to the skillet to equal about 2 tablespoons when combined with bacon grease.
Heat oil over medium heat and add red onion and apple slices. Saute for 3-4 minutes.
Add kale and ginger and cook until kale is wilted, using tongs to turn it every so often so it cooks evenly. I like my kale to still be a little crunchy so I only cook it for a minute or 2. Cook it longer if you want the kale softer.
Stir in quinoa and ¾ teaspoon salt.
Sprinkle shrimp with paprika, cayenne pepper, and salt to taste. In a separate skillet or on a grill pan, heat 1 tablespoon oil and sauté shrimp for 2-3 minutes, turning over halfway through.
In a small bowl, whisk together apple juice concentrate, balsamic vinegar, and 1 tablespoon olive oil. Season with salt and freshly ground black pepper. Pour over quinoa/kale mixture. To serve top with shrimp and bacon crumbles.
Yield: 4 servingsFall Seasonal Menu