A no bake, light and airy Coconut Pumpkin Chiffon Pie served chilled and topped with a rich and decadent mascarpone whipped cream is a welcome change from plain old pumpkin pie. This is the first time I've ever combined pumpkin and coconut in a dessert. What a delicious combination!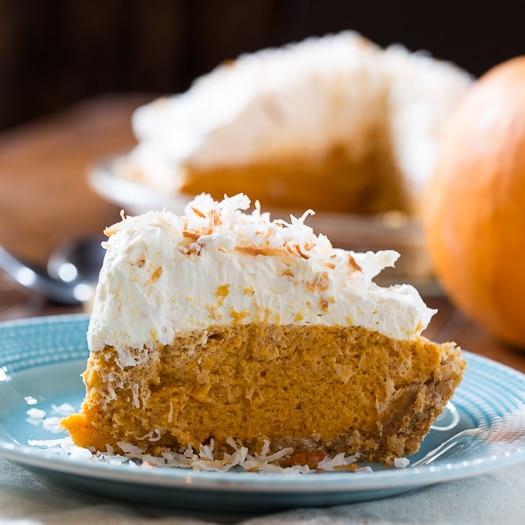 Do you have the same desserts year after year on your Thanksgiving table? I would hear very loud protests if we didn't have a pecan pie every year, but I also like to try something new. It's so hard to decide on just one new Thanksgiving dessert recipe, I've decided to spend the whole month of November trying new fall desserts. 🙂
And pumpkin pie is a dessert that should be enjoyed more than just one day a year.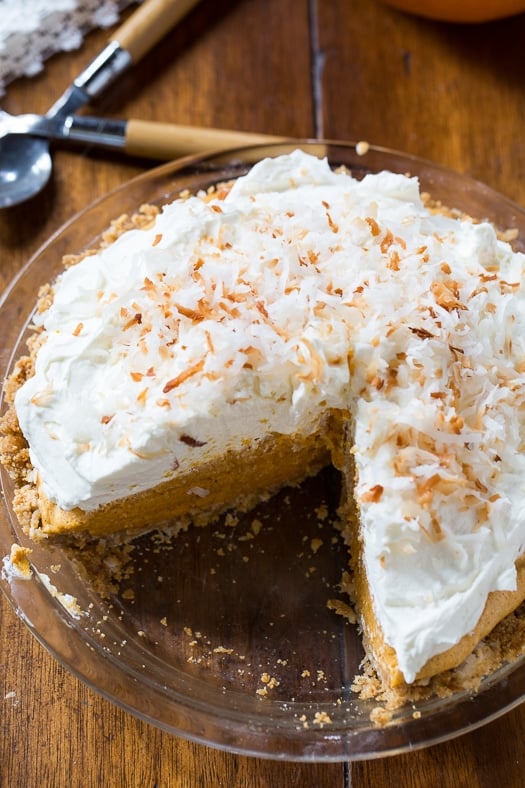 The no-bake crust for this Coconut Pumpkin Chiffon Pie is a delicious mixture of graham cracker crumbs and toasted coconut. The chiffon filling is made with gelatin, egg yolks, milk, fall spices and sugar. It's cooked on the stovetop until creamy and thick. Once chilled, beaten egg whites are folded into it to create a light and luscious filling.
The egg whites are not cooked at all so it's important to look for pasteurized eggs at your store.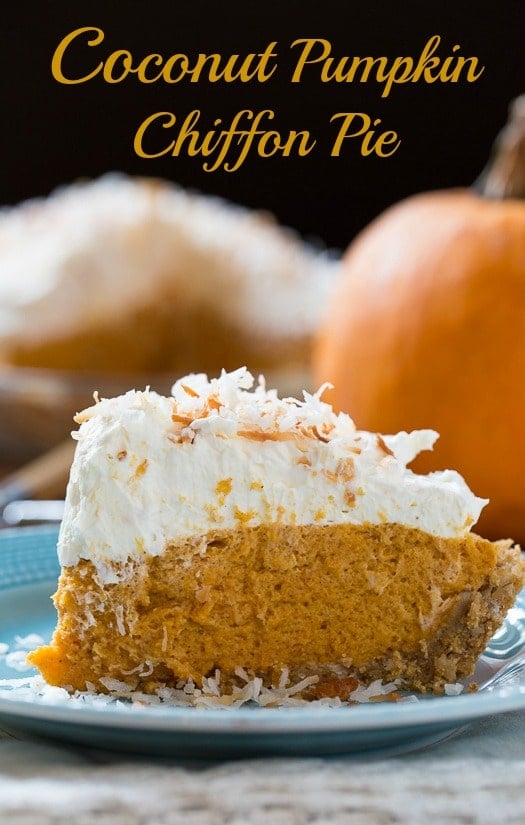 I topped the pie with my favorite mascarpone whipped cream. Not only does the mascarpone cheese make it super thick and creamy, but it helps stabilize the cream too. It will stay thick and creamy for days. If you can't find mascarpone cheese or don't want to shell out the money for it (so worth it for a special occasion though) you can just double the amount of cream in the whipped topping. Since fresh whipped cream tends to lose it's airiness and get a little runny over time, you may want to make the whipped cream pretty close to serving time. If you add in the mascarpone, you can make it in advance without any issues.
Sprinkle some toasted coconut on top and you have a beautiful, delicious fall dessert.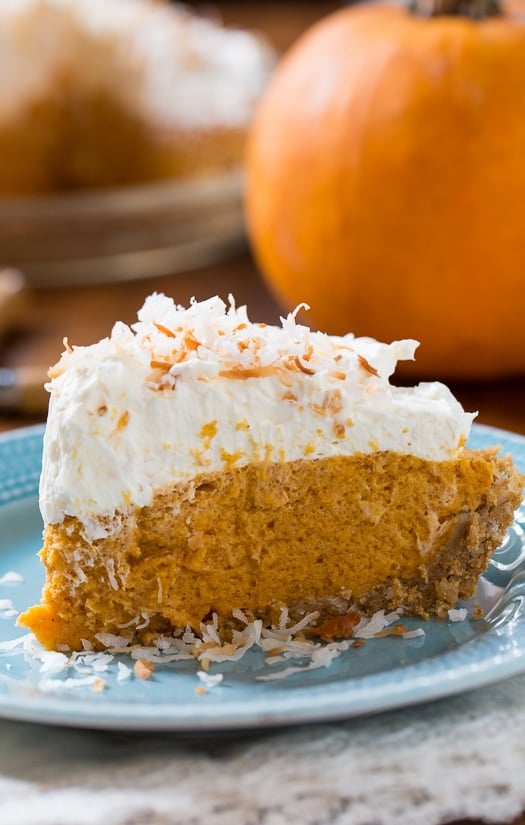 Never miss a recipe. Follow Spicy Southern Kitchen on Pinterest and Instagram.
Sign up HERE for the Spicy Southern Kitchen Newsletter.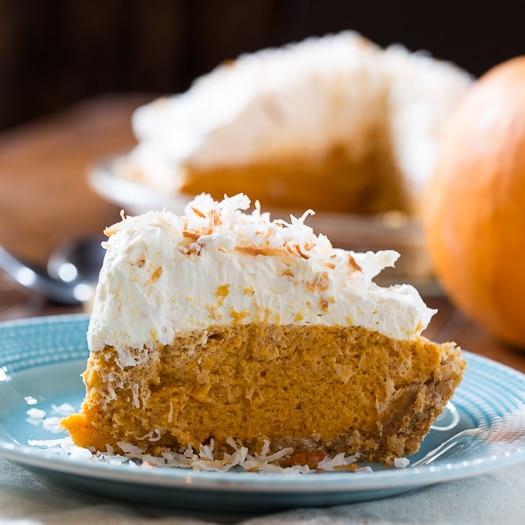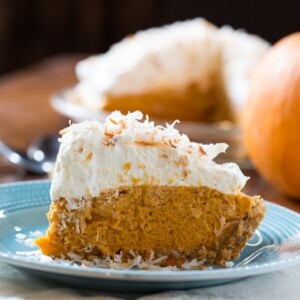 Coconut Pumpkin Chiffon Pie
A no bake pumpkin dessert flavored with coconut and fall spices. A rich and creamy mascarpone whipped cream makes this a truly decadent dessert.
Ingredients
1 1/4

cups

sweetened shredded coconut,

divided

1

cup

graham cracker crumbs

1/3

cup

butter,

melted

1/2

cup

milk

1

(15-ounce)

can pumpkin

1

teaspoon

ground cinnamon

1/2

teaspoon

salt

1/2

teaspoon

ground nutmeg

1/4

teaspoon

ground ginger

4

large pasteurized eggs,

separated

3/4

cup

plus 3 1/2 tablespoons sugar,

divided

1

(8-ounce)

container mascarpone cheese

1

cup

heavy whipping cream

1

teaspoon

vanilla extract
Instructions
Preheat oven to 350 degrees. Place coconut on a baking sheet, and place in oven to toast for 8 to 10 minutes, stirring halfway through.

In a medium bowl, mix together 1 cup coconut, graham cracker crumbs, melted butter, and 1 tablespoon sugar.

Press mixture into a 10-inch pie plate and refrigerate. Note: You can also use a 9-inch plate. The filling will just be piled higher.

In a 3-quart saucepan, whisk together milk and gelatin. Let stand 1 minute. Cook over medium heat, stirring continuously, 1 minute or until gelatin dissolves.

Stir in pumpkin, salt, cinnamon, nutmeg, ginger, egg yolks, and 1/2 cup sugar.

Cook and stir mixture for 5 to 7 minutes. Do not let boil. Turn heat down if it starts to bubble.

Pour mixture into a bowl and refrigerate for 40 minutes, stirring halfway through.

About 15 minutes before the 40 minutes is up, beat egg whites at high speed with a whisk attachment until soft peaks form, about 8 to 10 minutes.

Slowly add 1/4 cup sugar to egg whites and beat until stiff peaks form, about 2 to 3 minutes.

Add 1/3 of egg white mixture into pumpkin mixture and fold in using a rubber spatula. Fold in another third and then the remaining egg whites.

Pour into crust and chill 2 hours.

Beat mascarpone cream and heavy whipping cream until soft peaks form. Gradually add sugar and vanilla and beat until mixture is stiff. Spread on top of pie. Sprinkle with remaining coconut and serve. Store leftovers in refrigerator.
Notes
Serve pie chilled.
You can toast the coconut in a nonstick skillet instead of the oven.
Instead of using the mascarpone in the whipped topping, you can double the heavy cream.
Eggs are easier to separate when they are cold, but egg whites whip better at room temperature. Separate the eggs just after removing from the refrigerator and let the egg whites sit on the counter for about 15-20 minutes before beating. Not much longer though since the egg whites are not going to be cooked.
Want to Save This Recipe?
Recipe Source: adapted from Southern Living
Sharing with the Weekend Potluck.
Another Thanksgiving favorite is this Crock Pot Pecan Pie!