Chocolate and Peanut Butter Oatmeal. You won't taste a more delicious oatmeal. With the new Chocolate Silk Cashewmilk, this oatmeal is super easy to make. Instead of using water, the oats are cooked in Chocolate Cashewmilk.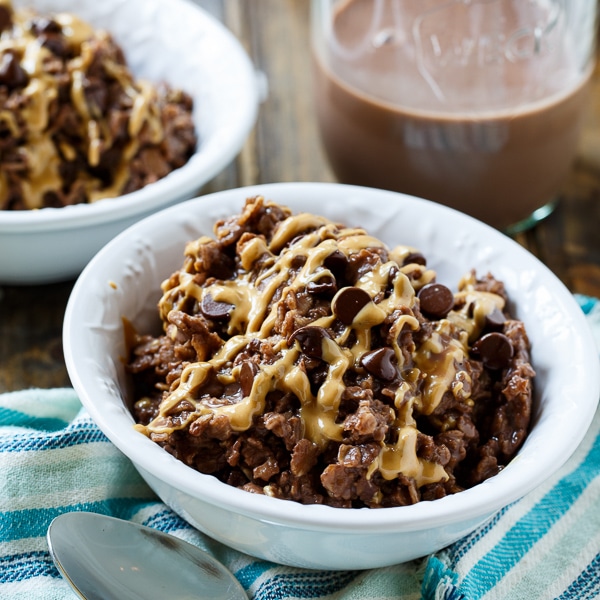 I added just a little maple syrup for more sweetness and drizzled some melted peanut butter on top. You can also sprinkle the oatmeal with a few chocolate chips, but the Chocolate Cashewmilk gives the oatmeal plenty of chocolate flavor. Just look at how dark and chocolaty it looks!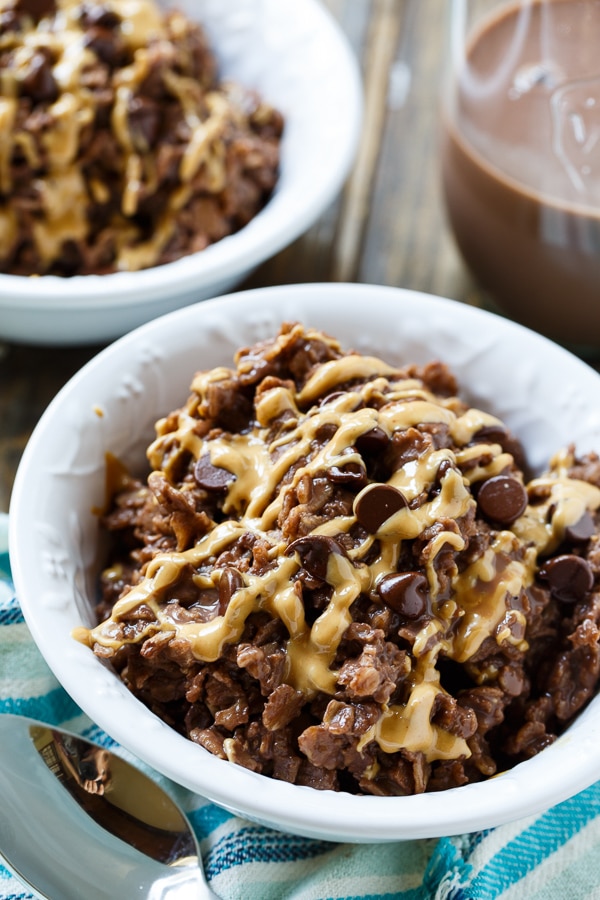 Only 4 ingredients and you have yourself a simple, easy breakfast that is perfect for back-to-school breakfasts. If you have teenagers like I do, you may find that they walk around like zombies in the morning and have no interest in eating breakfast before school.
But put a bowl of this Chocolate-Peanut Butter Oatmeal in front of them and they'll go to school with full tummies. Who can resist the combination of chocolate and peanut butter? Not anyone I know. You'll have the peace of mind of knowing your kids have had a nutritious breakfast.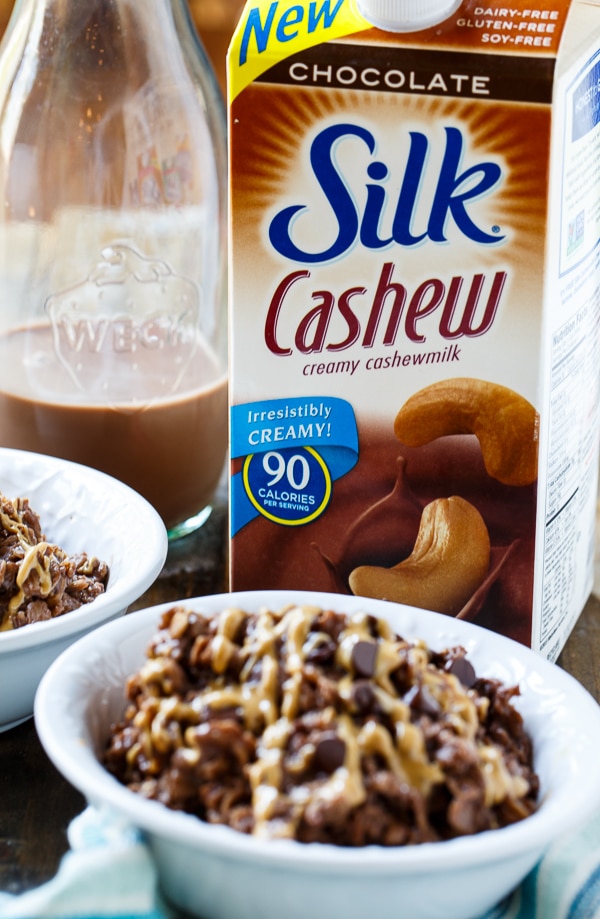 Silk Cashewmilk has recently added chocolate and vanilla flavors to its line of cashew milk. The chocolate is irresistibly creamy and tastes delicious on its own or you can use it to make smoothies, hot chocolate, or to replace dairy milk in baked goods. Silk Cashewmilk is lactose-free, dairy-free and has no cholesterol, high-fructose corn syrup, artificial flavors or preservatives.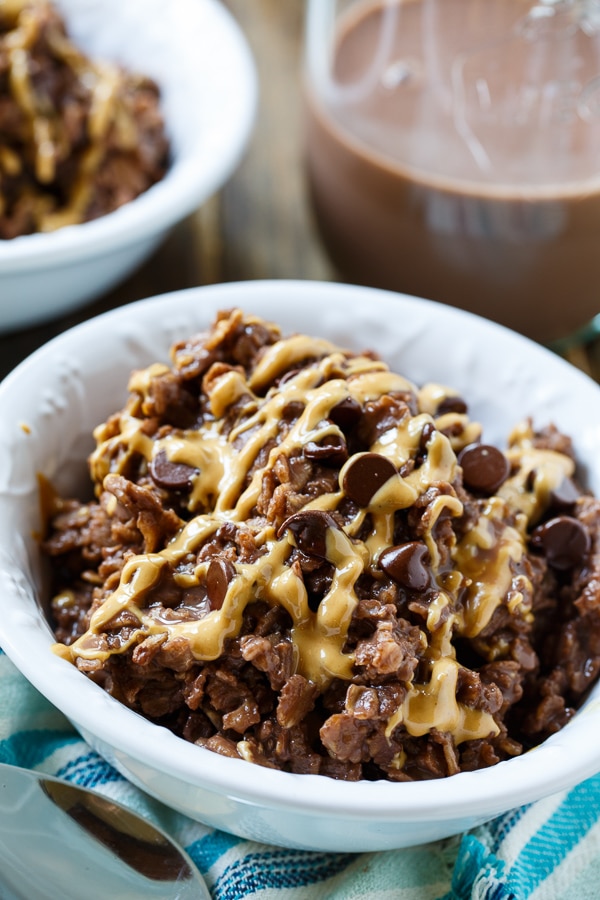 It has a sweet, but not too sweet flavor with a slight nuttiness that perfectly complements oatmeal. The chocolate flavor has only 90 calories in an 8-ounce serving.
Be sure to register on Silk Cashewmilk's website to get a coupon to try your own Silk Cashewmilk and find delicious recipes.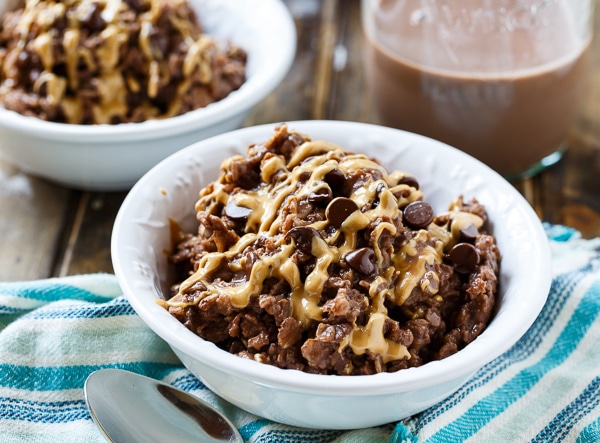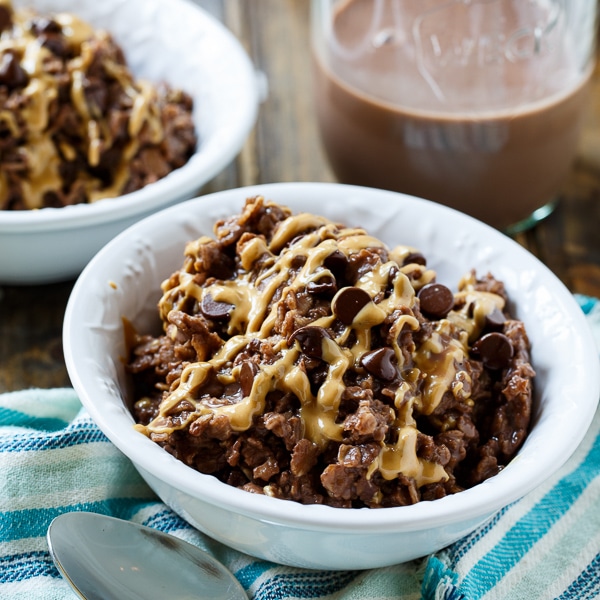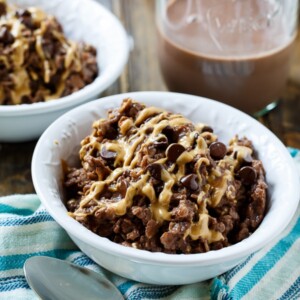 Chocolate-Peanut Butter Oatmeal
Chocolate-Peanut Butter Oatmeal tastes like dessert, but it makes a nutritious and filling breakfast. Only takes minutes to make!
Ingredients
2

cups

old-fashioned oats

3 1/4

to 3 1/2 cups

Silk Chocolate Cashewmilk

pinch of salt

1

tablespoon

pure maple syrup

1/4

cup

peanut butter

chocolate chips,

opitional
Instructions
Bring Cashewmilk to a boil in a medium saucepan. Stir in oats and salt. Cook for about 5 minutes over medium heat, stirring frequently.

Remove from heat and stir in maple syrup.

Place peanut butter in a microwave-safe bowl. Microwave for 10-15 seconds to melt the peanut butter.

Dish oatmeal into bowls and drizzle with peanut butter.

Sprinkle with chocolate chips if desired.
Notes
Use 3 1/4 cups Cashewmilk if you like a thicker oatmeal. Use more if you want it thinner. You can always add more Cashewmilk or some water at the end to thin it.
Want to Save This Recipe?
This conversation is sponsored by Silk. The opinions and text are all mine.