These Chocolate Peanut Butter Meringue Dessert Bars are made to impress with a graham cracker crust topped with a chocolate chip cake, a creamy peanut butter filling and finished off with a peanut meringue. That's a lot of stuff going on isn't it? These bars take a long time to make. Whoever you make them for will feel quite special.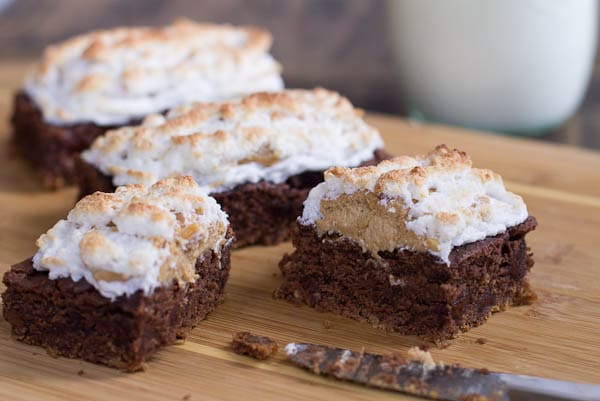 And if you're stuck inside during a winter storm like we currently are, they will help you pass the time. They can actually be made over 2 days so the time involved really isn't that bad. Make the graham cracker crust and cake part one day and finish it off with the peanut butter filling and meringue the next day.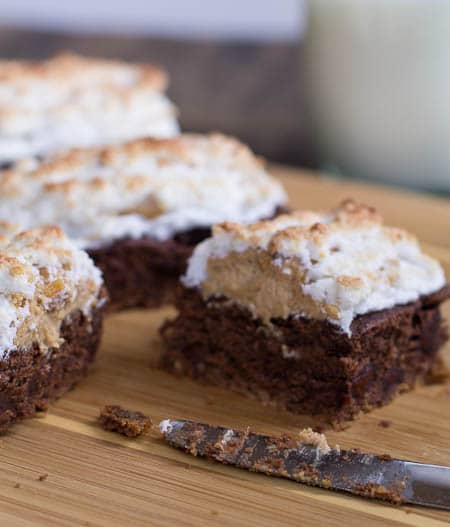 The peanut butter filling is my favorite part of this bar. It's like a hidden surprise. The nutty meringue is fabulous too. I don't know why it never occurred to me to put chopped peanuts in a meringue. I think I will be using this meringue on something else.
This recipe is from the cookbook Death by Chocolate Cakes: An Astonishing Array of Chocolate Enchantments
. I got it for a dollar at Goodwill a few weeks ago and it was a definite score. A few of the recipes are a little wacky (Chocolate Caraway On-The-Rocks Trifles and Cocoa Skillet Cake with Tequila Sunshine Salsa), but I'll be trying most of the recipes in this book.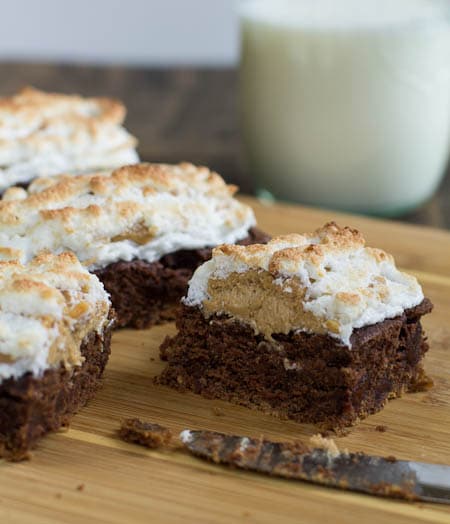 I wanted to share this wonderful treat today because there are two things that are special about this day. We got snow, and we hardly ever get snow. And my son got his last chemo treatment today! He made it all the way through 3 months of chemotherapy like a champ. He never complained, he never got sick, or even nauseous. His tumor markers have normalized which is a very good sign that all of the cancer has been killed. Unfortunately he has to have surgery in the next month to remove his retroperitoneal lymph nodes, but he is in good spirits about it.
We are all feeling very thankful everything has gone so well and we are definitely counting our blessings every day and thinking about all the people whose lives are affected by cancer.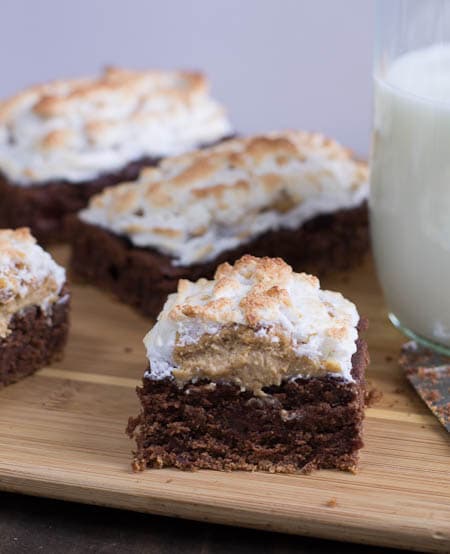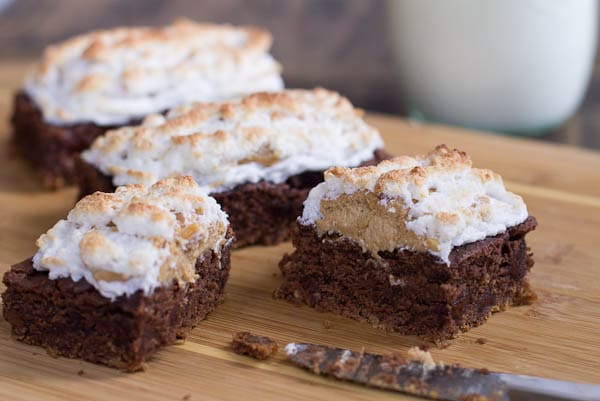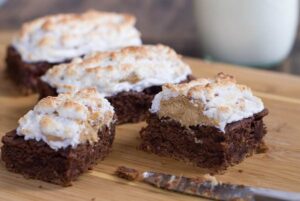 Chocolate Peanut Butter Meringue Bars
Graham cracker crust topped with chocolate chip cake, peanut butter filling and a peanut meringue.
Ingredients
Graham Cracker Crust
11

graham crackers,

double crackers

1/2

cup

unsalted butter,

melted

2

tablespoons

tightly packed dark brown sugar
Milk Chocolate Chip Cake
2

cups

all-purpose flour

1/2

cup

unsweetened cocoa powder

1/2

teaspoon

baking powder

1/4

teaspoon

salt

1

cup

tightly packed dark brown sugar

1

cup

unsalted butter

(2 sticks), cut into 1 tablespoon pieces

3

large eggs

1/2

cup

whole milk

2

teaspoons

vanilla extract

2

cups

milk chocolate chips
Creamy Peanut Butter Filling
1 1/2

cups

creamy peanut butter

1/2

cup

confectioners' sugar
Nutty Meringue Topping
1/2

cup

lightly salted dry roasted peanuts

1/4

cup

granulated sugar

1/4

cup

light corn syrup

1/4

cup

water

4

large egg whites
Instructions
Make the Graham Cracker Crust. Preheat oven to 325 degrees.

Place graham crackers in a food processor. Pulse until crackers are fine crumbs, about 30 seconds.

Add 1/2 cup melted butter and 2 tablespoons dark brown sugar. Pulse until combined, about 10 to 15 seconds.

Pour mixture into a nonstick 9 x 13-inch pan. Use your hands to press the mixture in an even layer along the bottom of the pan.

Place on center rack of oven and bake 5 minutes. Let cool.

Prepare Milk Chocolate Chip Cake. Keep oven temperature at 325 degrees.

Sift together flour, cocoa powder, baking powder, and salt onto a piece of parchment paper. Set aside.

Place 1 cup dark brown sugar and the 1 cup of butter cut into pieces in a mixing bowl and beat on low speed with an electric mixer for 30 seconds. Then beat on medium speed for 4 minutes. Scrape down sides of bowl.

Add 3 eggs, 1 at a time, beating on medium speed for 1 minute after each addition. Scrape down sides of bowl.

With mixer on low, add dry ingredients. Mix until incorporated.

Add 1/2 cup milk and vanilla extract. Mix on low until combined.

Add milk chocolate chips and mix on low for 10 seconds. Remove bowl from mixer and use a rubber spatula to finish mixing ingredients.

Pour batter on top of graham cracker crust and use rubber spatula to spread evenly. Bake for 42 to 45 minutes, or until toothpick inserted in center comes out clean.

Cool cake in pan for 20 minutes. Invert cake onto a baking sheet and refrigerate for 10 minutes.

Turn cake onto a cutting board, crust side down. Cut cake into 12 rectangles by cutting in half lengthwise and then making 5 cuts crosswise. You can trim the edges of the cake before you cut into rectangles to get more even looking pieces. Place cakes pieces on baking sheet and set aside.

Make Creamy Peanut Butter Filling. Place 1 1/2 cups peanut butter and 1/2 cup confectioners' sugar in the bowl of an electric mixer fitted with paddle attachment. Mix on low for 20 seconds. Scrape down sides of bowl and beat on medium-high for 3 minutes. Set aside.

Make Peanut Meringue Topping. Preheat oven to 450 degrees. Finely chop 1/2 cup peanuts using a food processor. Set aside.

Heat 1/4 cup granulated sugar, 1/4 cup light corn syrup, and 1/4 cup water in a small saucepan over medium-high heat, stirring to dissolve sugar. Bring to a boil and boil, stirring often, until temperature reaches 240 degrees. This will take about 3 minutes. Remove from heat.

Immediately place 4 egg whites in a bowl of an electric mixer fitted with a balloon whisk. Turn mixer on high until soft peaks from, about 1 minute.

Lower speed to medium and very slowly pour hot syrup into egg whites. Once all syrup has been added, increase speed to high until egg whites are stiff, about 2 minutes.

Use a rubber spatula to fold peanuts into meringue. Spoon meringue into a pastry bag fitted with a medium star tip.

Pipe a border of meringue on top of each cake piece. Fill center of border with 1 heaping tablespoon of peanut butter filling.

Pipe the rest of the meringue in lengthwise strips to cover all of the peanut butter.

Place in oven for about 3 1/2 minutes, until meringue starts to turn golden brown. Serve.
Notes
It is easiest to separate egg whites when they are cold, but meringue should be made with room temperature egg whites.
These bars are best eaten straight from the oven while the meringue is still crisp, but they will keep at room temperature for 24 hours.
Make sure the peanuts are very finely chopped or they will get stuck in the pastry bag tip.
Want to Save This Recipe?
Recipe Source: Death by Chocolate Cakes: An Astonishing Array of Chocolate Enchantments
Spicy Southern Kitchen is an amazon.com affiliate.