Happy Halloween! I don't know what it is about Halloween, but it always makes me think of thick, hearty soups. I guess that's what I picture in all those witch's cauldrons you see about. This Chipotle Pork and Sweet Potato Posole was published in Louisiana Cookin'
 Magazine last year. It won the Entrée Category of the 7th Annual Sweet Potato Recipe Contest. It's a fabulously hearty Latin American style soup and really different from any other soup I've made before.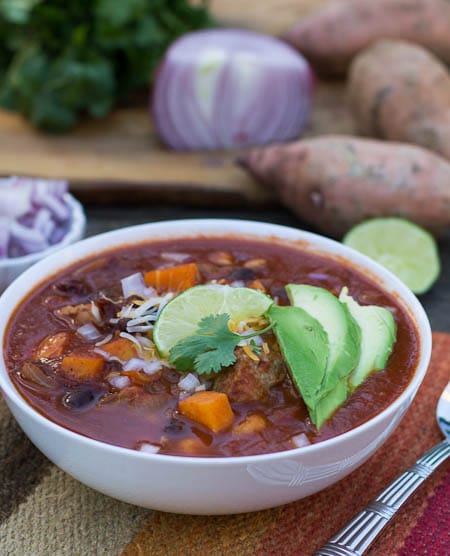 The original recipe called for 2 cans of Chipotle Peppers in Adobo Sauce. I thought that would be way too spicy. I mean, I like spice and everything, but 2 cans? Yikes! I used 1 instead and I think it turned out to be the perfect amount. It was very smokey and fairly spicy and the sweet potatoes really help tone the spice down some. The recipe seems to call for adding the peppers whole, but I chopped mine. Who wants whole chipotles in their soup? I wouldn't think it would look appealing. (They're not the most attractive things.) And it seems like the spice would be way to concentrated. The chipotles give the soup a wonderful deep red color which is only accentuated by the accents of bright orange sweet potato cubes.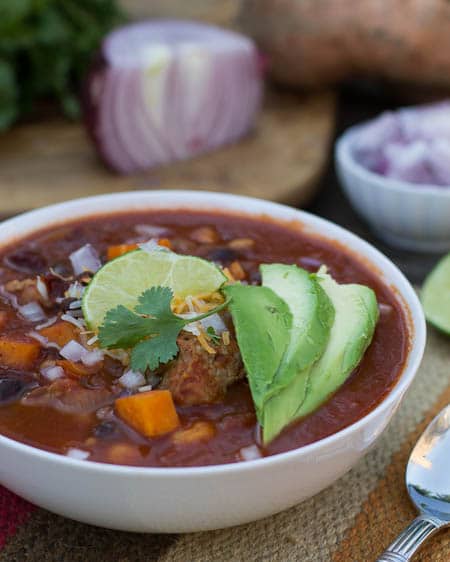 The chunks of pork stay extra tender and moist which is something I didn't expect. Hominy is one of the characteristic ingredients in posole. You should be able to find it in the canned vegetable section of your grocery store with the corn. Hominy is made from corn kernels that have been soaked in a lime solution to soften the hulls. The germ and hull is then removed. Hominy has a nice, chewy texture, but I don't find it to have much flavor, especially in a spicy dish like this one.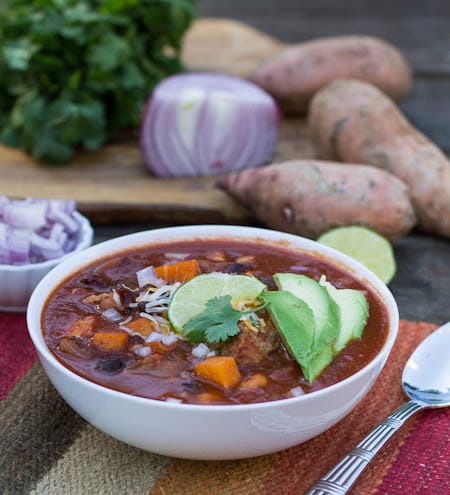 Chipotle Pork and Sweet Potato Posole will warm up even the coldest of days.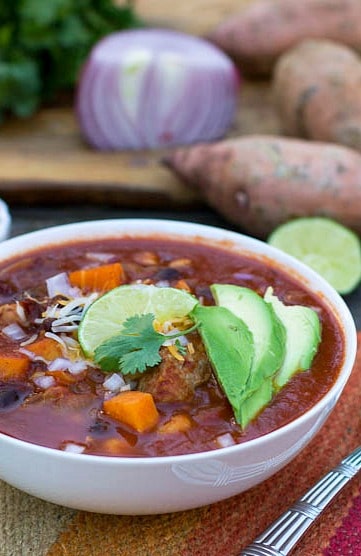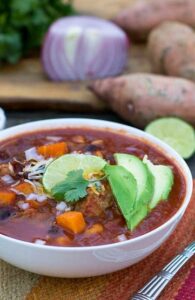 Chipotle Pork and Sweet Potato Posole
An intensely spicy soup with pork, sweet potatoes, and hominy.
Ingredients
1

tablespoon

olive oil

1

pork tenderloin cut into 1-inch cubes,

about 1 pound

1

medium onion,

peeled and cut into 1/4-inch dice

2

cloves

garlic,

minced

2

teaspoons

dried oregano

1/4

teaspoon

ground cinnamon

1/2

teaspoon

kosher salt

1/2

teaspoon

freshly ground black pepper

2

small sweet potatoes,

peeled and cut into 1/2-inch dice

2

cups

chicken stock or broth

2

(15-ounce)

cans hominy,

drained

1

(28-ounce)

can crushed tomatoes

1

(7-ounce)

can chipotle peppers in adobo sauce,

discard all but 1 tablespoon of the sauce, roughly chopped

1

(4.5-ounce)

can diced green chiles,

drained

1

(15-ounce)

can black beans,

drained

Shredded Monterey Jack cheese,

cilantro, lime, red onion, and avocado for topping
Instructions
In a Dutch oven, heat the oil over medium-high heat. Add pork and onions and sauté until onions are translucent, about 3 minutes.

Add garlic, oregano, cinnamon, salt, and pepper and cook 1 minute, stirring constantly.

Add sweet potatoes, stock, hominy, tomatoes, chipotle peppers, and the 1 tablespoon of adobo sauce and bring to a boil. Reduce heat to medium-low and simmer uncovered for 15 minutes.

Add green chilies and black beans and cook uncovered for 10 minutes.

To serve, ladle into bowls and top with desired toppings.
Want to Save This Recipe?