There's no comfort food like southern Chicken and Waffles. It's the ultimate combination of sweet and savory. To add even more flavor, these Chicken and Waffles are drizzled with a TABASCO Maple Syrup for a spicy kick.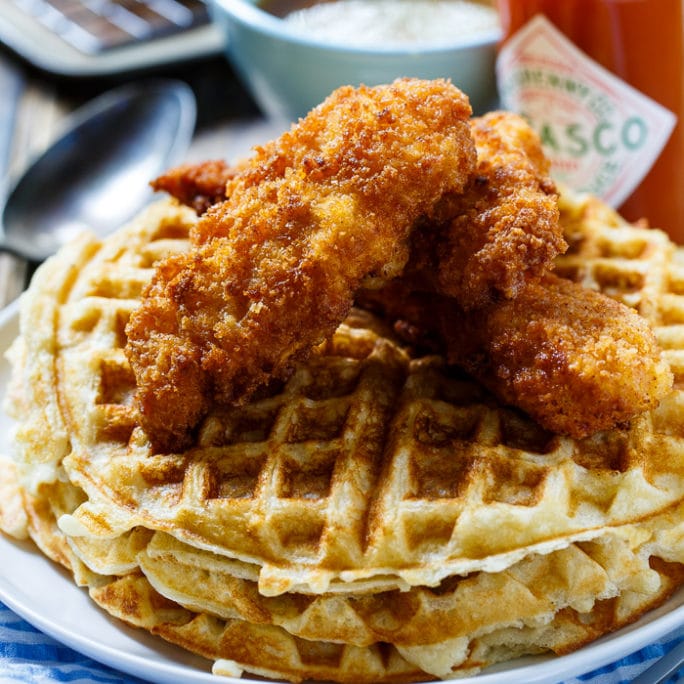 And since I can never get enough spicy flavor, I marinated the chicken in TABASCO Garlic Pepper Sauce before frying it. It not only adds some heat but infuses the chicken with an awesome garlic flavor.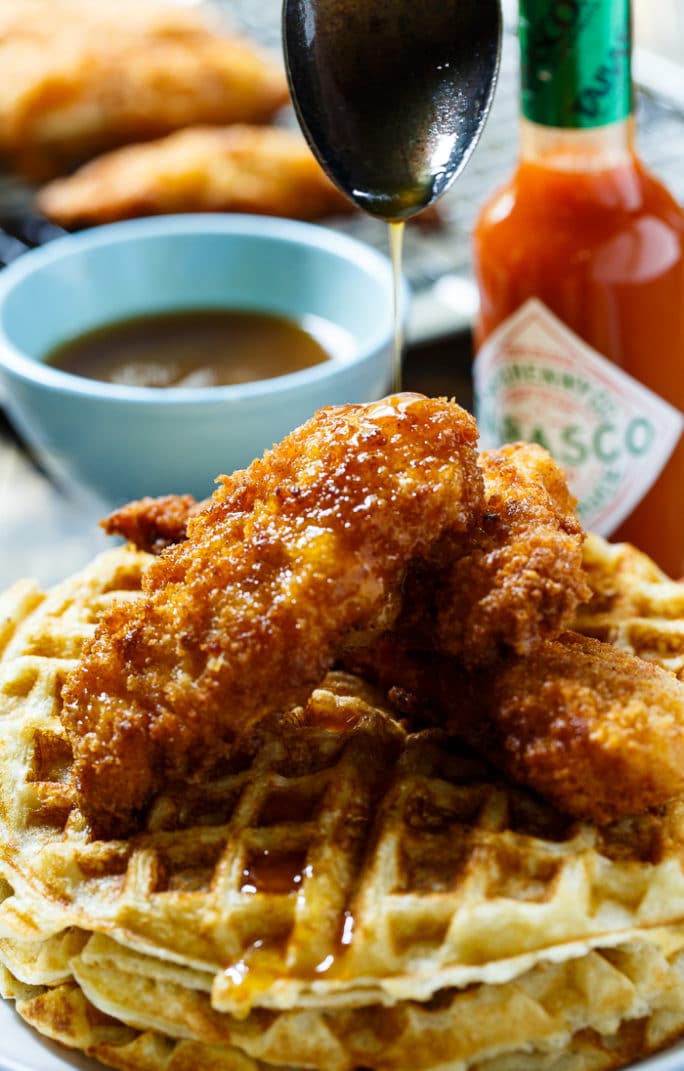 With a little less heat than original TABASCO sauce, TABASCO Garlic Pepper Sauce has become one of my favorite things to cook with. It's made from a combination of cayenne, tabasco peppers, and red jalapeno combined with garlic. It's milder flavor makes it perfect for adding to things like pizza and sandwiches.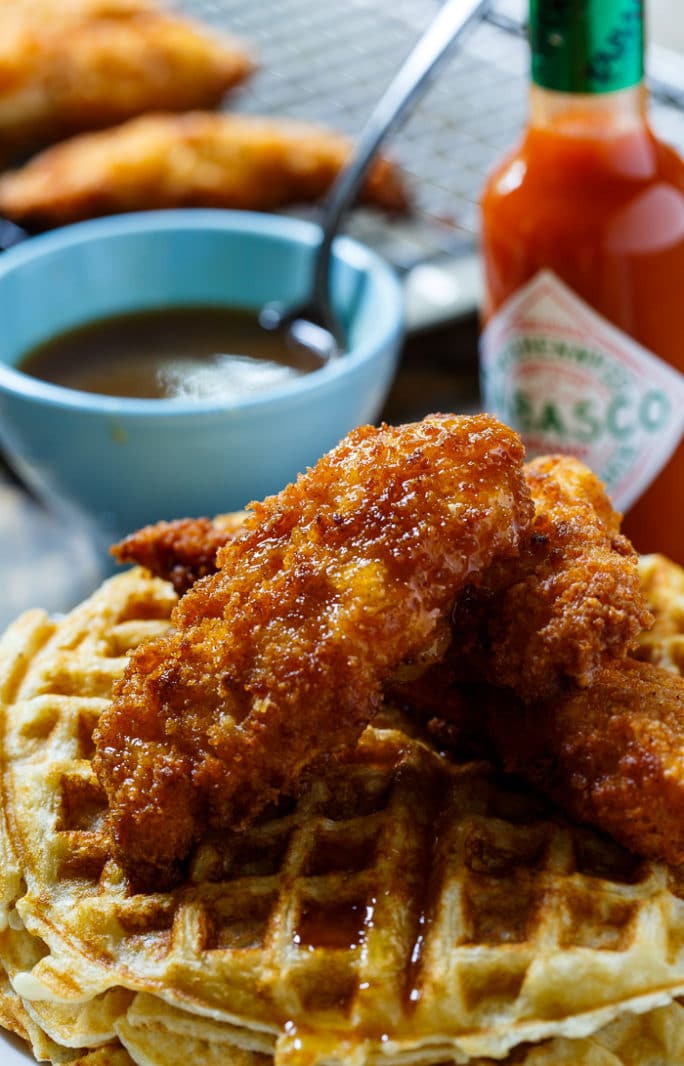 I had no idea how many different flavors of TABASCO were available until I visited Avery Island last month. Avery Island is where TABASCO is produced and bottled.
TABASCO sauce has been my favorite hot sauce for as long as I can remember and I was excited to get invited to Avery Island to learn the story behind it.
Edmund McIlhenny first began bottling and selling TABASCO sauce in the late 1860s. Made from just 3 ingredients: aged tabasco peppers, vinegar, and salt mined on Avery Island, TABASCO sauce has a truly distinctive taste.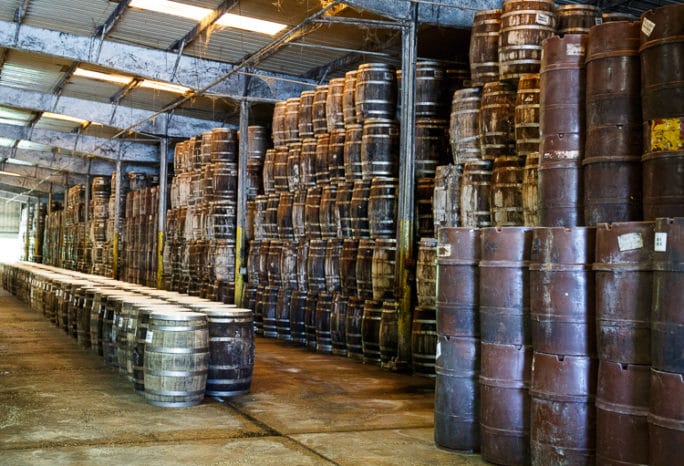 What makes TABASCO sauce so unique is the 3 year process used to create each bottle of sauce. The peppers are crushed and mixed with salt and stored in re-purposed bourbon barrels for approximately three years to form a pepper "mash".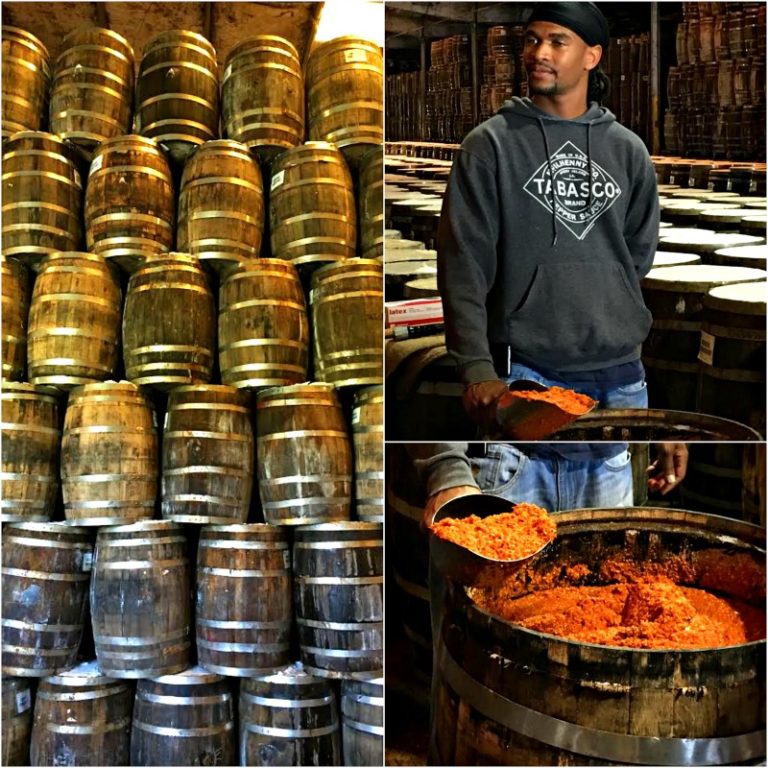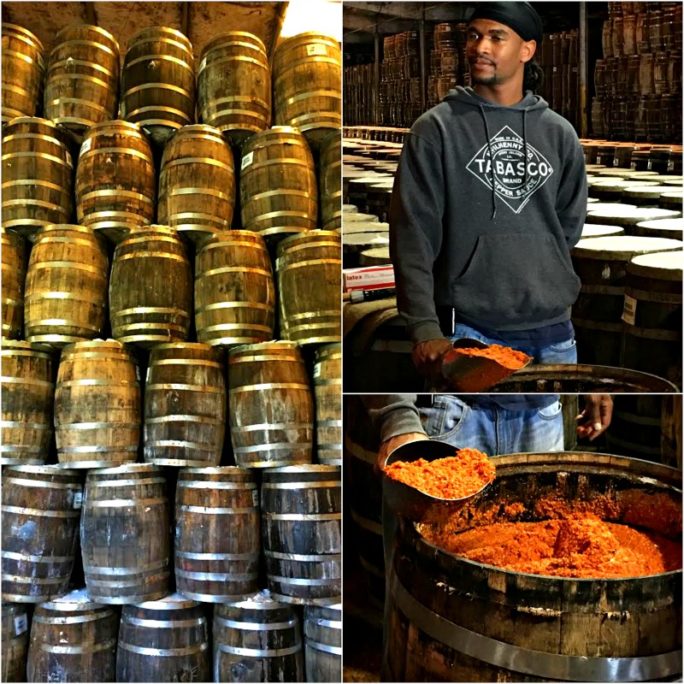 Next the mash is blended with vinegar for 2 to 3 weeks and then strained and bottled.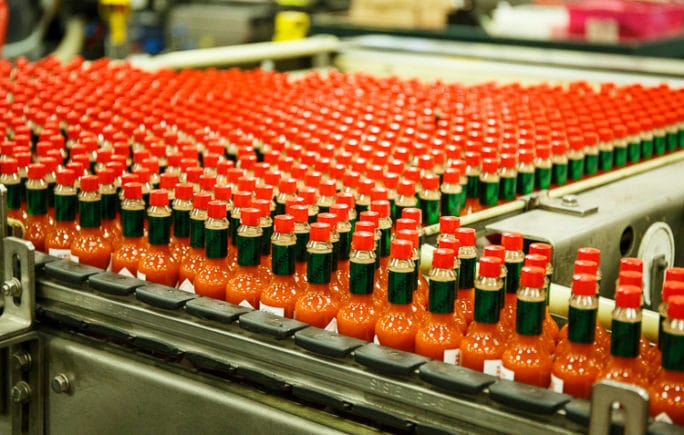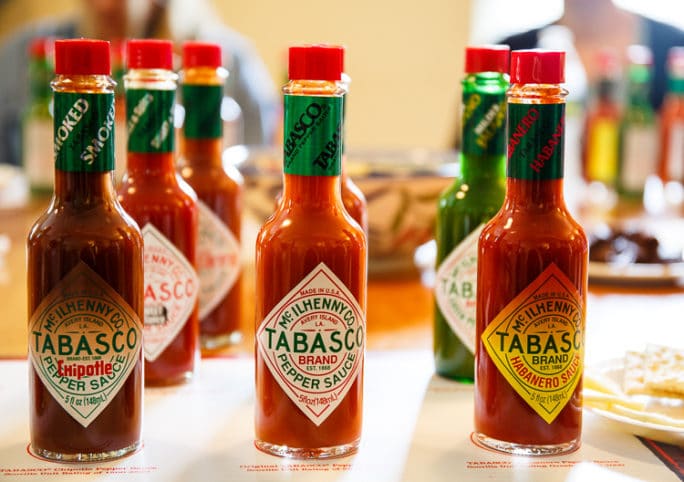 In addition to the original TABASCO Pepper Sauce and the Garlic Pepper Sauce, there are also Chipotle, Habanero, Green Pepper, Buffalo, and Raspberry Chipotle Sauces. If you can't find them in stores, they can be ordered online from Tabasco.com.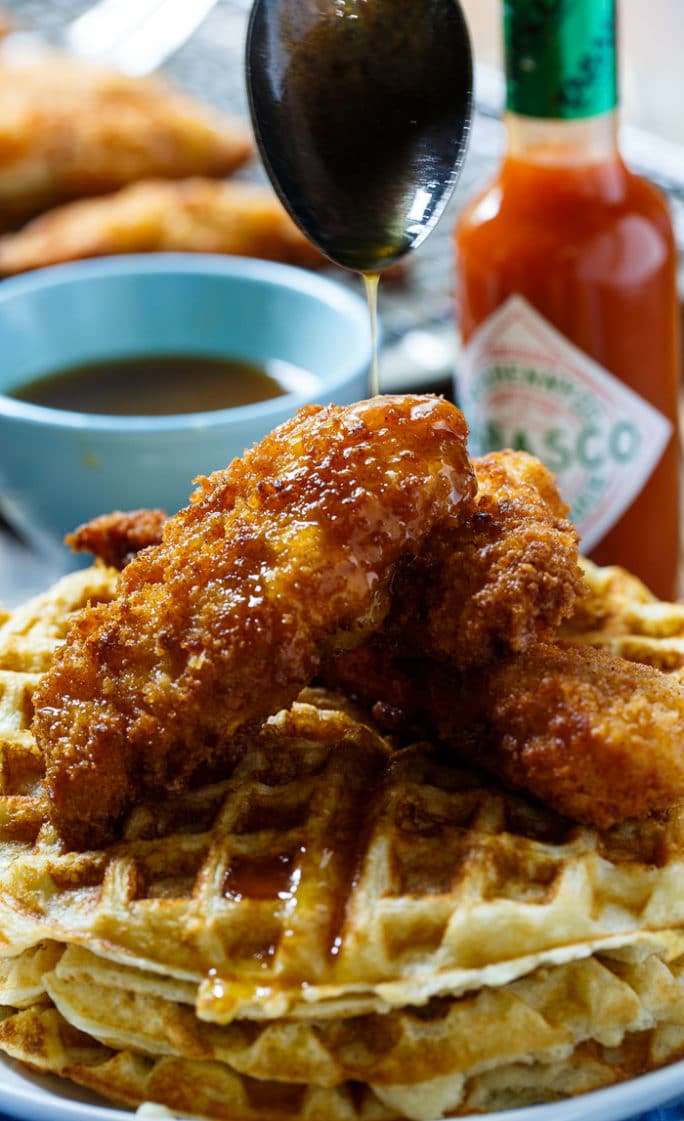 I love a big plate of Chicken and Waffles. A tender and slightly sweet waffle topped with perfectly seasoned fried chicken is such a fantastic combo. But drizzle it with maple syrup flavored with TABASCO sauce and you have a whole new level of delicious. There's just something about that sweet and spicy combo that is so pleasing to the taste buds.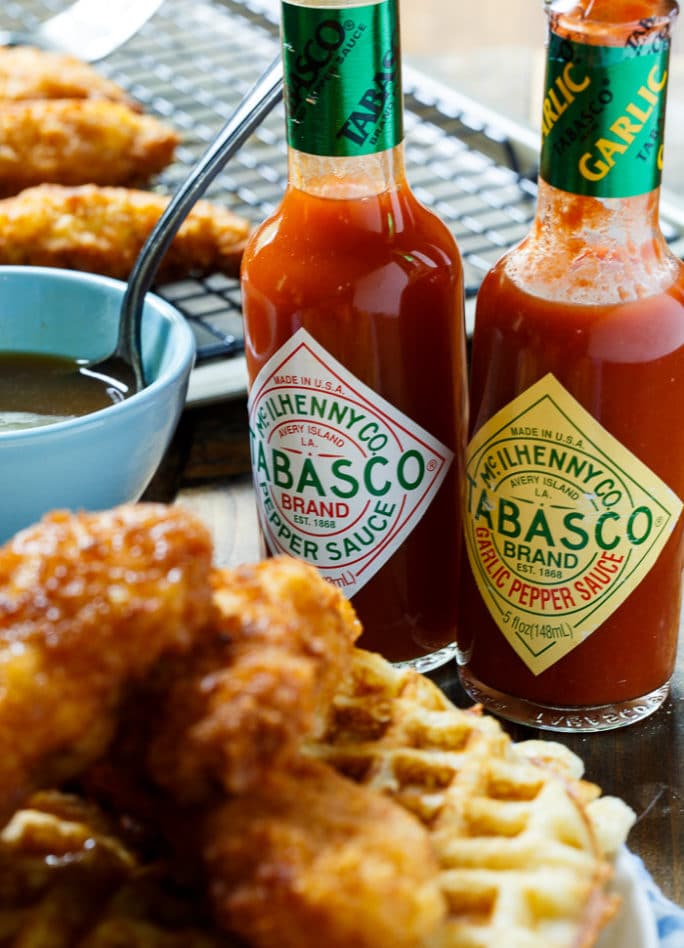 Find more ways to spice up your food with TABASCO at tabasco.com.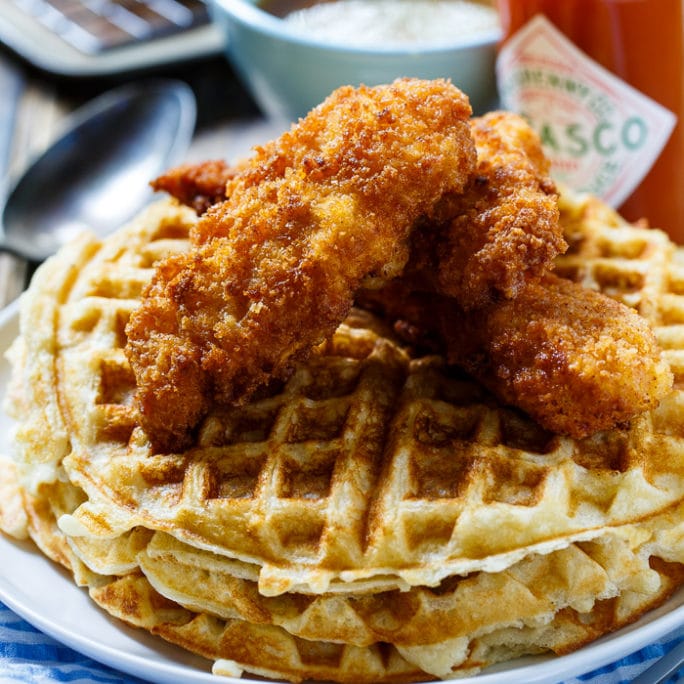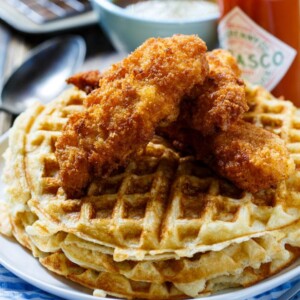 Chicken and Waffles
These Chicken and Waffles are drizzled with a TABASCO Maple Syrup for a spicy kick.
Ingredients
Chicken
2

pounds

chicken tenders

1

cups

buttermilk

2

teaspoons

TABASCO Garlic Pepper Sauce

1

egg,

lightly beaten

3/4

cup

Panko crumbs

1/2

cup

flour

1

teaspoon

seasoned salt

1

teaspoon

paprika

1

teaspoon

onion powder

1/2

teaspoon

garlic powder

1/4

teaspoon

ground white pepper

Vegetable oil for frying
Waffles
2

cups

flour

2

tablespoons

sugar

1

tablespoon

baking powder

1/4

teaspoon

salt

2

eggs

1/3

cup

vegetable oil

1 3/4

cup

milk

1 1/2

tablespoons

butter

1

teaspoon

vanilla extract
TABASCO Syrup
1/3

cup

maple syrup

1

tablespoon

butter,

melted

1 1/2

teaspoons

TABASCO Sauce
Instructions
Mix together buttermilk and Garlic TABASCO in a shallow bowl. Add chicken and stir to coat. Refrigerate for 1-2 hours.

Remove chicken from buttermilk and whisk egg into buttermilk. Return chicken to buttermilk and stir to coat.

In a pie plate, combine Panko crumbs, flour, seasoned salt, paprika, onion powder, garlic powder, and white pepper.

Pour about 1 inch of oil into a cast iron pan or a Dutch oven. Heat oil to 375 degrees.

Remove chicken tenders from buttermilk mixture and coat in Panko mixture. Fry in oil for 6 to 8 minutes, flipping over halfway through. Remove chicken with a slotted spoon and place on a paper towel-lined plate.

To make waffles, combine flour, sugar, baking powder, and salt in a large bowl.

Separate eggs and place egg whites in a blender. Blend until frothy. Add egg yolks, vegetable oil, milk, melted butter, and vanilla extract. Blend until mixed well. Pour into bowl with dry ingredients and stir until combined.

Make waffles according to waffle iron instructions.

To make TABASCO Maple Syrup, Whisk together maple syrup, butter, and TABASCO Sauce in a small bowl.
Want to Save This Recipe?
Disclosure: This is a sponsored post. I appreciate the opportunity to share the products I use and love and all opinions are my own.