This is a Sponsored post written by me on behalf of Carton Smart. All opinions are 100% mine.
Thanksgiving is almost here and for most of us it's a time to reflect on all the things we are grateful for. Of course our loved ones and friends are always at the top of our lists. But this year I'm reminded that giving thanks for our planet should be right up there. Today I'm sharing a wonderful product that will help us honor Mother Earth at this year's Thanksgiving table or any other day of the year. What is this product you ask? It's Pacific Food's products packaged in Tetra-Pak cartons. These fabulous containers are made of 70% paper that comes from selectively harvested, re-grown trees that are FSC-certified (Forest Stewardship Council). They are completely designed for maximum efficiency and environmental friendliness. Did you know that cartons:
Use 1/3 of the packaging compared to cans
Preserve the flavor and nutrients of foods without the use of preservatives
Recyclable and 60% less land fill waste than cans
Cartons are re-closable making it easy to store unused portions
And as a bonus- no need for a can opener. Cartons are easily opened by hand.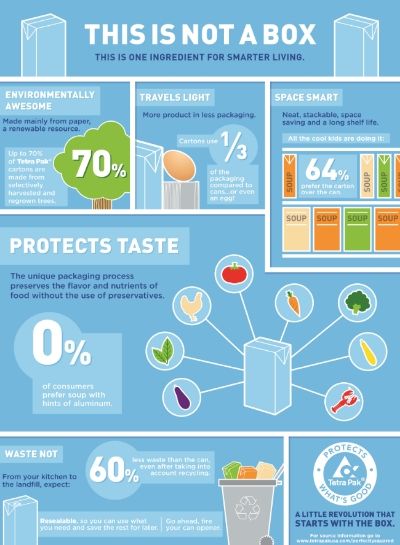 I recently received a starter kit containing Organic Pumpkin Puree, Organic Chicken Stock, and Organic Jellied Cranberry Sauce. Let me just say these cartons are not just earth-friendly, they are people-friendly too. They're light-weight and take up little storage space in your pantry. Cans can be so awkward to store. How many times have you stacked them too high, only to have them topple over, hit the floor, and roll across the room? Or even worse, land right on your toes. Ouch!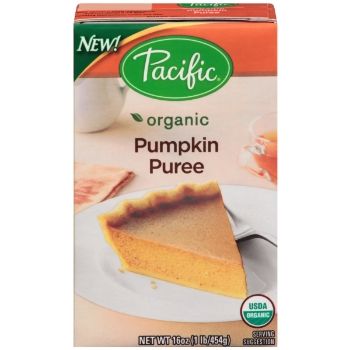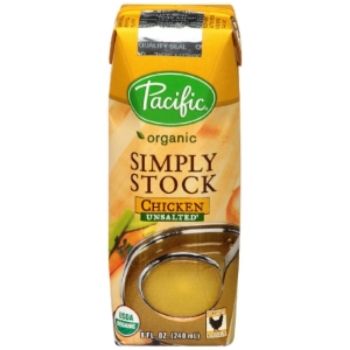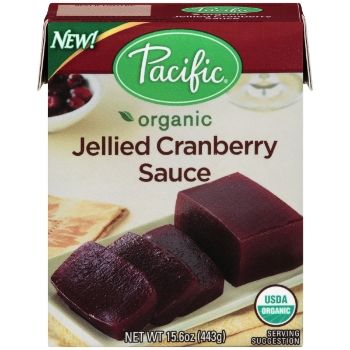 Even better, Tetra-Pak packaging allows Pacific Foods to make their products completely free of preservatives and BPAs. No need to worry about grandma detecting an aluminum taste in your cranberry sauce. Pacific Food's products taste amazingly fresh and flavorful and will help you impress even the most discerning food connoisseur at your table.
The other day I gave the Organic Pumpkin Puree a try in Pumpkin Chocolate Chip Bars with Cream Cheese Frosting and it was amazing. These bars are actually more the texture of cake and they are baked in a 9X13-inch pan. They can easily feed a large, hungry family. There are chocolate chips and pecans throughout the batter and a super-thick layer of rich, luscious cream cheese frosting flavored with cinnamon, nutmeg, and allspice.
Pacific Foods offers many other food products in earth-friendly Tetra-packaging besides the three I mentioned to help you make this year's Thanksgiving meal the best you've ever had. Don't feel like making gravy this Thanksgiving? They have you covered with Organic Turkey Gravy. Be sure to check out pacificfoods.com for lots of fabulous recipes you can serve your family and guests  including pumpkin pie and Green Bean Casserole  made with Organic Cream of Mushroom Condensed Soup. You can also search on their website for stores in your area that carry Pacific Foods. In my area they are available at Harris Teeter and Earth Fare. Be sure to put Mother Earth on your list of thanksgivings this year and Follow #CartonSmart on Pinterest and Tweet @CartonSmart. Tetra Pak wants to encourage up to make small, smart decisions this holiday season that can have a big impact. Learn how you can  Be Carton Smart. Would love to know your favorite tips for being #CartonSmart and cutting down on waste this holiday season.
Pumpkin Chocolate Chip Bars with Cream Cheese Frosting
Ingredients
1½ cups sugar
1 cup vegetable oil
4 eggs, beaten well
1 cup pumpkin puree
2 cups all-purpose flour
½ teaspoon salt
2 teaspoons cinnamon
½ teaspoon nutmeg
pinch of allspice
1 teaspoon baking powder
1 teaspoon baking soda
½ cup finely chopped pecans
⅔ cup miniature chocolate chips
Icing
6 ounces cream cheese, softened
4 tablespoons butter, softened
½ teaspoon vanilla extract
3½ cups confectioners' sugar
½ teaspoon cinnamon
¼ teaspoon nutmeg
pinch of allspice
2 tablespoons milk
Instructions
Preheat oven to 350 degrees and grease a 9X13-inch baking pan. (pyrex is fine.)
In a large bow, whisk sugar, vegetable, and eggs together until well blended.
Add pumpkin and mix in.
Ad flour, salt, cinnamon, nutmeg, allspice, baking powder, and baking soda and stir just until combined.
Fold in pecans and chocolate chips.
Bake for 30 minutes or until just firm to the touch on top. Let cool.
For icing, use an electric mixer to beat cream cheese and butter until well blended and smooth. Add vanilla extract. Gradually add confectioners' sugar, being sure to turn mixer to low with each addition so that sugar does not go flying everywhere. Mix in cinnamon, nutmeg, allspice, and milk.
Spread icing on cooled cake.