Basil, Chicken, and Green Beans in Coconut Curry Sauce is an easy and delicious one dish meal bursting with fresh flavors and vibrant colors. You gotta love a meal that only dirties a cutting board and a pan (plus a pot for the rice). This whole meal can easily be made in under 30 minutes.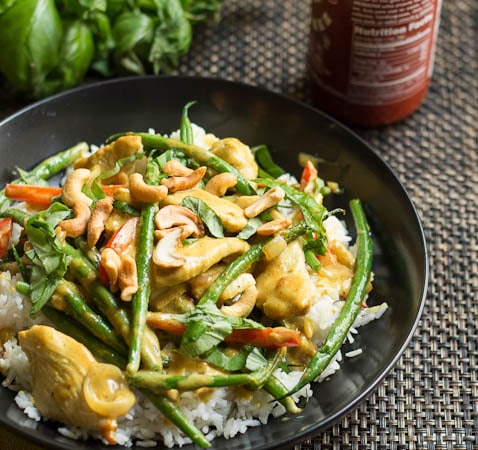 I don't normally cook stir-fry type dishes with green beans, but they're one of the few vegetables my daughter really likes and she's recently become a vegetarian. Hard thing to do when you don't like beans, tofu, or at least half of fruits and vegetables. I thought she'd just pick the green beans out and eat them, but she objected to the curry part. Oh well. I tried. We'll see how long she can go living off of pasta, peanut butter, scambled eggs, and strawberries.
Don't know how I have such a picky eater. Nevermind. Yes I do. She gets it from her father.
Me? There's only one food I officially don't like and won't eat and that's grapefruit. I've never been a huge fan of raisins either, but I'm warming up to them. Will always pefer their prettier cousin Craisins though.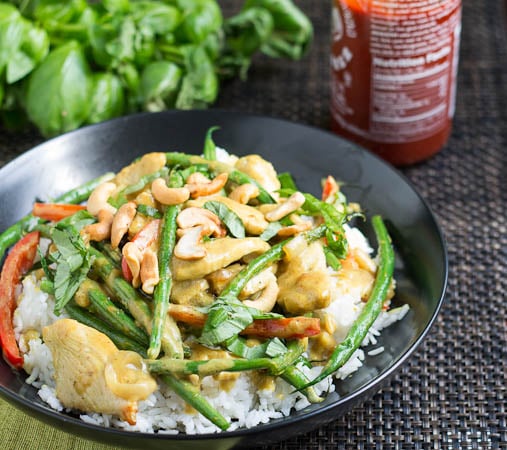 Basil, Chicken, and Green Beans in Coconut Curry Sauce
1 (14-ounce) can coconut milk
2 ½ teaspoons curry powder
½ teaspoon garam masala
2 teaspoons finely minced jalapeno
1 tablespoon brown sugar
1 tablespoon cornstarch
½ teaspoon kosher salt
3 tablespoons peanut oil, divided
1 pound boneless chicken breasts, cut into thin strips
½ red bell pepper, seeded and cut into thin strips
½ red onion, thinly sliced
1 pound thin green beans
1 tablespoon fresh minced ginger
¼ cup basil slivered
½ cup cashews, toasted
Hot cooked rice
Sriracha sauce
Whisk together first 7 ingredients in a small bowl. Set aside.
Heat a large skillet over high heat.
Add 2 tablespoons of olive oil, swirl to coat pan, and add chicken. Cook 2 to 3 minutes on each side, or until lightly browned. Careful not to move chicken except to turn or it will not brown well. Remove from pan and keep warm.
Add remaining 1 tablespoon of oil to skillet over high heat. Add bell pepper, onions, and green beans and stri fry for 3 to 4 minutes. Add ginger and cook 1 more minute.
Whisk reserved sauce mixture well and pour over vegetables in skillet. Cook until sauce thickens, about 1 minute. Stir in reserved chicken.
Sprinkle with basil and toasted cashews and serve with rice.
Yield: 4 to 6 servings
Recipe Source: adapted from Coastal Living