This is a Sponsored post written by me on behalf of LIBBY'S Pumpkin for SocialSpark. All opinions are 100% mine.
Baked Pumpkin-Black Bean Sliders with a creamy Avocado Sauce are perfect for your summer entertaining. They are loaded with good nutrition and are a wonderful vegetarian option for your next cookout.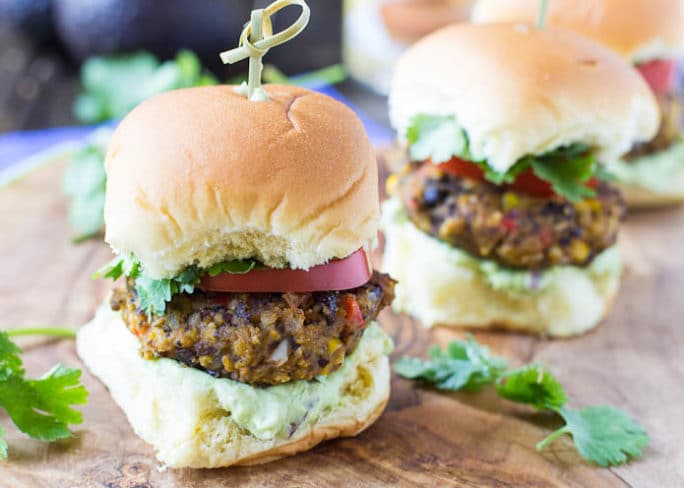 My daughter is a vegetarian so I'm always trying to come up with meals that she can eat, but are still appealing to the whole family. Not always easy! But no one could resist these Pumpkin-Black Bean Sliders. My "got to have meat" husband wanted seconds.
Pumpkin is an ingredient I love cooking with and LIBBY'S Pumpkin makes it easy to add fresh pumpkin flavor and nutrition to recipes all year long. Pumpkin is one of the most versatile ingredients imaginable. It compliments both sweet and savory foods and adds lots of Beta Carotene, extra fiber, and Vitamin A to your meals. You can use pumpkin to replace butter, eggs, or oil in baked goods to reduce calories and fat. (A very good thing this time of year when those jeans are exchanged for shorts! We're not even going to talk about bathing suits.)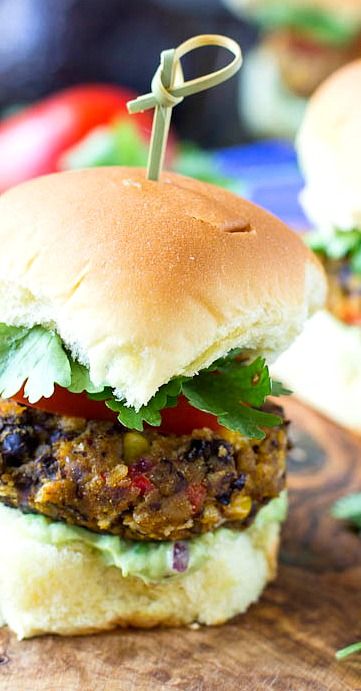 In these Pumpkin-Black Bean Sliders, the LIBBY'S Pumpkin, with its exceptional moistness, provides all the binder needed. No eggs or fats are necessary, making these sliders vegan-friendly and low-fat. Use something like tofu in the avocado sauce instead of sour cream to make a vegan slider. The black beans add substance to the sliders and I've added onion, garlic, red bell pepper, corn , cumin, and chipotle peppers for tons of flavor. My favorite thing about pumpkin is that its mild and sweet flavor works well with just about any ingredient or seasoning imaginable. Think of it like a blank canvas to which you can add ingredients to create a culinary masterpiece. Baking these sliders in the oven helps keep them super healthy, but you can also cook them in a skillet using a little vegetable oil or olive oil until lightly browned on each side. All of the ingredients are already cooked, so all you have to worry about is heating them through and getting a little yummy browning action on the outsides.
Serve on slider buns or rolls with a creamy Avocado Sauce, fresh tomato and cilantro for a delicious and nutritious summer meal. Their small size makes them more appealing to kids (and maybe adults too!). And stay tuned. I have a reduced-fat pumpkin chocolate chip cookie recipe coming up in a few weeks that can easily be made into ice cream sandwiches to help you beat the summer heat! In the meantime, visit #PumpkinCan to share your favorite #PumpkinCan facts through LIBBY'S Pumpkin on Twitter, LIBBY'S Pumpkin on Pinterest, and LIBBY'S Pumpkin on Facebook for a chance to win weekly prizes.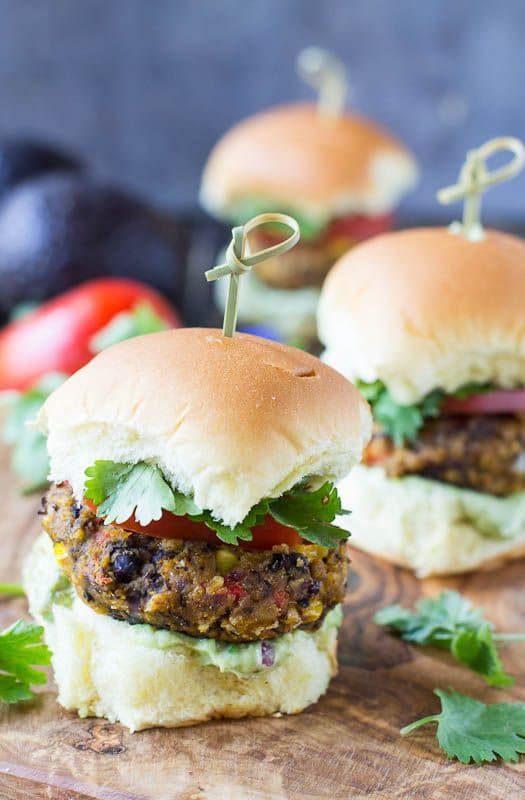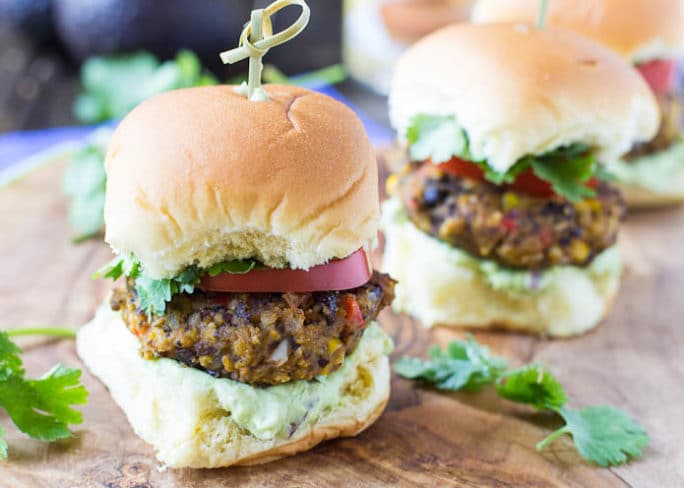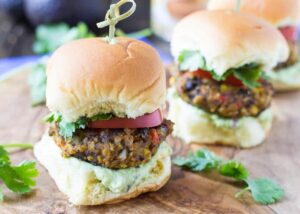 Baked Pumpkin-Black Bean Sliders with Avocado Sauce
Baked Pumpkin-Black Bean Sliders are a great vegetarian option for a cookout. Flavored with southwestern ingredients and topped with a creamy avocado sauce.
Ingredients
1

tablespoon

Vegetable oil

½

cup

finely diced red onion

½

cup

finely diced red bell pepper

1

garlic clove,

minced

1

teaspoon

ground cumin

1

(15-ounce)

can black beans

drained, rinsed, and dried (blot dry with paper towels)

1

teaspoon

kosher salt

1-2

chopped chipotle peppers

¼

cup

cooked corn

½

cup

LIBBY'S 100% pure pumpkin

(from a 15 oz. can)

½

cup

panko crumbs

or more

Cooking spray

Fresh cilantro

Slider buns or small rolls

2

plum tomatoes,

sliced
Avocado Sauce
2

small avocados

¼

cup

sour cream

1

tablespoon

lime juice

2

tablespoon

finely diced red onion

¼

teaspoon

kosher salt
Instructions
Heat vegetable oil in a skillet and sauté onion, red pepper, and garlic until soft, about 2-3 minutes. Add cumin and let mixture cool.

Place beans in a food processor with 1 teaspoon salt and chipotle peppers. Process until beans are mostly in small pieces. Add the onion mixture and do a few more pulses to get everything mixed well. Transfer to a medium bowl.

Add corn, pumpkin, and panko crumbs to the beans mixture and mix together well. If the mixture feels to loose and will not hold its shape well, add extra panko crumbs.

Shape into 8-10 slider-sized patties and place on a large plate or tray. Refrigerate for 30-60 minutes.

To make sauce, mash together the avocado, sour cream, and lime juice until smooth. Or you can process them in a food processor. Add red onion and salt. Refrigerate until needed.

Heat oven to 375 degrees. Spray both sides of sliders with cooking spray and place on a foil-lined baking sheet. Bake for about 6-8 minutes per side. Alternately you can sauté them in 2 tablespoons of vegetable oil for about 3 minutes per side.

Serve on slider buns with avocado sauce, tomato, and cilantro.
Want to Save This Recipe?