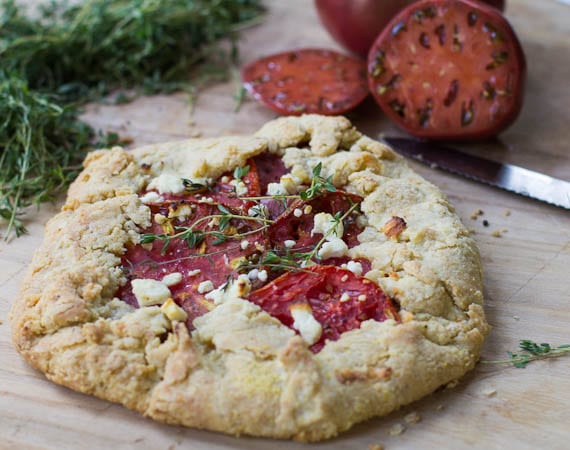 Tomato Galette with Feta makes great use of the summer tomatoes which are more than plentiful right now and is the perfect accompaniment to a salad for dinner. Even if you are not real comfortable making doughs and piecrusts, you can make a galette. Since galettes are freeform, they are so easy to make and pretty much anything goes.
This galette is very simple to put together with a mixture of cream cheese, feta, and roasted garlic spread on the bottom, topped with tomato slices, more feta, and thyme. You could easily change things up by using goat cheese instead of feta and basil or rosemary instead of thyme.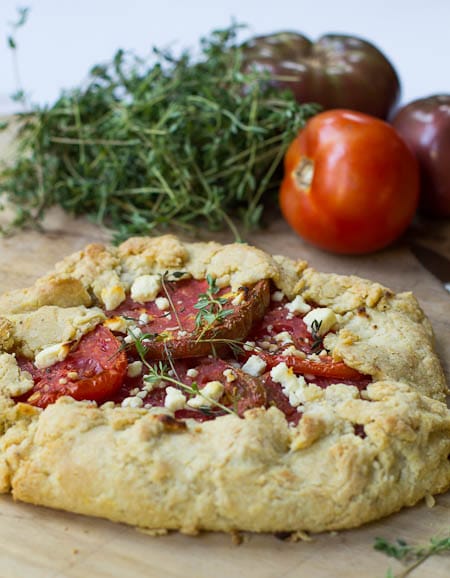 The cornmeal crust is David Lebovitz's recipe and was published in Fine Cooking magazine. It's a great dough for savory appetizers. The dough is fragile and tears easily as you work with it, but that's nothing to worry about when making a galette. Just pinch the tears together. The more rustic a galette looks, the better.
To roast garlic, heat your oven to 400 degrees, peel away the outer skin of a head of garlic, and cut away ¼-inch off the top. Drizzle the garlic with a little olive oil and wrap in aluminum foil. Bake for about 30 minutes. Let the garlic cool. It will be very hot. Once cooled, use your fingers to press each clove out of the skin. You'll want to use at least 8-10 cloves. Sounds like a lot, but roasting garlic really mellows its flavor.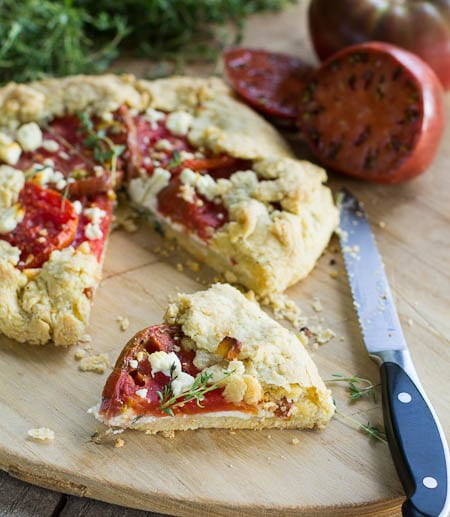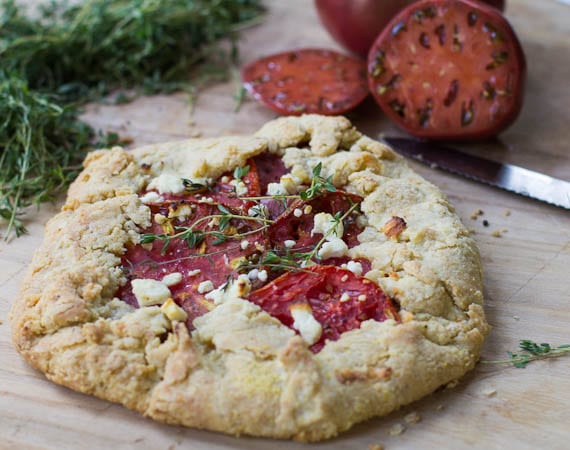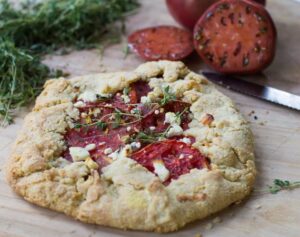 Tomato Galette with Feta
Ingredients
1 ½

cups

all-purpose flour

1/3

cup

yellow cornmeal

1

teaspoon

sugar

1 ¼

teaspoon

salt

6

tablespoons

unsalted butter,

chilled and cut into pieces

3

tablespoons

olive oil

¼

cup

ice water

2

tablespoons

cream cheese,

softened

8-10

cloves

roasted garlic

2

tomatoes,

sliced

salt and pepper

¼

cup

feta cheese

3-4

thyme sprigs

1/8

teaspoon

freshly ground black pepper

1

egg yolk mixed with 1 teaspoon water
Instructions
In a large bowl, combine flour, cornmeal, sugar, and salt. Cut in the butter using a pastry blender until no visible large chucks remain. (It's often good to switch to using your fingers part way through.) Add olive oil and water and mix until dough comes together. Shape dough into a disk, wrap in plastic, and refrigerate for at least 1 hour.

Preheat oven to 375º. Line a large baking sheet with parchment paper.

Place tomato slices on paper towels for 5 minutes to soak up excess liquid. Sprinkle with salt and pepper.

In a small bowl, mix together cream cheese and roasted garlic. Add half of the feta cheese. Set aside.

Place dough on a lightly floured surface. Roll dough out, lifting and rotating the dough every few rolls so that it doesn't stick to the surface. Use more flour if necessary. Once dough is 14 to 15 inches across, move it to the baking sheet.

Spread cream cheese mixture on the dough leaving a 2-inch border. Place tomato slices on top, overlapping them some. Fold dough inward, covering the edges of the tomatoes and pinching together any tears in the dough. Sprinkle with remaining feta cheese and pepper and place thyme sprigs on top. Using a pastry brush, coat top of dough with egg. (I forgot to brush mine with egg 🙁 )

Bake for 40 minutes and cut into slices to serve.
Want to Save This Recipe?
Dough recipe from Fine Cooking