Southern Lane Cake is a boozy southern layer cake with dried fruit, nuts and coconut covered in a light and fluffy 7-Minute Frosting. It makes a great holiday cake!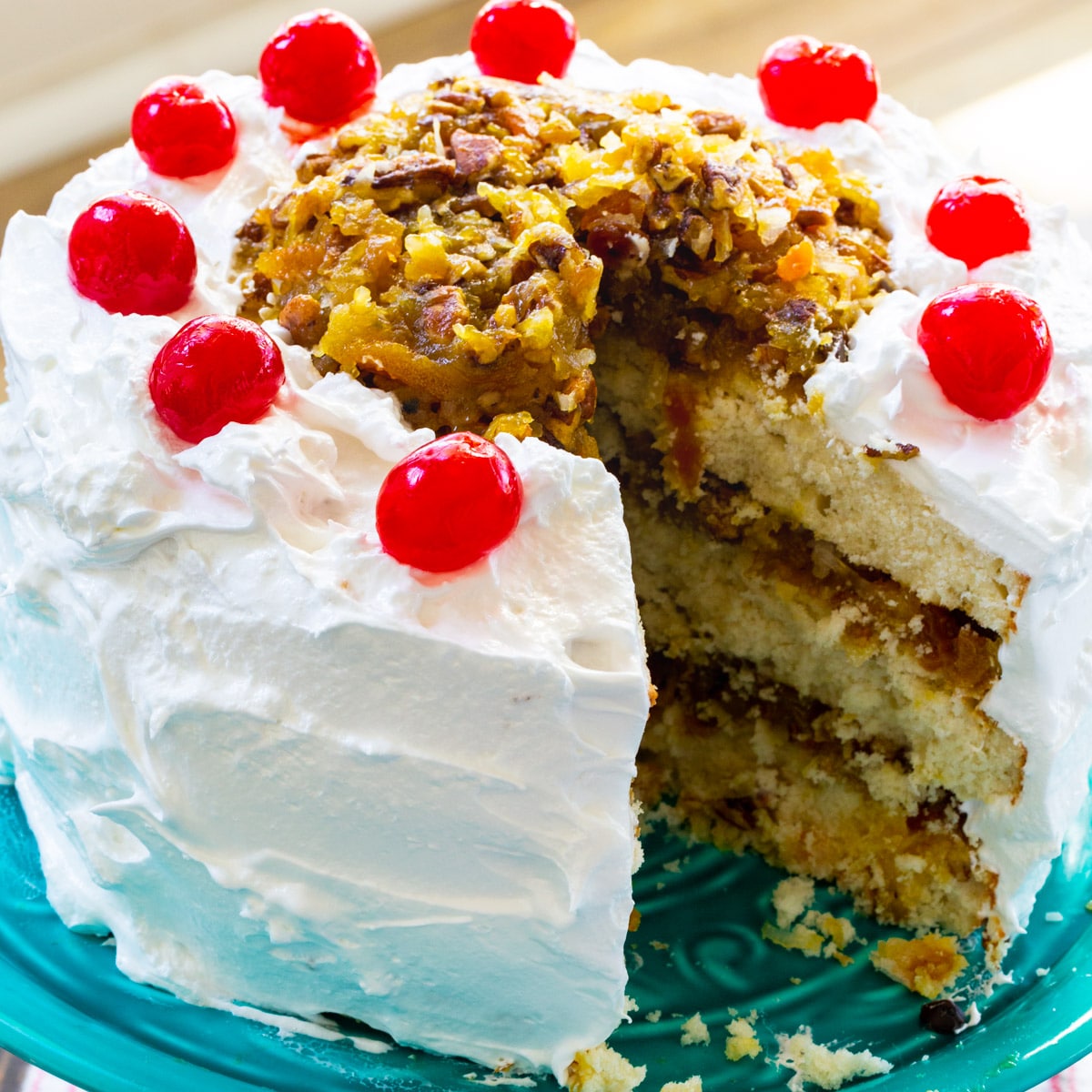 What Is Lane Cake?
Invented by Emma Rylander Lane of Clayton, Alabama in the late 1800s, you'll find lots of different variations of Lane Cake. Bourbon is one of the primary components of Lane Cake and with the bourbon, fruit and nuts, it reminds me a little of a fruit cake.
The original Lane Cake had 4 layers, but I find 3 to be enough. The white, spongy cake layers are topped with a dense filling made from egg yolks, bourbon, pecans, coconut, raisins, and dried apricots. It's a flavor-packed filling and the flavor only gets better with time.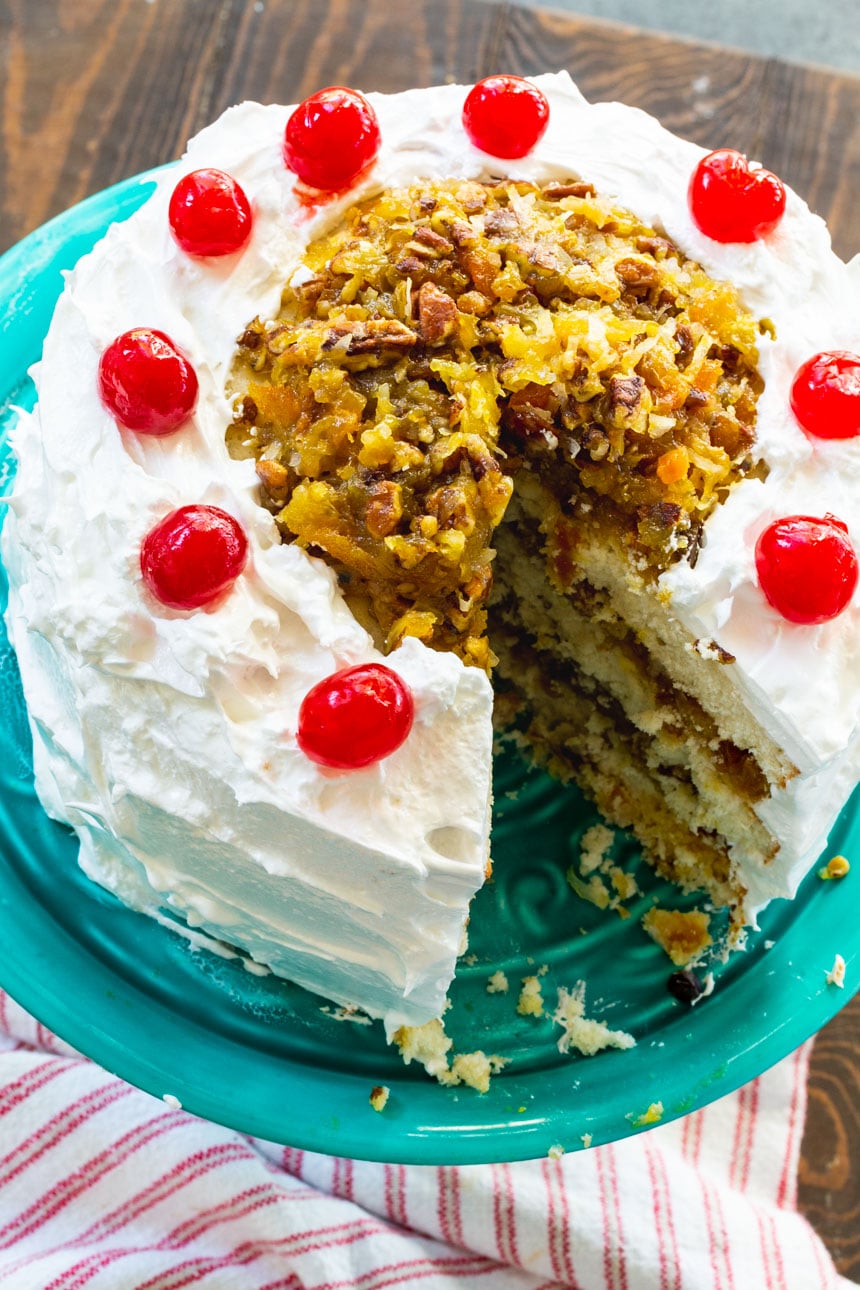 Tips For Making 7-Minute Frosting
7-Minute Frosting has been around since the early 1900s and it is traditionally made by heating egg whites and sugar over simmering water. The recipe I use for this cake is what I find to be the easiest method for making 7-Minute Frosting. No double boiler is needed, just a large pot with a heavy bottom. You will also need a hand-held mixer. Make sure you use a stainless steel pot and not a nonstick one.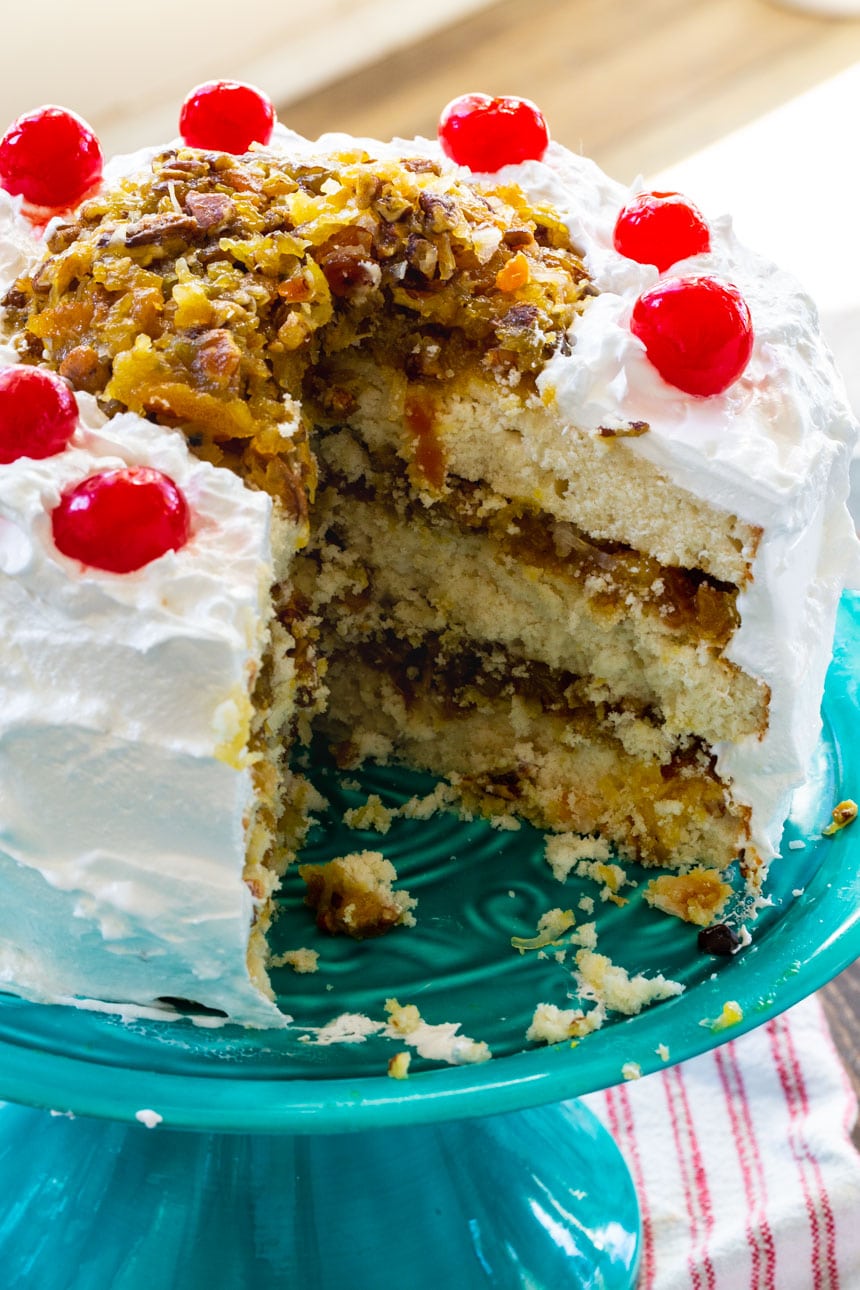 Beat the frosting until it gets nice and thick. When you remove the beaters, you should still see the track that they made in the frosting.
This amazing frosting also makes a great frosting for Coconut Cake and I love it on a Devil's Food Cake.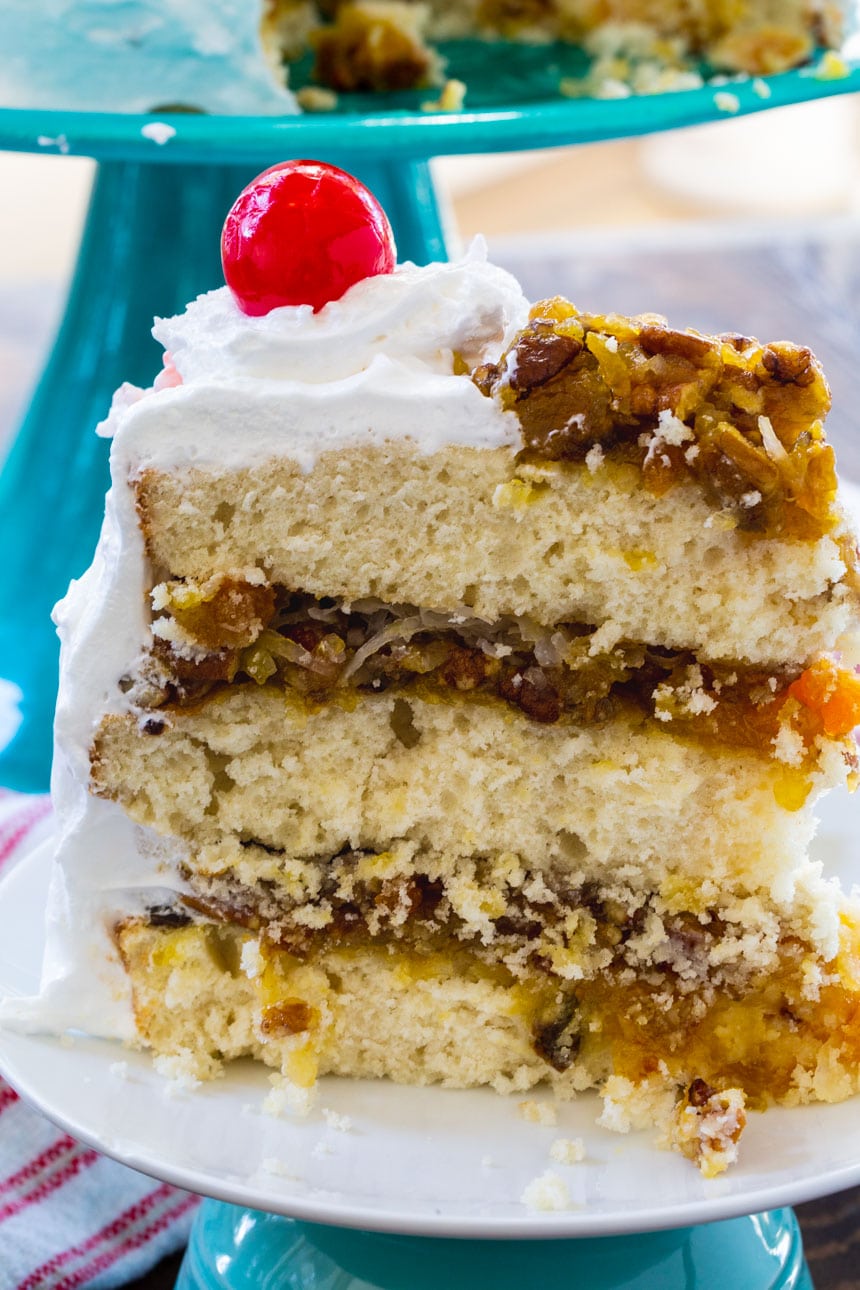 More Southern Cake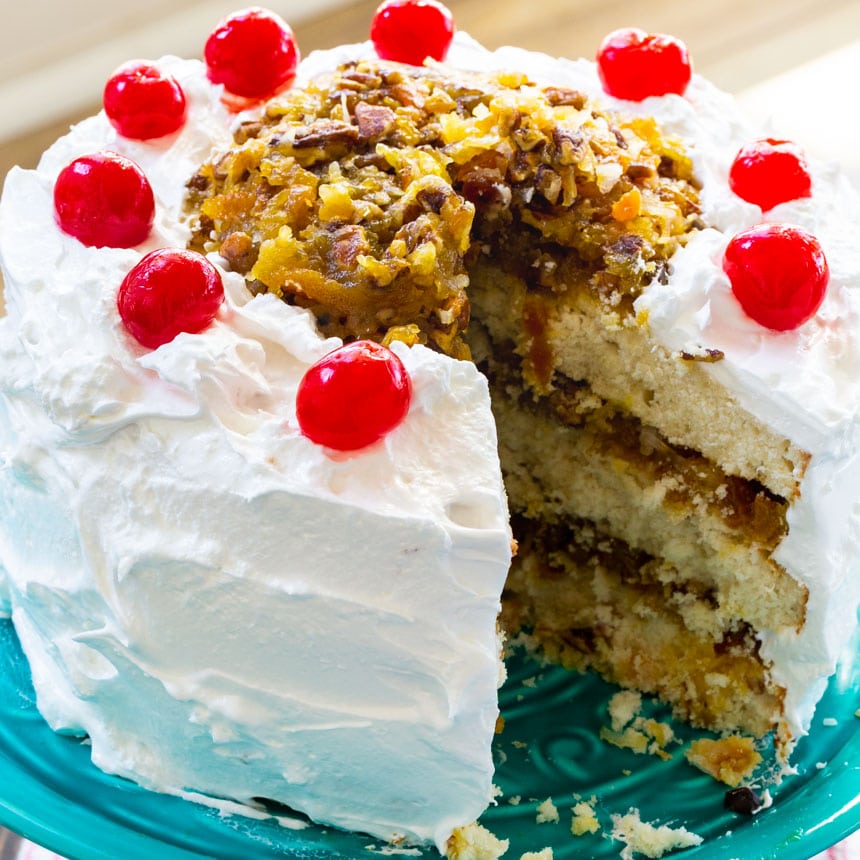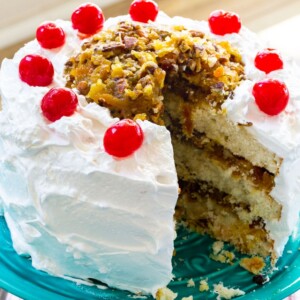 Lane Cake
An old-fashioned southern layer cake with pecans, bourbon, dried fruit, coconut and 7-Minute Frosting.
Ingredients
1

cup

butter,

softened

1

cup

granulated sugar

3 1/2

cups

all-purpose flour

1

tablespoon

baking powder

1/4

teaspoon

salt

1

cup

milk

1

teaspoon

vanilla extract

8

large

egg whites
Filling
8

large

egg yolks

1

cup

granulated sugar

1/2

cup

melted butter

1 1/2

teaspoons

vanilla extract

1/3

cup

bourbon

2

cups

toasted chopped pecans

1 1/2

cups

chopped golden raisins

1

cup

chopped dried apricots

1 1/2

cups

shredded sweetened coconut
7-Minute Frosting
1

cup

granulated sugar

1/2

teaspoon

cream of tartar

1/4

teaspoon

salt

3

tablespoons

water

2

large

egg whites

1/2

teaspoon

vanillla extract

10

maraschino cherries for garnish
Instructions
Preheat oven to 325 degrees. Spray 3 (9-inch) cake pans with baking spray. Set aside.

In a large bowl, using an electric mixer, beat butter at medium speed until creamy.

Gradually beat in sugar. Beat at high speed for 5 to 7 minutes, until light and fluffy.

In a medium bowl, whisk together flour, baking powder, and salt.

With mixer on LOW speed, add flour mixture, alternating with milk, beginning and ending with flour mixture. Beat just until combined after each addition.

Beat in vanilla extract.

In a clean bowl, using a clean whisk attachment, beat the egg whites until stiff peaks form, about 2 to 3 minutes.

Fold the egg whites into the batter in 3 additions. Evenly spoon the batter into the 3 prepared cake pans.

Bake for 20 to 24 minutes. Let cool in pans for 10 minutes. Remove cakes from pans and let cool completely on wire racks.

Make filling. Whisk together the egg yolks, sugar, and melted butter in a medium saucepan over medium-low heat. Continue to whisk until thickened, about 15 minutes. Be careful not to let the heat get too high. You don't want the mixture to boil.

Stir in bourbon and vanilla.

Stir in pecans, raisins, apricots, and shredded coconut.

Spread filling between the layers of the cake, leaving about 1 cup to spread in a 6-inch circle on the top of the cake.

To make frosting, combine granulated sugar, cream of tartar, salt, water, and egg whites in a large saucepan.

With heat on medium-low, beat with a hand-held electric mixer for 5 to 7 minutes. Stop beating when stiff peaks form.

Remove from heat and mix in the vanilla extract.

Spread frosting on sides of cake and the edges of the top. Fill in the middle with the remaining filling.

Decorate with maraschino cherries.
Notes
Can be left at room temperature for 2 days.
Want to Save This Recipe?