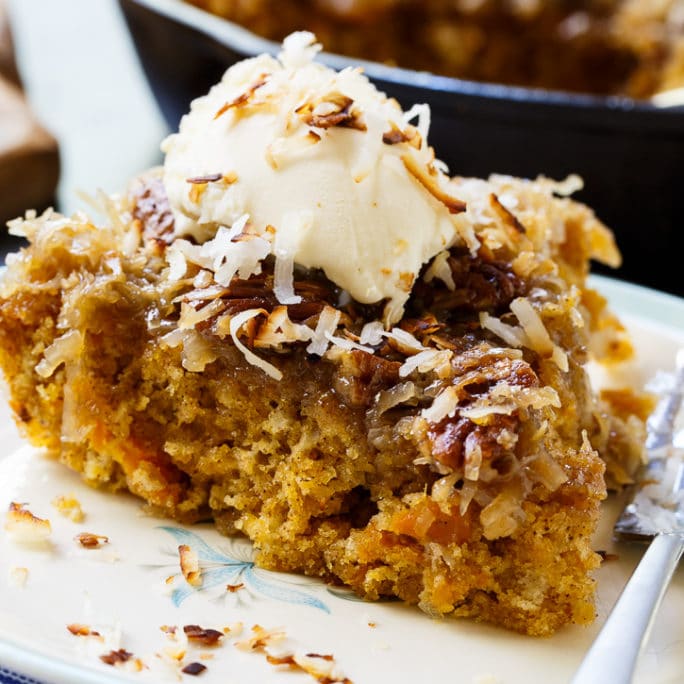 Sweet Potato Cake with Broiled Coconut and Pecan Icing is so full of fall flavor. The broiled icing is fabulously sweet and crunchy and pairs so well with the sweet potato-flavored cake. It's the perfect fall skillet cake for sweet potato lovers and I'm definitely one of those!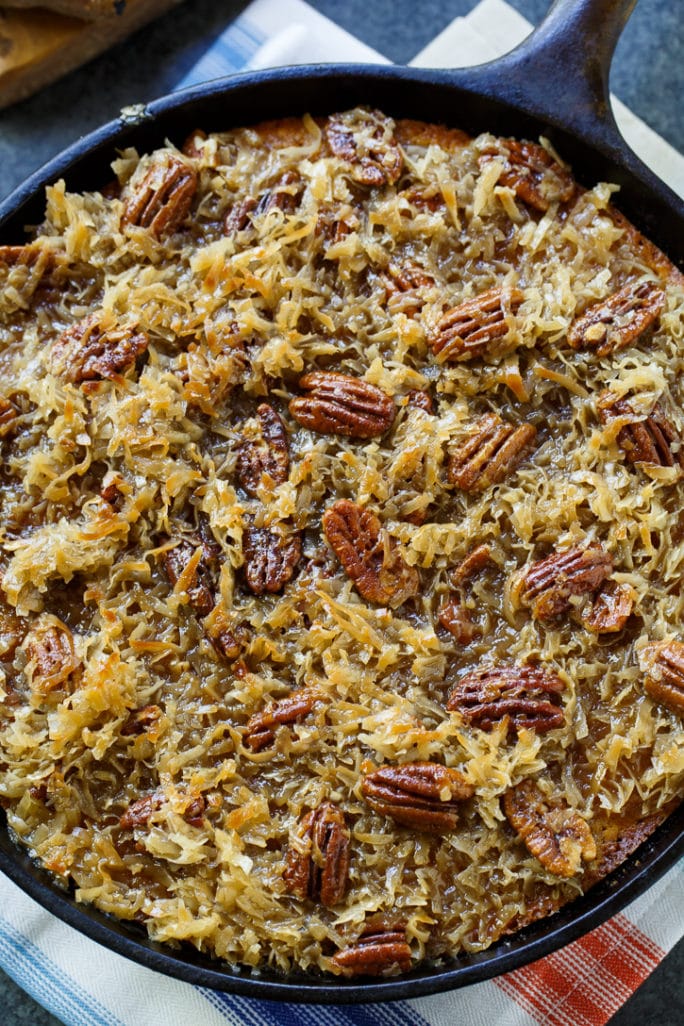 A few weeks ago I received a copy of Sweet Potato Love: 60 Recipes For Every Season. Written by Jackie Garvin, the author of Syrup and Biscuits Blog and Biscuits: Sweet and Savory Southern Recipes for the All-American Kitchen, it would make a wonderful gift for a southern cookbook collector.
The book is full of beautiful color photography. There are so many delicious recipes in the book, I had a hard time deciding which one to try first. I flipped through the pages at least a dozen times before settling on this Sweet Potato Skillet Cake with Broiled Coconut and Pecan Icing.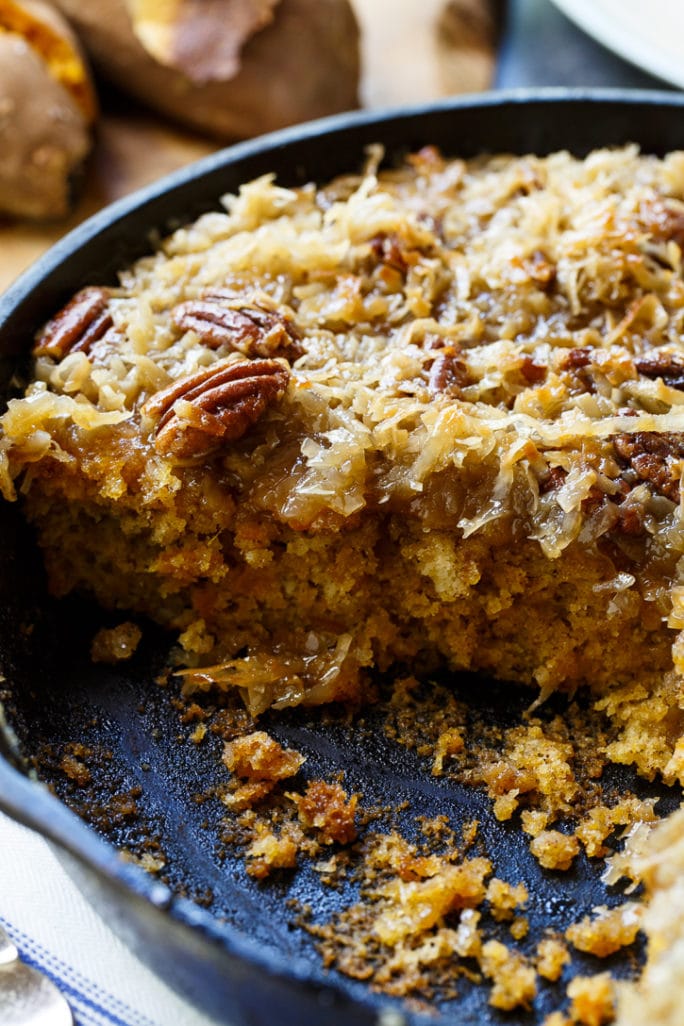 I've really been loving my cast iron pan lately and a skillet cake sounded like just the thing to make.
The recipes in Sweet Potato Love are divided by season and this one is in the Spring section but I think it would make a terrific Thanksgiving dessert or even brunch recipe. It's very similar to a coffee cake.
The cake part is a beautiful orange color and is wonderfully tender. Flavored with just the right amount of cinnamon and ginger, it's hard not to overindulge on this cake.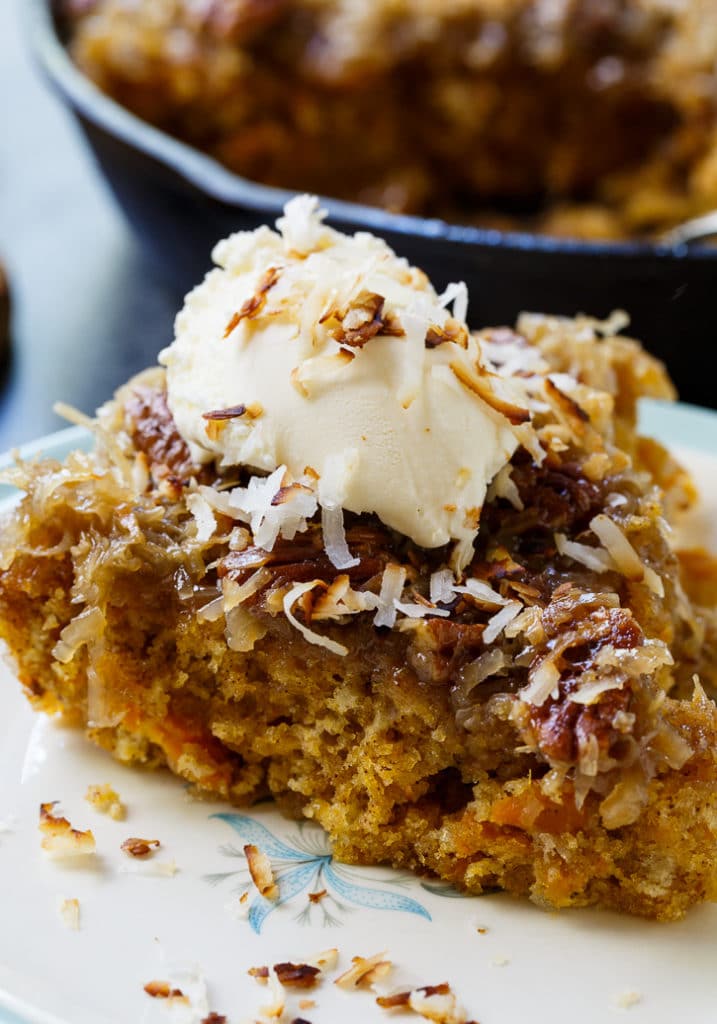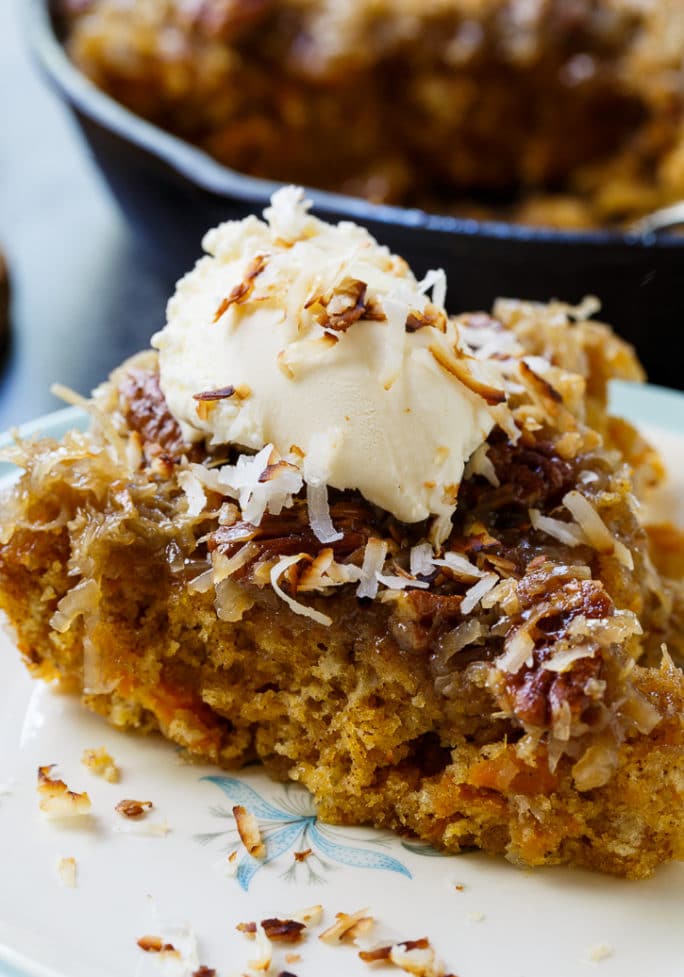 The Broiled Coconut Icing is the perfect topping for it. I love the texture contrast a broiled coconut icing gives a tender cake. Delicious!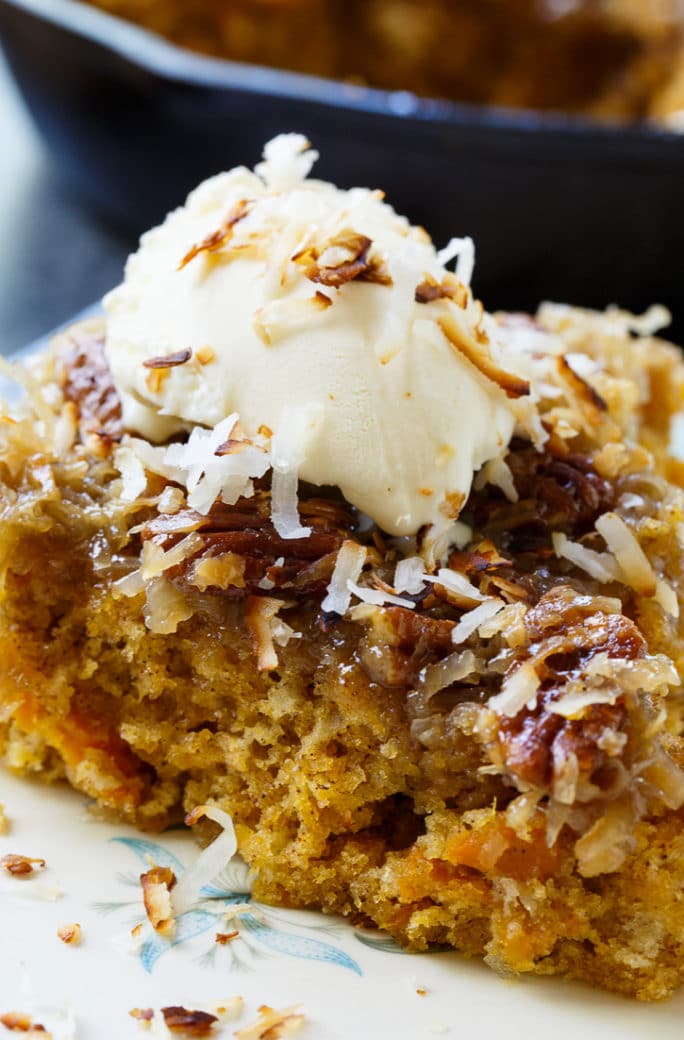 I have a deep love for sweet potatoes, especially since I grew up in North Carolina, the Sweet Potato State. I adore them in both sweet and savory recipes. They are so versatile in the kitchen and are full of wonderful nutrients. I am sure I will be using recipes from this cookbook again and again.
Other enticing recipes in Sweet Potato Love include Sweet Potato Cornbread, Sweet Potato Chipotle Hummus, and Overnight Sweet Potato Belgian Waffles. I bet the waffles would be great served with some fried chicken.  🙂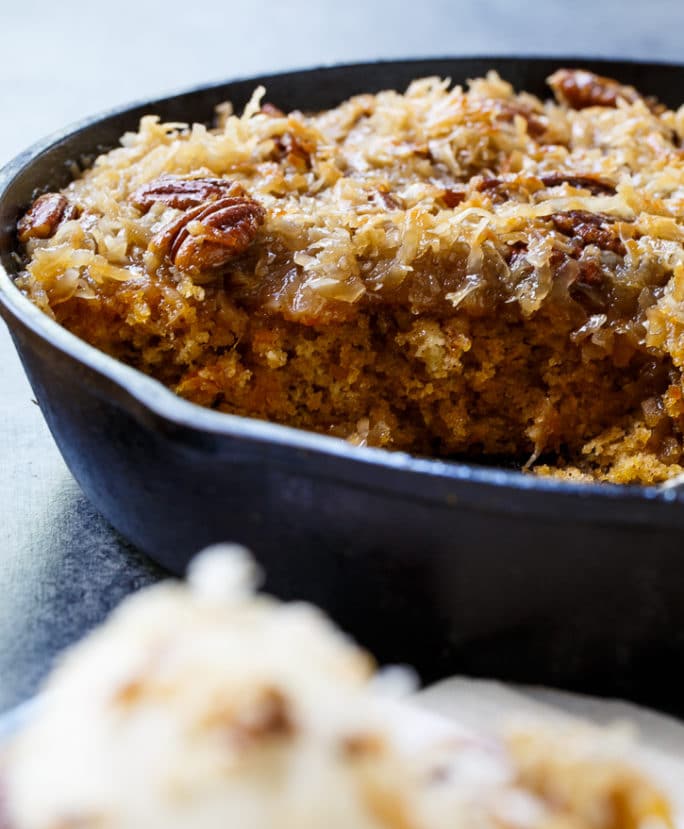 Love sweet potato desserts? Here is another recipe for sweet potato cake that is delicious!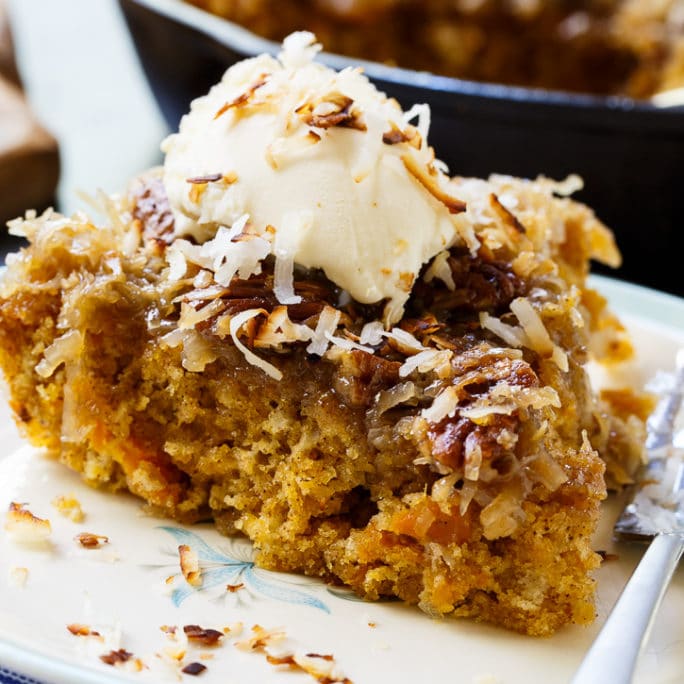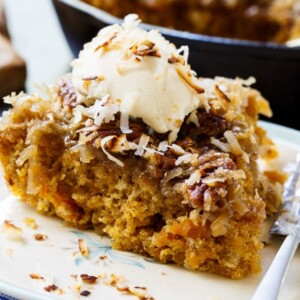 Sweet Potato Skillet Cake with Broiled Coconut Icing
Ingredients
2

extra large eggs

1

cup

granulated sugar

1/2

cup

buttermilk

1/2

teaspoon

baking soda

2

tablespoons

unsalted butter,

melted and cooled

1

medium-sized sweet potato,

baked and flesh removed and mashed

1

cup

self-rising flour

1

teaspoon

ground cinnamon

1/4

teaspoon

ground ginger
Icing
1/4

cup

unsalted butter

2/3

cup

brown sugar,

firmly packed

3

tablespoons

buttermilk

pinch of kosher salt

1

cup

coconut flakes,

sweetened

1

cup

pecans
Instructions
Beat together eggs and sugar until creamy and pale yellow.

In the same bowl, add buttermilk, baking soda, melted butter, and mashed sweet potato. Stir until mixed.

Add flour, cinnamon, and ginger to a small bowl and stir lightly.

Add flour mixture to wet ingredients and stir with a wooden spoon until mixed.

Pour into a well-seasoned 9-inch cast iron pan. You can use a greased and floured 8-inch square pan instead.

Bake at 350 degrees for 30 minutes or until a toothpick inserted in the center comes out clean.

Remove from oven and prepare icing.

Cook butter, brown sugar, buttermilk, and salt in a small pan over medium heat, stirring constantly, until the butter and sugar have melted. Add coconut and pecans and continue stirring until the mixture reaches a medium rolling boil.

Immediately, pour icing on top of warm skillet cake and spread across entire surface.

Place under broiler for 2 to 3 minutes or until browned. Do no get distracted. Once the topping starts to brown, you've got a few seconds that separates browned from burned.

Remove from oven and completely cool on a cooling rack before cutting.
Want to Save This Recipe?
Recipe Source: Sweet Potato Love Cookbook
Disclosure: This post contains affiliate links.