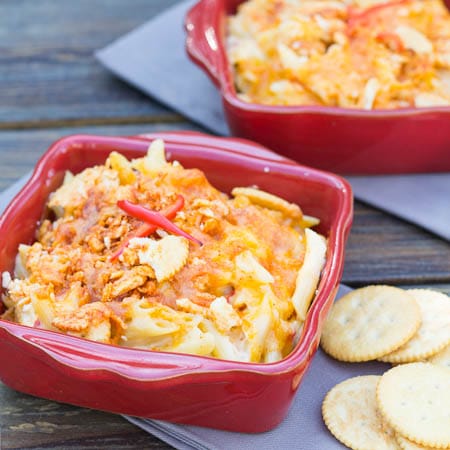 Is there any comfort food better than Mac and Cheese? I mean come on. Buttery, soft pasta enveloped in a rich, cheesy sauce. I don't think there's a man, woman, or child on this planet who doesn't love it.
This Mac and Pimiento Cheese recipe just makes 4 servings which is the size of my family. As much as I love mac and cheese, I find it rarely does well as a leftover. The pasta sucks up all of the creamy goodness, turning it into a dry and stuck together mess of what tastes like overcooked pasta. Somehow all the flavor disappears.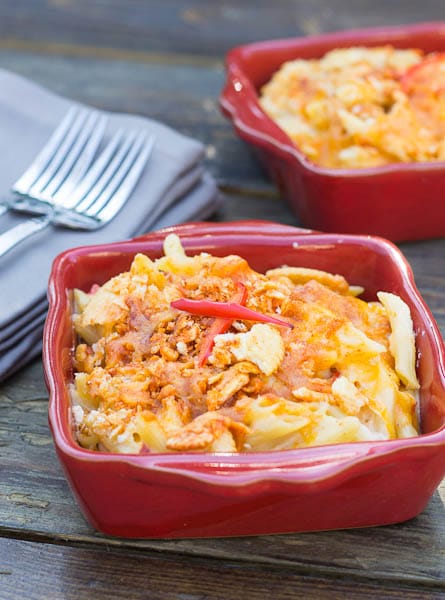 What's really great about this dish is it combines 2 of my favorite foods, mac and cheese and pimiento cheese. If you're not from the south, you may not be that familiar with pimiento cheese, but we Southerners love it. In its basic form, it consists of grated cheddar, mayonnaise, and pimientos, all mixed together to form a cheese spread.
So really, all you need to do to turn mac and cheese into mac and pimiento cheese is add mayo and pimientos, but you wouldn't believe how much these 2 small additions enhance the flavor. The mayonnaise adds creaminess and richness and the pimientos give a slight smokey taste.
Pimiento cheese is often served on top of Ritz crackers, so I've topped the mac and cheese with some Ritz crumbles. They are my absolute favorite topping for any kind of casserole dish, so unbelievably buttery and they bake up extra crisp and light. They are the perfect contrast in texture to the smooth and creamy mac and cheese, or penne and cheese in this case. Enjoy!
You can find lots more Mac and Cheese Recipes on my Pinterest Board dedicated to Mac and Cheese Recipes.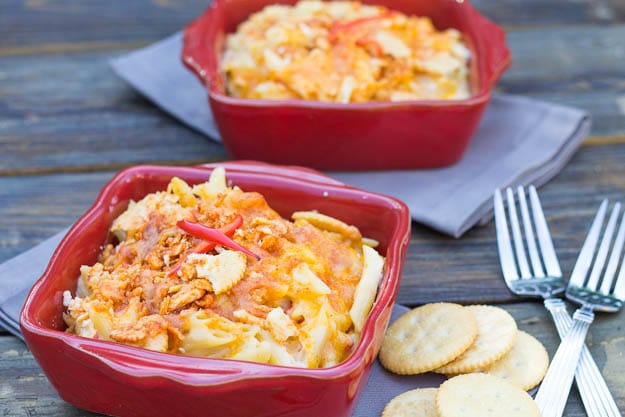 Mac and Pimiento Cheese
8 ounces mini penne pasta, cooked al dente
2 tablespoons butter
2 tablespoons all-purpose flour
2 cups whole milk
1 teaspoon garlic salt
1 teaspoon onion powder
pinch of cayenne pepper
1/4 cup mayonnaise
8 ounces sharp cheddar cheese, shredded
1 (4-ounce) jar diced pimientos, drained
3/4 cup Ritz cracker crumbs
1/2 teaspoon paprika
Preheat oven to 350° and spray an 11×7-inch baking dish with cooking spray
Place a medium saucepan over medium heat and melt butter. Add flour and cook, stirring constantly for 1-2 minutes.
Gradually whisk in milk, whisking thoroughly to avoid lumps. Add garlic salt, onion powder, and cayenne pepper. Bring to a simmer and cook for 1 to 2 minutes, or until slightly thickened.
Remove from heat and stir in all but ½ cup cheese. Stir in mayonnaise and pimientos. Place cooked penne in a large bowl and add cheese mixture. Mix well and pour into prepared baking dish.
In a small bowl, mix together remaining ½ cup cheese, cracker crumbs, and paprika. Sprinkle mixture over penne.
Place in oven and bake for 15 minutes, or until bubbly and top is golden brown.
Serve: 4 servings
More Macaroni and Cheese Recipes