In this recipe, coleslaw meets Caesar salad for a new take on the classic creamy side dish. They're really a natural fit for each other. Both are crunchy salads coated in mayonnaise based dressings.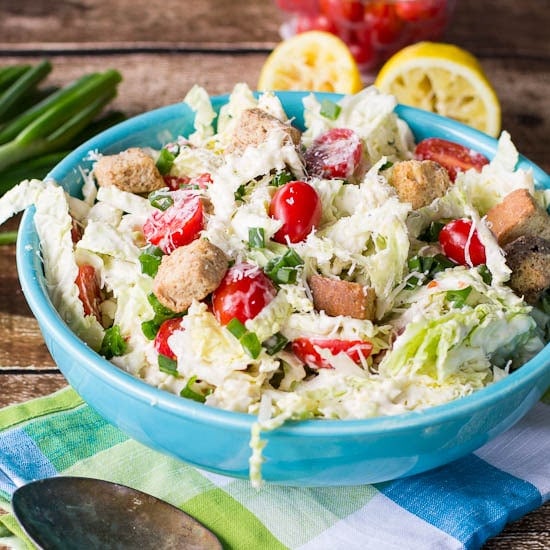 A Caesar salad is one of my favorite salads and there's a reason it never goes out of style. It's just plain good food. I don't make Caesar salads often at home, but I'm always tempted to order them at restaurants.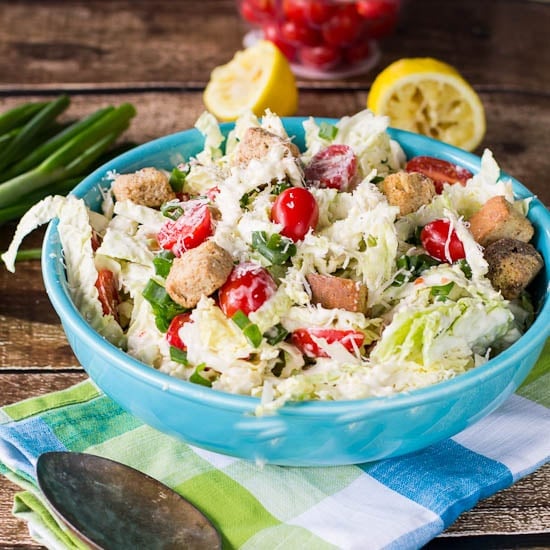 To make this coleslaw Caesar-style, I've added minced anchovies, Worcestershire sauce, lemon juice, and garlic to a mixture of mayonnaise and sour cream. Parmesan cheese really ups the flavor and grape tomatoes and green onions add color while croutons sprinkled on top add crunch and a little texture contrast.
Psst.  You can't really taste the anchovies and if you have members of your family who dislike anchovies, just don't tell them they're there and they'll never know. It will be our little secret 😉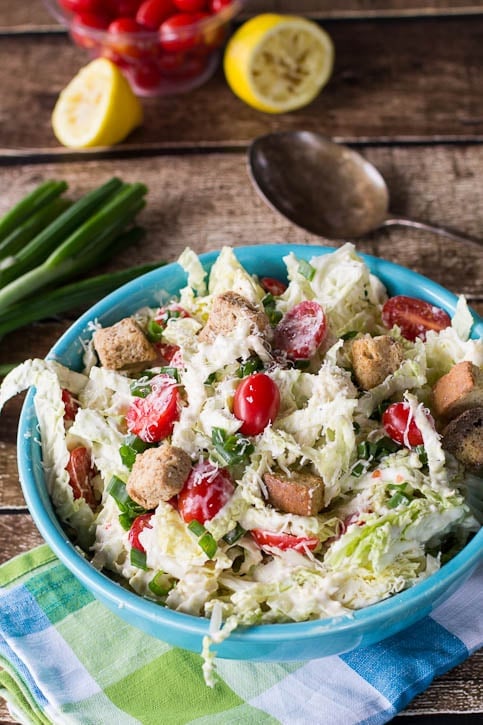 In my opinion, coleslaw is one food that must be homemade. Store bought coleslaw is wretched for the most part. Although, I will admit I enjoy a couple of bites of KFC coleslaw every now and then. But I don't really think of it as coleslaw. It's more like sugary crunchy stuff.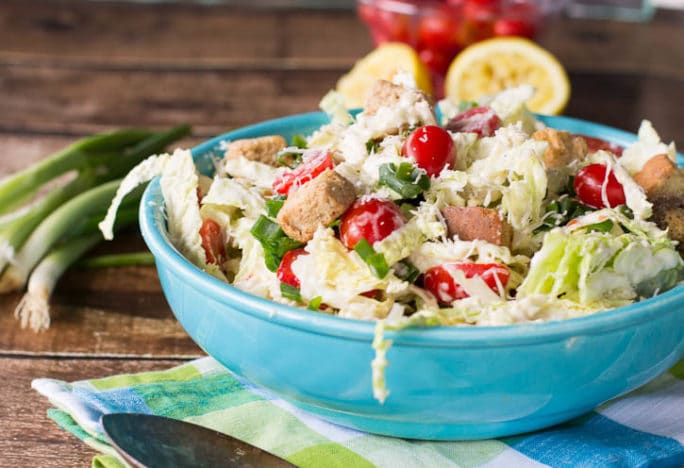 At a picnic or BBQ, coleslaw hardly ever stands out from the crowd, but this Caesar Coleslaw will. It's a little something different with a kick from the Parmesan and garlic. Any Caesar Salad fan will enjoy it whether they are a fan of coleslaw or not.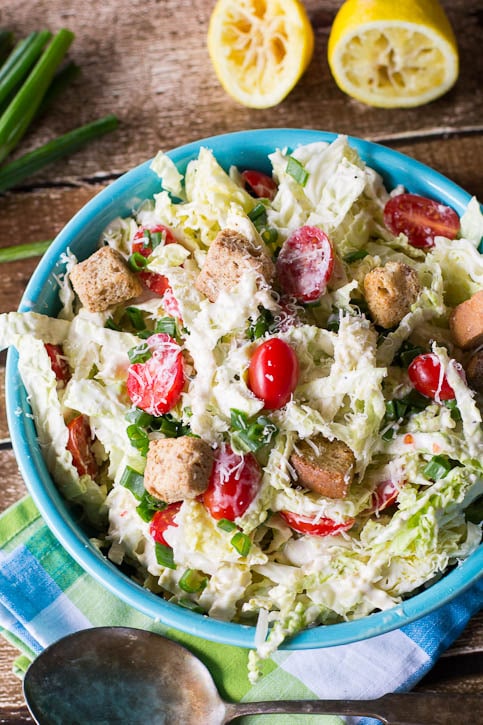 I think I like this Caesar Coleslaw even more than regular coleslaw. It would be a great accompaniment to a Bloody Mary Skirt Steak or hamburgers. And if you're looking for more interesting coleslaw recipes, try this Pineapple Macadamia Coleslaw. I love it on grilled chicken sandwiches.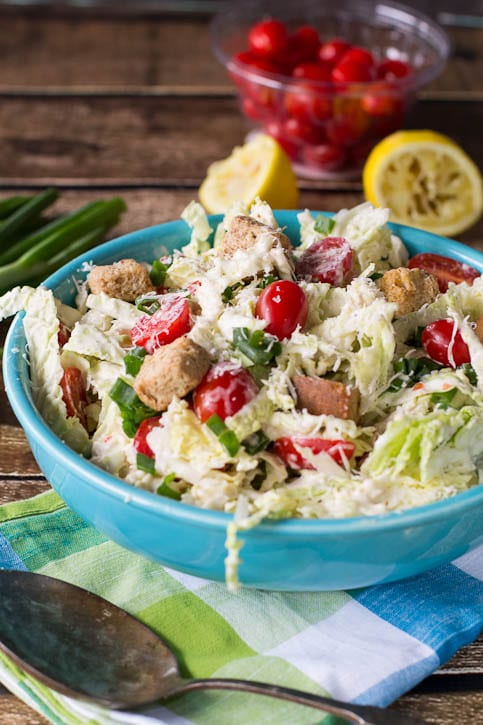 For more recipes your whole family will love follow Spicy Southern Kitchen on Pinterest and Instagram.
Sign up HERE for the Spicy Southern Kitchen Newsletter.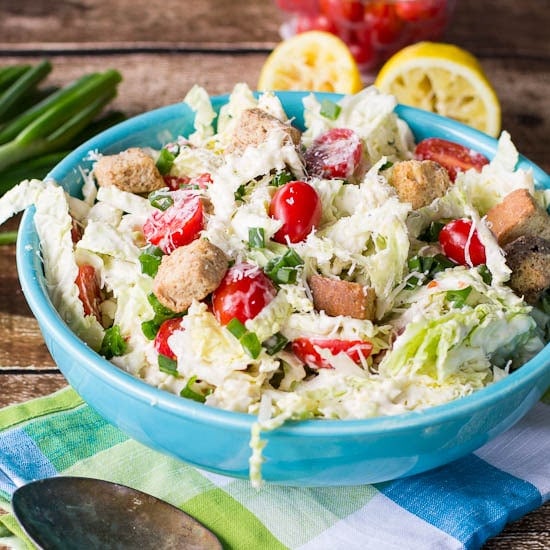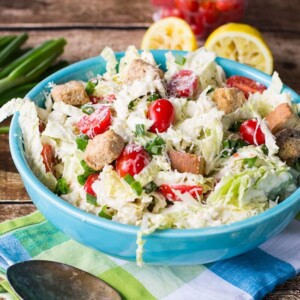 Caesar Coleslaw
Caesar Salad style coleslaw with Parmesan cheese, grape tomatoes, croutons, and a dressing flavored with anchovies, garlic, and lemon juice.
Ingredients
3/4

cup

mayonnaise

1/3

cup

sour cream

2

tablespoons

lemon juice

3

anchovies,

finely minced

1

garlic clove,

crushed through a garlic press

1

teaspoon

Worcestershire sauce

1/2

teaspoon

freshly ground black pepper

1

medium head of Savoy Cabbage,

cored and thinly sliced

1

cup

grape tomatoes,

halved

4

scallions,

thinly sliced

1/3

cup

freshly grated Parmesan cheese

salt,

to taste

1

cup

croutons
Instructions
In a large bowl, whisk together mayonnaise, sour cream, lemon juice, anchovies, garlic, Worcestershire sauce, and pepper.

Add cabbage, tomatoes, and green onion. Toss to coat, cover with plastic wrap and refrigerate for 1-4 hours.

Mix in Parmesan cheese and croutons just before serving. Check to see if any salt needs to be added. It will probably be salty enough from the cheese and anchovies, but you may want to add a pinch or two.
Want to Save This Recipe?