Stewed Okra and Tomatoes is a healthy and delicious southern side. Fresh summer okra, sliced and cooked with canned tomatoes (you could use fresh instead), bacon, onion, celery, and a few seasonings makes a delicious vegetable side dish for almost any meal.
I look forward to eating okra each and every summer. Fried Okra is my absolute favorite way to eat it, but stewed okra with tomatoes is a great way to enjoy okra in a healthier form.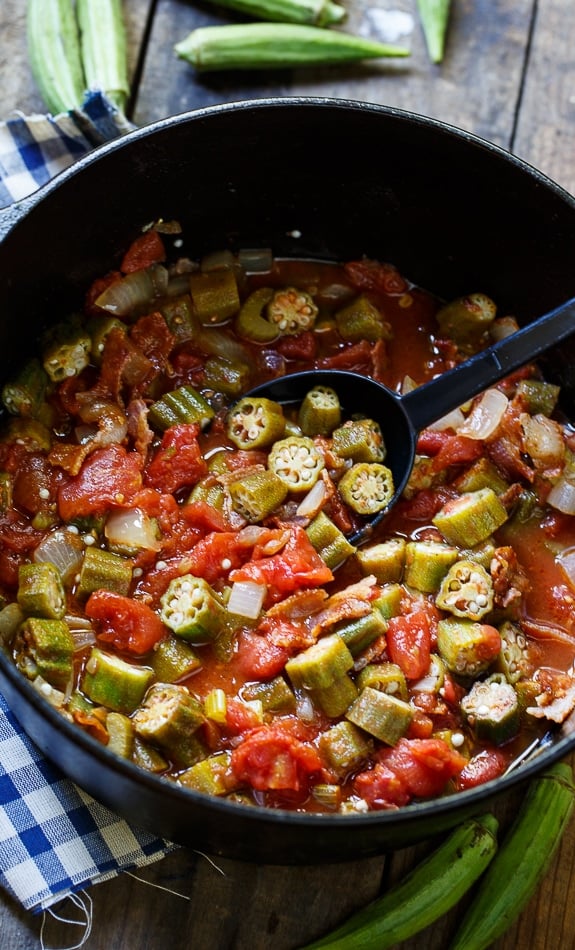 Okra and Tomatoes is a side dish that's like a thick stew.
This dish starts by cooking some bacon. This is mainly to produce some bacon grease to saute the onions in.
Because onions are always better cooked in bacon. 🙂
I like to use a sweet Vidalia onion, but any kind of onion will do.
I mainly use fresh okra for this, but you could also use frozen okra. If you buy fresh okra at the store or farmers market, plan on using it as soon as possible. The pods will start to develop brown spots. It's okay to eat them with brown spots, but they are a signal that the okra is  getting past its prime.
I like to eat Okra and Tomatoes as a summer side, but you can also spoon it over a bed of rice for a light meal. If you want to keep it vegetarian, or as healthy as possible, skip the bacon and cook the onion in olive oil.
If you have fresh summer corn available, add the kernels from an ear or two. It tastes really good with the okra and tomatoes.
You'll want to keep a bottle of Tabasco sauce handy. This is a side dish that really does well with a lot of heat and you may want to add a splash hear and there.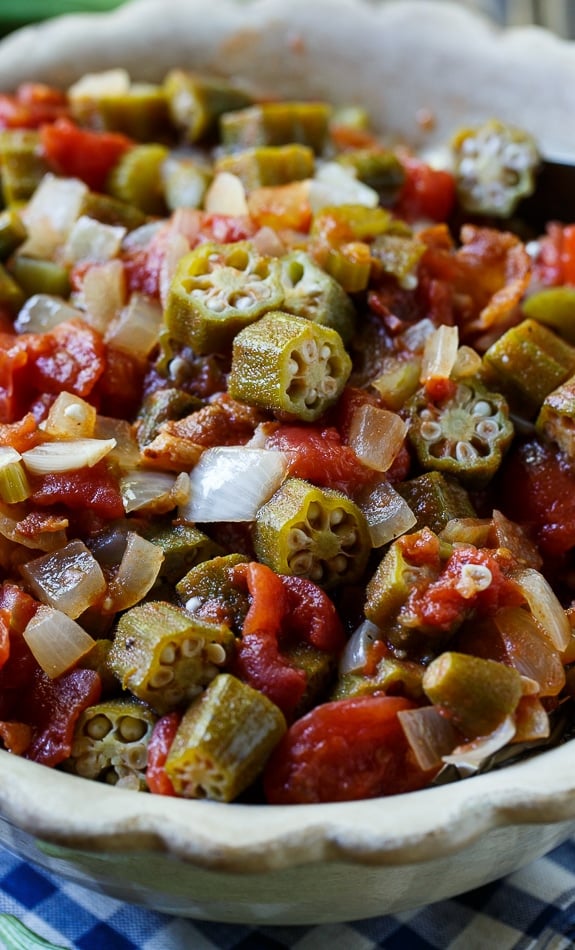 Never miss a recipe! Follow Spicy Southern Kitchen on Pinterest and Instagram.
Sign up HERE for the Spicy Southern Kitchen Newsletter.
More Okra Recipes