Homemade Spaetzle is kind of like a cross between egg noodles and southern dumplings and it is a delicious side dish to add to a German-inspired meal or quite frankly, any meal. Talk about inexpensive comfort food!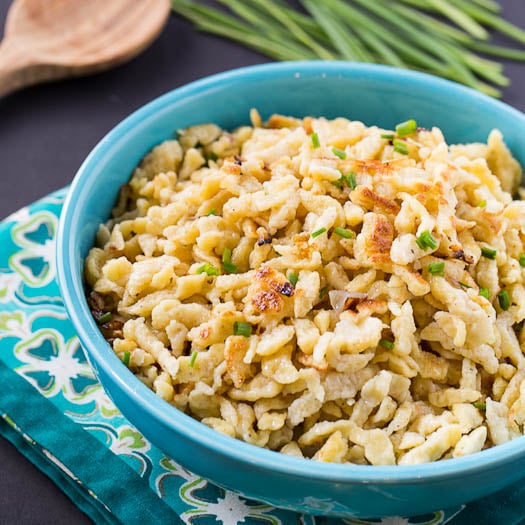 This is a recipe from Cook's Country, a recipe source I turn to time and time again when trying something new. This was the very first time I had tried making spaetzle and thanks to the Cook's Country recipe, I was very happy with the results. It was actually super easy to make and I think it is something I will make time and time again as I always have the ingredients on hand.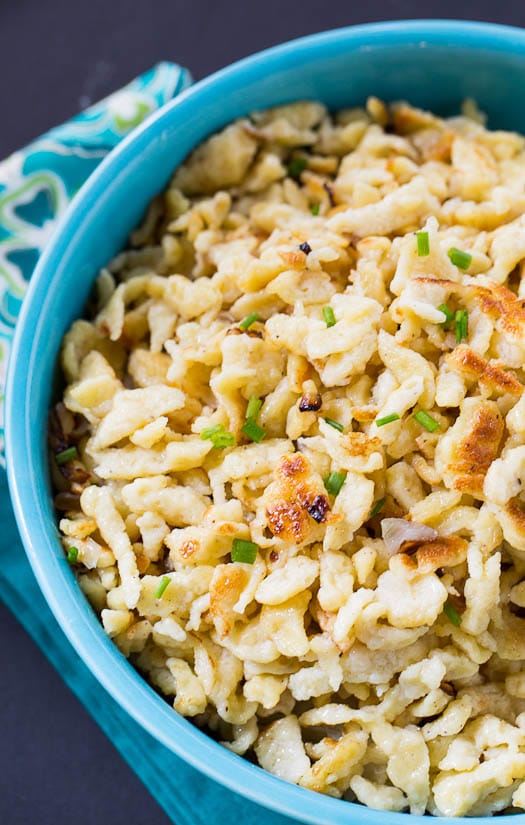 Spaetzle is made from an easy batter of flour, eggs, and milk and usually a little nutmeg which gives it an awesome flavor. A spaetzle press is used to shape the dough directly into boiling water. Some recipes call for putting it in an ice bath next, but this recipe does not. To finish the spaetzle, it is cooked in a little vegetable oil/and or butter until golden and crisp, usually with a little shallot or onion. This recipe adds some butter at the end so you don't have to worry about burning it.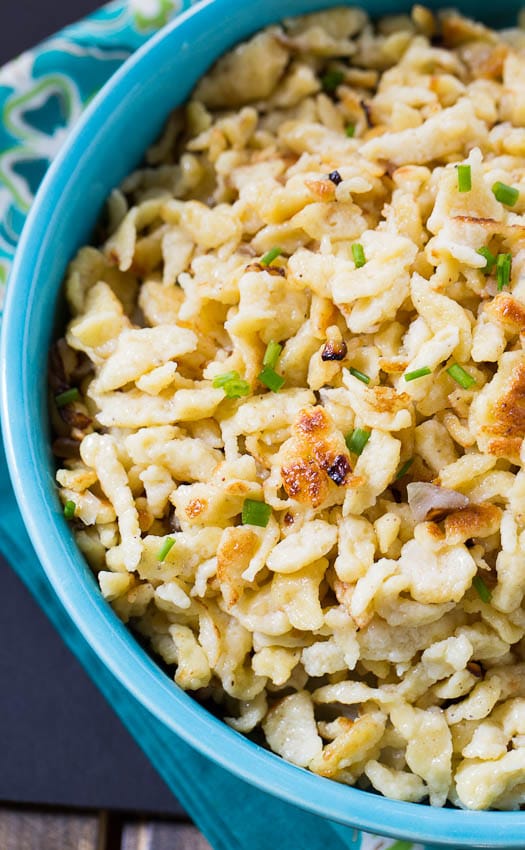 If you don't have a spaetzle press, Cook's Country suggests using a disposable aluminum pan (like the kind you would cook lasagna in) and punching 1/4-inch holes in it. You can also use a colander if the holes are big enough. If you think it is something you might make frequently, a Spaetzle Maker
is probably a good idea. They are relatively inexpensive, as low as $6.99. While the aluminum pan works pretty well, it is a little time consuming to punch the holes and get them just right. Mine probably ended up being a touch too small. Plus you are left with many sharp, pointy edges on the bottom of the pan which make trying to clean and reuse the pan a little hazardous.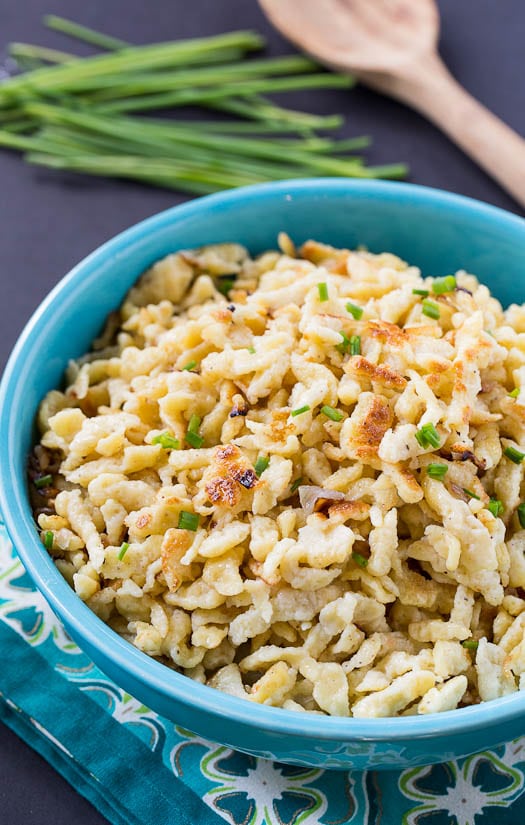 Fry up some schnitzel or bratwurst to go with this buttery spaetzle and maybe some sweet and sour cabbage and you have yourself a delicious German-themed meal.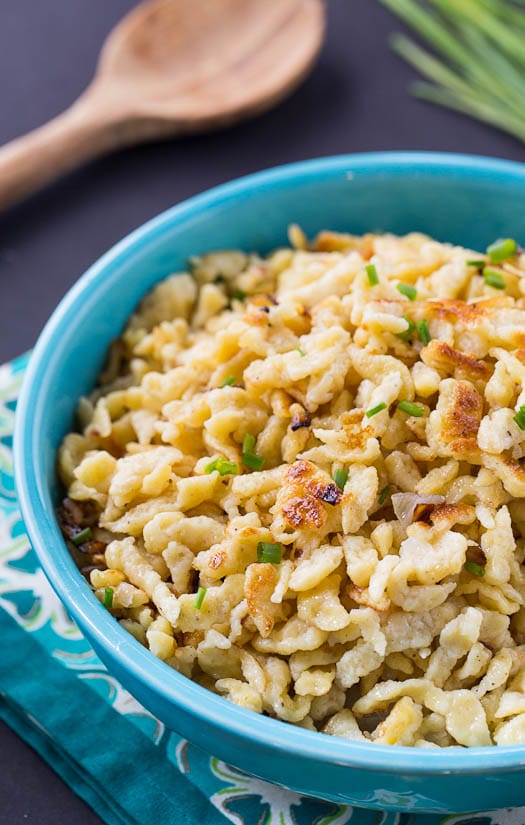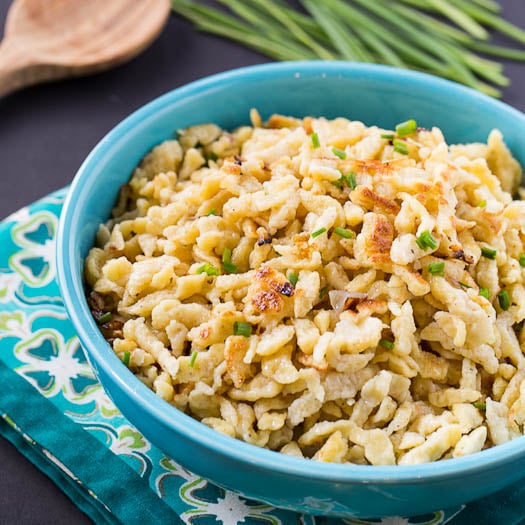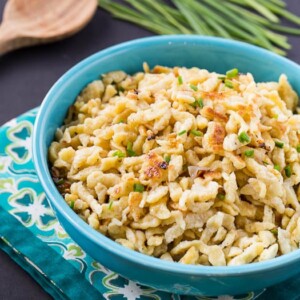 Homemade Spaetzle
Delicious homemade spaetzle makes a great side dish to pair with any German food.
Ingredients
2

cups

all-purpose flour

3/4

teaspoon

salt

1/2

teaspoon

pepper

1/4

teaspoon

ground nutmeg

3/4

cup

whole milk

3

large eggs

2

tablespoons

vegetable oil

1

shallot

or about 1/3 cup finely diced sweet onion, minced

2

tablespoons

butter

chives

optional

A spaetzle lid

or a disposable aluminum pan, the kind you would cook lasagna in
Instructions
In a large bowl, combine flour, salt, pepper, and nutmeg.

Whisk eggs and milk together in a medium bowl. Gradually whisk milk mixture into flour, whisking until smooth. Let sit for 15 to 30 minutes.

Poke about 40 1/4-inch holes in the aluminum pan using a paring knife.

Bring 4 quarts of water to boil in a Dutch oven and add 1 tablespoon salt. Set the aluminum pan on top of the Dutch oven. (You may want to turn the heat down a touch and work quickly as the aluminum will get hot quickly.)

Pour about half the batter into the aluminum pan. (Note: you might want to do a test with a small amount of batter to make sure your holes are big enough.)

Use a rubber spatula to press the batter back and forth across the holes. Set pan aside.

Boil until spaetzle float, about 1 minute. Remove them with a slotted spoon and place on a paper towel-lined plate. Repeat with remaining batter.

Heat the oil in a large nonstick skillet. Add shallot and cook for 1 minute. Add spaetzle and cook for 5 to 7 minutes, stirring occasionally.

Remove from heat and stir in butter. Check for seasoning and add more salt and pepper if desired.
Want to Save This Recipe?
Recipe Source: adapted slightly from Cook's Country
Disclosure: This post contains affiliate link.