Creamy stone-ground grits flavored with cheese, corn, and vidalia onion.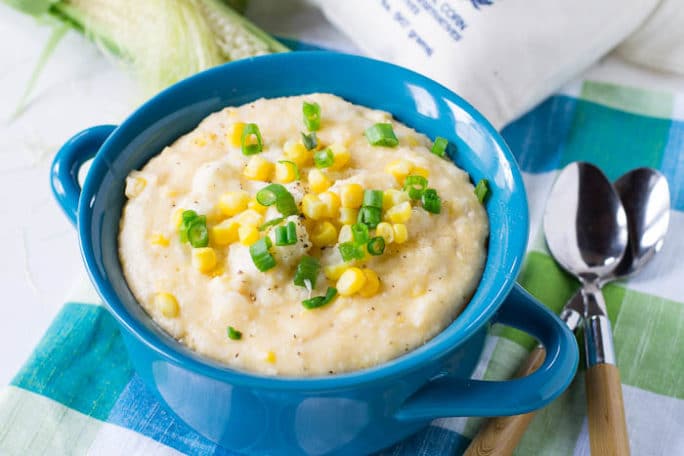 Grits are an extremely popular food throughout the southeast, eaten not just for breakfast, but lunch and dinner too. Low Country Shrimp and Grits has become one of the most popular dishes made with grits, but grits can be used in a variety of ways from fried grit cakes to mushrooms stuffed with grits.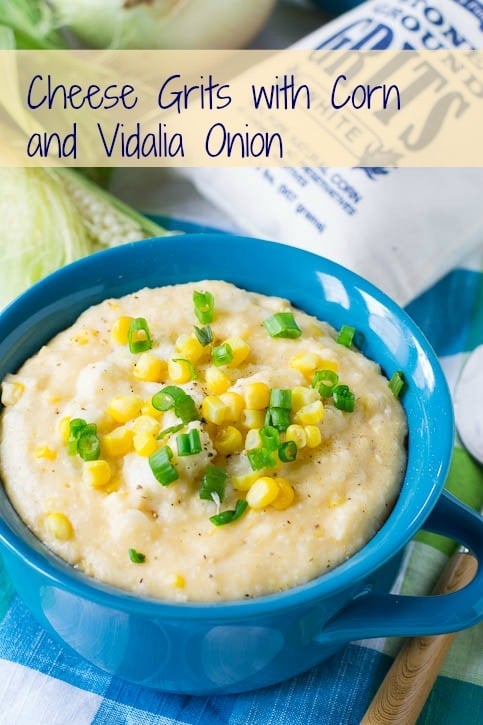 The cookbook 101 Things to Do with Grits
can really get your creative juices flowing when it comes to cooking with grits. This cookbook has many ways to use grits that I never thought of, the most original of which might be using grits in tiramisu. Why not I guess.
I'll have to try it and let you know how it tastes. But I'm thinking if there's mascarpone cheese involved, it has to be good.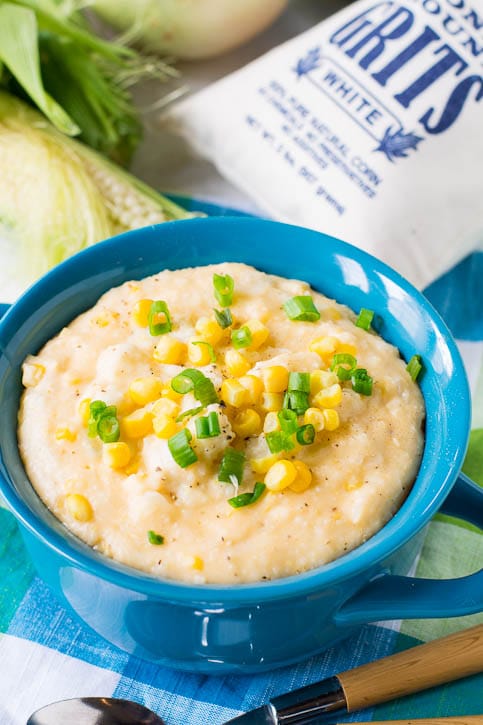 This recipe for Cheese Grits with Vidalia Onion and Corn is a great spring/summer side dish and it is delicious served with grilled chicken or shrimp. When cooking grits, stone-ground grits are really the way to go. You can use quick grits, but do not under any circumstances use instant grits. They are vile.
Stone-ground grits take longer to cook, but are well worth the time. They cook up of so creamy and heavenly. Grocery stores, even in the heart of the south, typically do not carry stone-ground grits, primarily because they are perishable and should be stored in the refrigerator or freezer.  You can order them online through a number of sources. Palmetto Farms
is a brand I've been happy with and it can be purchased through amazon.com.
Anson Mills out of Columbia, SC is considered by many to produce the best stone-ground grits. They are a little on the pricy side at  $5.95 for a 12-ounce bag and they take a very ling time to cook. The Old Mill Of Guilford in Oak Ridge, NC also has delicious mail order grits.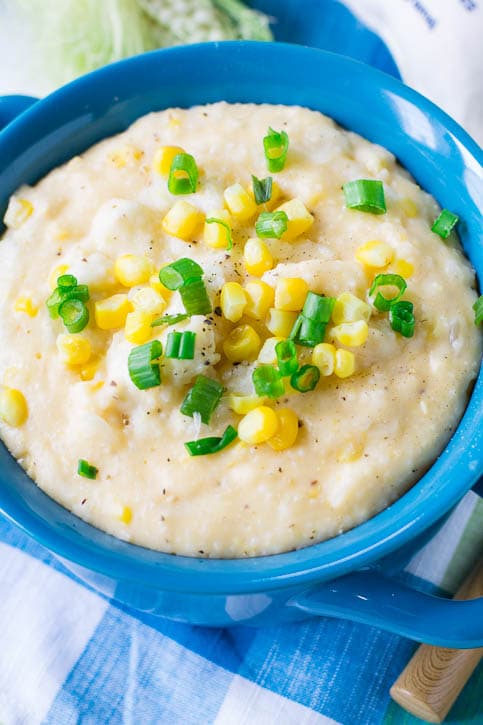 You can buy either white grits or yellow grits and I tend to prefer white grits. This recipe is very versatile and is great for using odds and ends in your refrigerator. I've used Parmesan and cheddar cheese, but just about any type of cheese tastes good mixed into grits. Likewise, I can't think of a vegetable I don't like to eat with grits, so get creative and have fun!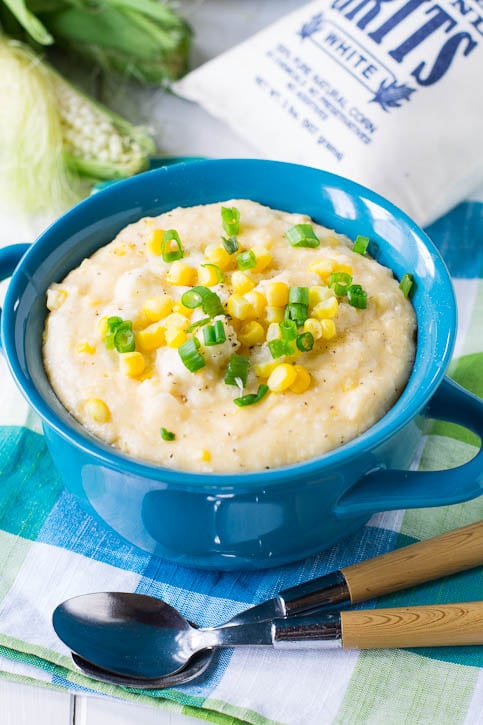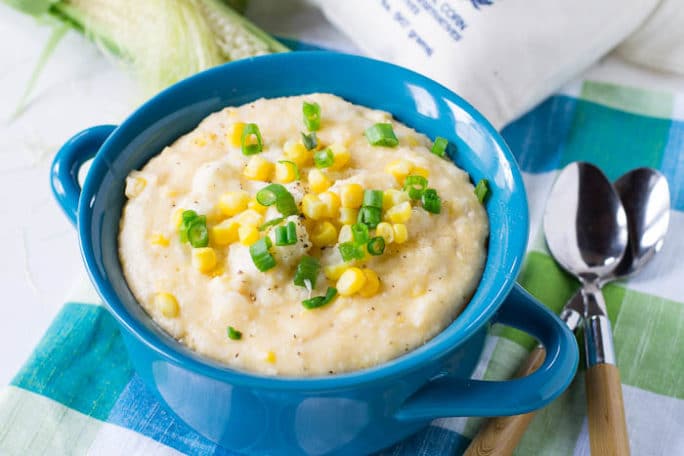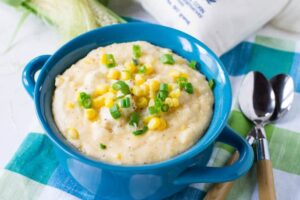 Cheese Grits with Corn and Vidalia Onion
Creamy stone-ground grits flavored with cheese, Vidalia onion, and corn.
Ingredients
1

tablespoon

butter

1

medium Vidalia diced,

or any type sweet onion

2

ears corn,

kernals cut from husks

2

cups

whole milk

2

cups

water

Kosher salt and freshly ground black pepper

1

cup

stone-ground grits

2

tablespoons

unsalted butter

1

cup

shredded cheddar cheese

2

tablespoons

grated Parmesan cheese

green onions,

sliced
Instructions
In a heavy-bottomed medium saucepan, melt butter over medium heat. Add onion and sauté, stirring frequently, for 3 minutes.

Add corn and continue to sauté for 3 minutes.

Add milk, water, and 1 teaspoon salt. Turn heat to high and bring to a boil.

When mixture boils, gradually whisk in the grits. If you mix them in too fast, they will clump.

Turn heat down to low and simmer, whisking every now and then, for 40-50 minutes. (The amount of times it takes to cook the grits will vary according to the brand. It is best to go by the cooking time on the package. Some will only take 20-30 minutes. Others can take up to 60 minutes.)

Stir in butter, both cheeses, and salt and pepper to taste.

Add a few dashes of Tabasco sauce and green onions.
Notes
I like really thick grits, but you can always thin with additional milk.
Want to Save This Recipe?
Disclosure: Spicy Southern Kitchen is an amazon.com affiliate.