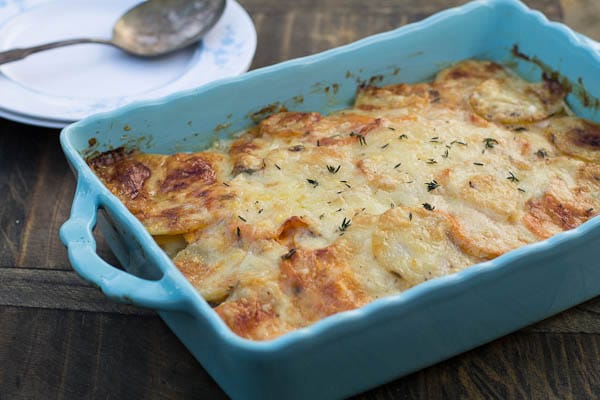 A rich and heavenly potato gratin with caramelized onions and a thick layer of gruyere cheese on top. Caramelized Onion and Potato Gratin  is one side dish everyone will love. This time of year I can never get enough of creamy, starchy casseroles. Cold, bleak weather calls for pure comfort food.
And speaking of cold weather, can you believe it is December already? Where did the previous 11 months go? I haven't even bought a single Christmas present yet. And I may keep it that way because this year, with all my family has been through, I have no interest in anything material. I just want to be surrounded by family, with lots of good food of course.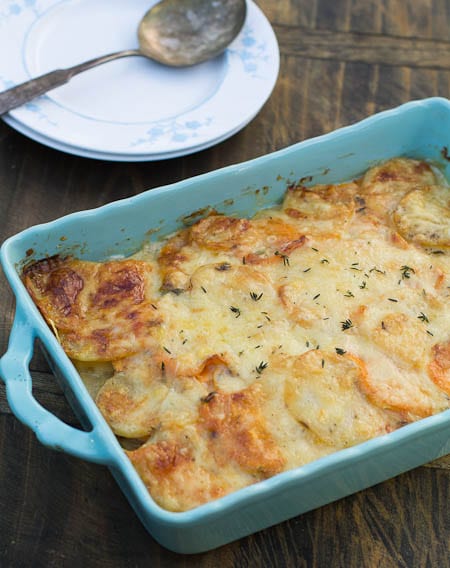 And this potato gratin is definitely good food to have on hand, for a holiday, a family gathering, or a Sunday supper. This recipe was published in the October/November 2010 issue of Cook's Country, a magazine I always find to be a reliable source for recipes. I've added a few sweet potatoes, mainly because I put them in absolutely everything I can. But if you object to sweet potatoes (like the majority of my family does) just use russet potatoes.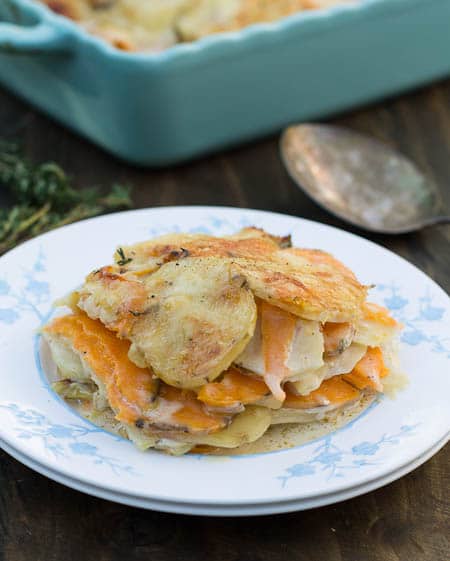 It's best to use a mandolin to slice the potato slices really thin unless you have an extraordinary talent for thinly and uniformly slicing potatoes by hand. I'm always surprised at how long it takes for the potatoes in a gratin to cook all the way and if you have unevenly sliced potatoes you are bound to have a crunch here and there in your gratin.
The caramelized onions cook up really fast with the addition of some brown sugar. I love that the onions are chopped instead of sliced. They really blend into the casserole better that way and you don't have any awkward onion strings dangling down from your fork.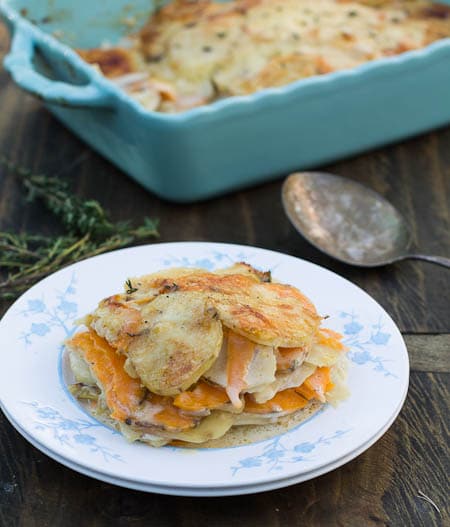 Caramelized Onion and Potato Gratin
A creamy, cheesy potato gratin flavored with caramelized onions and fresh thyme.
Ingredients
2

tablespoons

unsalted butter

3

cups

chopped onions,

about 2 large or 3 medium

2

teaspoons

salt

1

tablespoon

brown sugar

1

cup

low-sodium chicken broth

2/3

cup

white wine

2/3

cup

heavy cream

1

teaspoon

balsamic vinegar

3

pounds

russet potatoes,

I used a combo of russets and sweet potatoes, peeled and sliced 1/8-inch thick

2

teaspoons

minced fresh thyme

1

teaspoon

pepper

1 1/2

cups

shredded Gruyere cheese
Instructions
Position an oven rack in the middle of oven and heat oven to 350 degrees.

Melt butter in a large nonstick skillet over medium-high heat. Add onions and 1 teaspoon salt. Cook until onions are just starting to brown, about 5 minutes.

Stir in brown sugar and continue to cook for about 5 minutes, stirring frequently. Onions should be golden brown.

Add 1/3 cup broth and cook 5 additional minutes. Mixture should be golden brown and sticky. Transfer onions to medium bowl.

Add remaining broth plus wine, cream, and remaining 1 teaspoon salt to skillet and bring to a boil. Scrape any browned bits off bottom. Once at a boil, remove from heat and stir in vinegar. Cover and keep warm.

In a 3-quart casserole dish, arrange half of potatoes so that they are overlapping. Sprinkle with 1 teaspoon thyme and 1/2 teaspoon pepper.

Spread all of caramelized onions on top.

Top with remaining potatoes, thyme, and pepper. Pour broth mixture over the top.

Place in oven and bake 30 minutes. Remove from oven and top with cheese. Place back in oven for 30 to 40 minutes. Let cool 15 minutes before serving.
Want to Save This Recipe?