BBQ Spaghetti Casserole with bbq pork, bbq sauce, green onions, and cheese is like the spaghetti version of BBQ Chicken Pizza. I pick up a pound of pulled pork from my favorite bbq restaurant. It's smoky, moist, and fabulously delicious. You could also use some homemade bbq pork or even bbq pulled chicken.
The pork that I use doesn't have much sauce added to it. If yours is heavily sauced, you may want to add less bbq sauce to the casserole. I like to use a thick and sweet Kansas City-style bbq sauce. Usually I use KC Masterpiece brand sauce.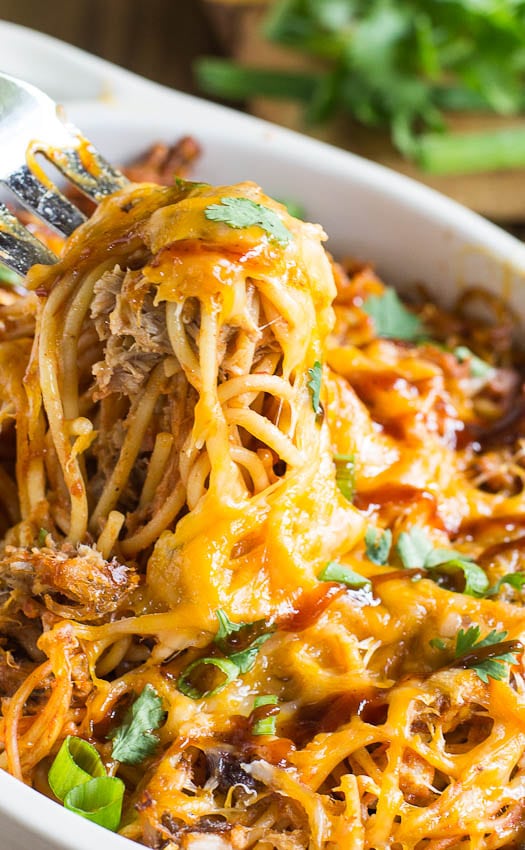 To cut the sweetness of the sauce some and make the casserole a little more spaghetti-like, I add an 8-ounce can of tomato sauce, plus some tomato paste. A little sour cream contributes some creaminess. Some green onions provide some color contrast and flavor and a nice blanket of cheese on top finishes the casserole of. I usually use cheddar, but you could blend in some Monterey Jack, or use a Mexican cheese blend. I like a little cilantro on top, but you could leave that off or use some parsley instead.
The finished dish is a comforting, delicious casserole that tastes like no other casserole.
Sharing with the Weekend Potluck at
The Country Cook