This is a sponsored post written by me on behalf of Southern Breeze Sweet Tea.
<
img class="aligncenter size-full wp-image-8148″ src="https://spicysouthernkitchen.com/wp-content/uploads/southern-breeze-sweet-tea.jpg" alt="#SouthernBreezeSweetTea" width="525″ height="740″ /> Southerners have been drinking sweet tea for generations to help cool off during the summer months and the rest of the year too. If you've ever had sweet tea before, you know that it is incredibly sweet. But all that sweetness takes a hefty amount of sugar. Since we are all more conscious about our sugar intake these days, I was really excited to try Southern Breeze Sweet Tea, the zero calorie sweet tea. The fact that it is sweetened with Splenda and has zero calories isn't the only thing that's unique about Southern Breeze Sweet Tea. This tea tastes like your grandmother's sweet tea, but it's easier to make. The sweetener is in the tea bag. How genius is that? Not only do you get to skip a whole step in the sweet tea making process, but the makers of Southern Breeze Sweet Tea have figured out the perfect ratio of tea to sweetener.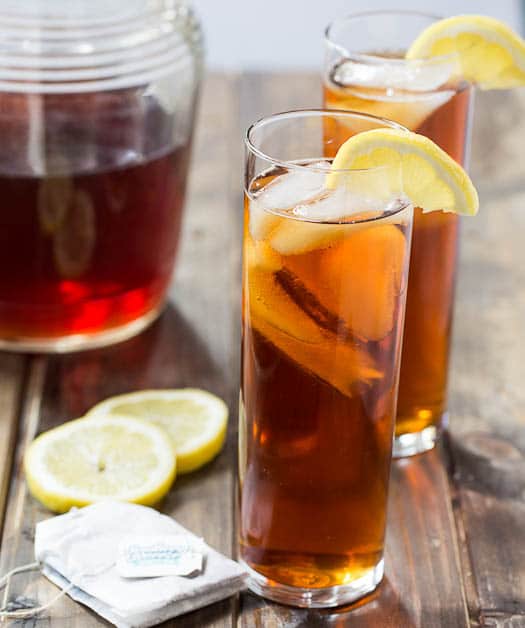 To make Southern Breeze Sweet Tea, just hot water brew as you would ordinary tea bags. Steep 1 or 2 of the family size tea bags for 3 to 5 minutes and then chill.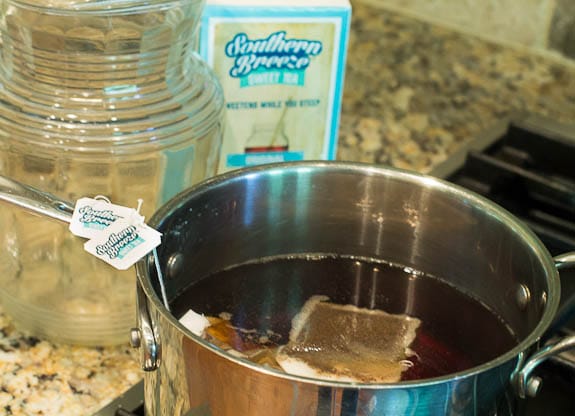 You will have perfectly flavored and sweetened tea with a completely smooth taste and none of the bitterness you can sometimes get when you make your own tea. The family-sized tea bags contain only real tea leaves and sweetener.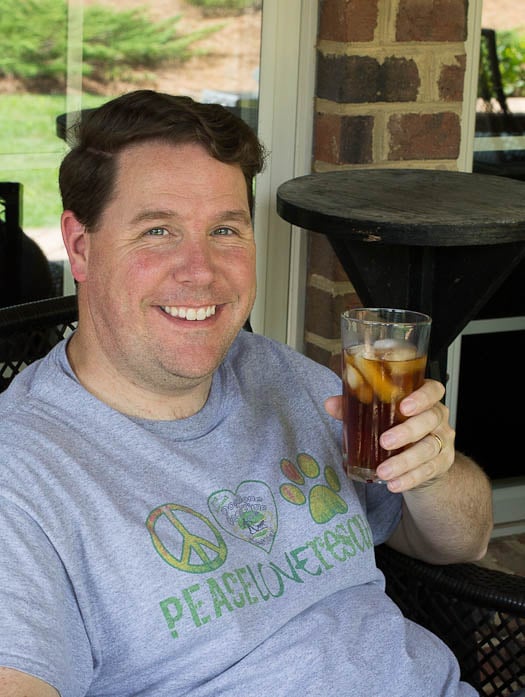 Back in the days before air conditioning, sweet tea was enjoyed out on the porch where you could hopefully get a little breeze while drinking it. I still feel like it should be enjoyed outside no matter how hot it is.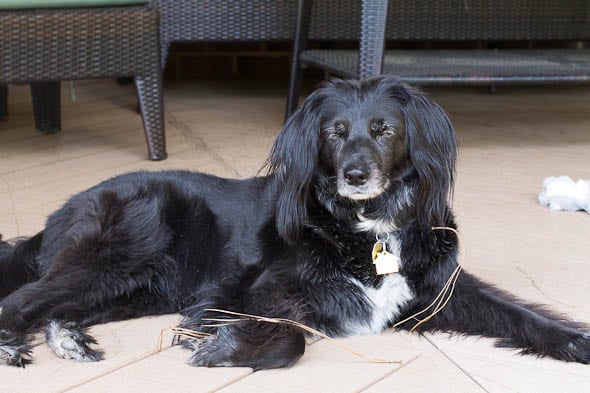 I just wish I could give my dog some refreshing sweet tea to help her cool off. With her thick black fur, she has a tough time during the summer. My husband bought her a little turtle swimming pool to cool off in, but as of yet I haven't been able to convince her to get in.  She thinks I want to give her a bath.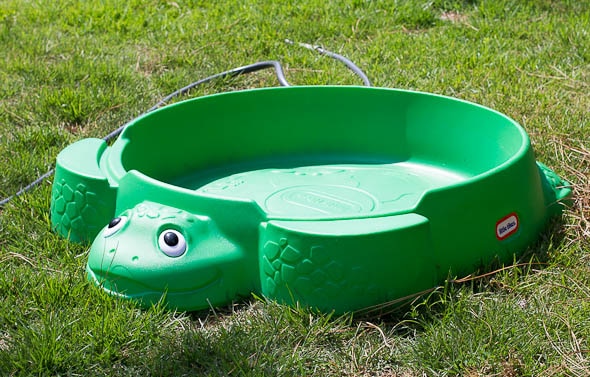 A couple more tries and I'm filling it with dirt and turning it into a garden. Maybe I'll plant some mint to go with my sweet tea. I like to use pretty much anything I can get my hands on to cook with, including sweet tea. I've been dying to try brining chicken or pork in sweet tea.  I made some sweet tea muffins with sweet tea cream cheese glaze this past weekend. Since I saved so many calories drinking zero calorie Southern Breeze Sweet Tea, I decided I could splurge with a sweet treat. I steeped a couple of bags of Southern Breeze in some milk to flavor the muffin batter. Then I used leftover sweet tea to add to the glaze. They made a wonderful afternoon snack. Life is better when you have sweet tea in your glass and your food. Thanks to Southern Breeze Sweet Tea, one lucky person will win a box of Southern Breeze Sweet Tea and a Southern Breeze Sweet Tea Mason Jar to enjoy your tea in. (Value $10) To enter the giveaway, leave a comment letting us know what you love about sweet tea or a favorite memory of being together with family or friends and drinking sweet tea. For me sweet tea brings back memories of my grandmother. She ate like a bird, but always had a glass of tea. I think it may have been tea alone that sustained her for 87 years. One winner will be announced. Giveaway ends at midnight on June 30,2014. You must be 18 years or older and live in the Continental US. Southern Breeze Sweet Tea can be purchased at Harris Teeter, Ingles, Wegman's, and Amazon.com. To learn more about Southern Breeze Sweet Tea  visit their website or connect with them on Facebook, Twitter, or Instagram.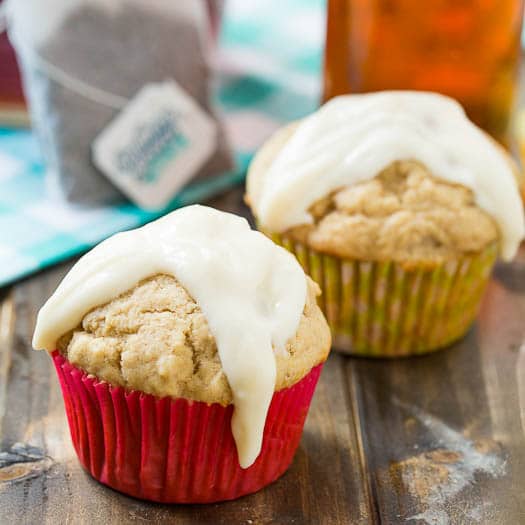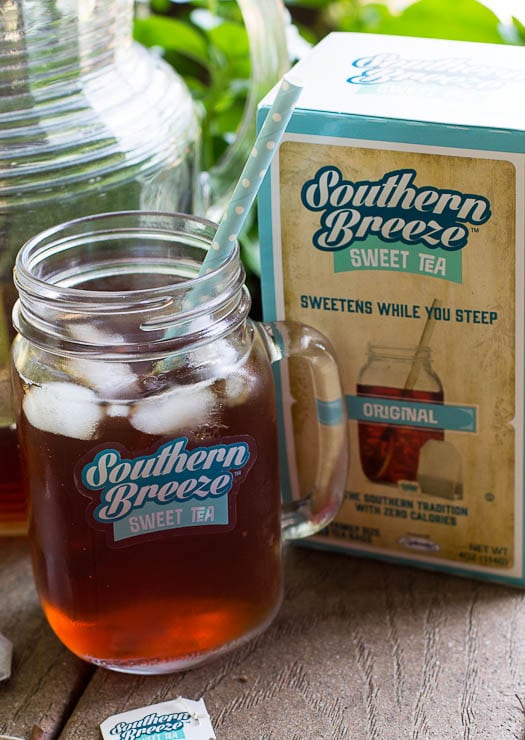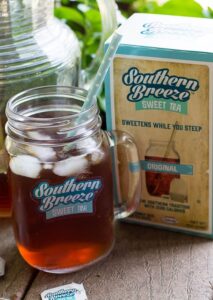 Sweet Tea Muffins
Ingredients
1

cup

milk

1/2

cup

butter,

softened

2/3

cup

brown sugar

2

eggs

1/4

cup

vegetable oil

1

teaspoon

vanilla extract

2 3/4

cups

all-purpose flour

2

teaspoons

baking powder

1/2

teaspoon

salt

1/4

teaspoon

baking soda

1/4

teaspoon

nutmeg

1/4

teaspoon

cinnamon
Glaze
4

ounces

cream cheese,

room temperature

1- 1 1/2

cups

confectioners sugar

3-4

tablespoons

sweet tea
Instructions
Place milk in a small pot and heat just shy of simmering. Add tea bags and steep for 5 minutes. Remove tea bags and squeeze as much of the milk out of them as you can. Remeasure milk and add additional milk to get back to 1 cup. Let cool to room temperature.

Using an electric mixer, beat together butter and brown sugar.

Add eggs one at a time, stopping to scrape down sides of the bowl. Add vegetable oil and vanilla extract.

In a medium bowl, combine flour with baking powder, salt, nutmeg, cinnamon, and baking soda.

Add flour mixture to mixing bowl, alternating with milk. Do not overmix.

Scoop batter into 12 muffin cups lined with cupcake liners. Bake at 350 degrees for about 15 minutes.

To make glaze, beat cream cheese using electric mixer. Add 1/2 cup confectioners sugar and 1 tablespoon sweet tea. Mix until smooth. Add another 1/2 cup confectioners' sugar and 2 tablespoons sweet tea. Beat until smooth. Add more sugar if you want a sweeter glaze and more tea for a thinner glaze.

Spread glaze on muffins. Glaze should be refrigerated. If you are not going to eat the muffins all at once, do not glaze the ones you are going to save so you do not have to refrigerate them.
Want to Save This Recipe?
This is a sponsored post written by me on behalf of Southern Breeze Sweet Tea.