<
!– END Clever Girls Snippet –>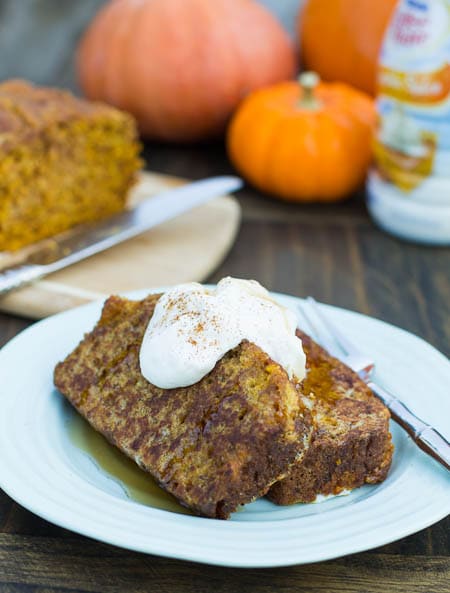 Halloween is just a few days away and that means we are about to go full swing into the Holiday season. This time of year always flies by. Don't you which January and February would go by this fast? Fall is my absolute favorite time of year. Who can resist carving pumpkins, watching football games, heck, I even like raking leaves. More than anything, I love taking long hikes with my dog and listening to the sound of the leaves crackle and crunch under our feet.
After being outside in the cool, crisp air, I always crave a nice, warm cup of coffee flavored with Coffee-mate. Preferably by the fireplace.
Call me clueless, but until recently, I had no idea that you could use Coffee-mate in food recipes. And boy am I glad you can. You see, I have a little bit of a Coffee-mate addiction. I put it in my coffee every single day. But they're killing me with all the new fantastic flavors. I have to buy each and every one of them. Here's what's currently in my fridge.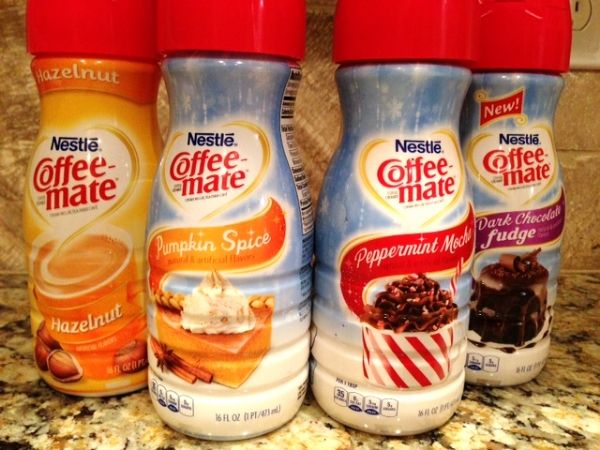 The seasonal flavors which are only available September through December are Spiced Latte, Eggnog Latte, Peppermint Mocha, Pumpkin Spice, and New! Dark Chocolate Fudge. And have you tried the Girl Scout flavors, Caramel and Coconut and Thin Mint®? Love them!
Well before I figured out you could bake with Coffee-mate, I would only allow myself to open 1 container of Coffee-mate at a time. It can take a fairly long time to go through a container when you're rotating a bunch of different flavors and I didn't want to keep track of how long each one had been open.
But now that I've started using Coffee-mate in recipes, I can go through flavors much faster, and I don't feel guilty having more than one open at a time. I can open the fridge and say Hmmmmm, am I in a Hazelnut mood? Or maybe today is a Peppermint Mocha kind of day.
Last weekend I used up some Pumpkin Spice in several recipes. I'm sharing the Pumpkin Spice Bread French Toast today, but stay tuned. I have a Pumpkin Tassie recipe coming soon.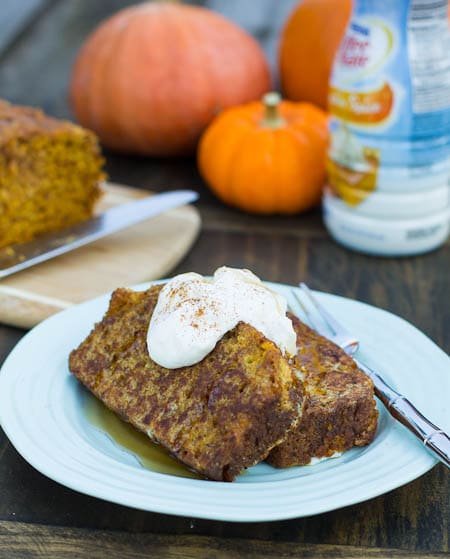 In this French Toast recipe, I used Pumpkin Spice Coffee-mate in 3 different ways. That's putting a pretty good dent in the container. First I used some in the actual pumpkin bread recipe. Since I made the pumpkin bread knowing that I would use it for French Toast, I cut back a little on the liquid ingredients, as well as the spices and sugar to make a less moist/less sweet bread.
Then I soaked the pumpkin bread slices briefly in a mixture of eggs, milk, and Pumpkin Spice Coffee-mate. Finally I used some Coffee-mate to flavor my whipped cream. It turned out to be one super delicious breakfast with plenty of wonderful pumpkin spice goodness.
Check out these recipes for more  Coffee-mate goodness: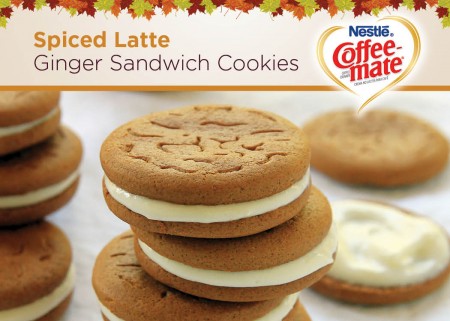 Sandwich cookies are always a big hit. These would be wonderful to munch on while waiting for the big meal on Turkey Day. 🙂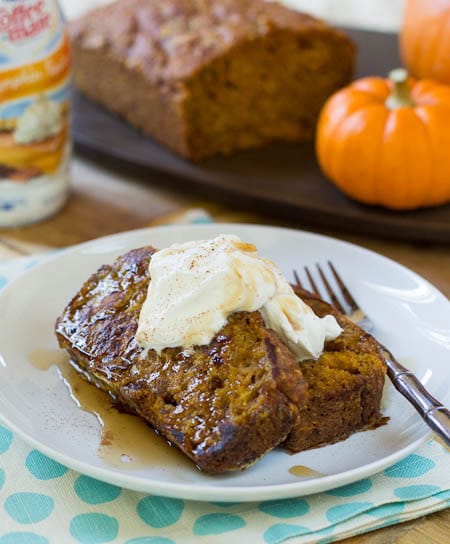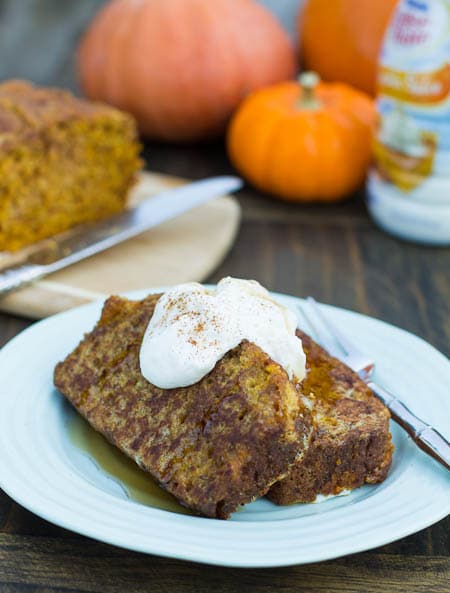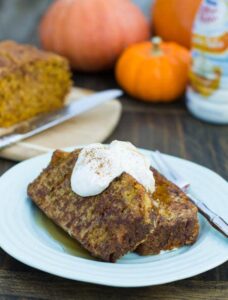 Pumpkin Bread French Toast
French Toast made out of pumpkin bread and flavored with Pumpkin Spice Coffee-mate.
Ingredients
Bread
1 2/3

cup

flour

1

cup

sugar

1

teaspoon

baking soda

1

teaspoon

cinnamon

1/2

teaspoon

ground cloves

1/4

teaspoon

ground nutmeg

1/2

teaspoon

salt

1

cup

canned pumpkin

2

eggs,

well beaten

1/2

cup

Vegetable oil

2

tablespoons

Pumpkin Spice Coffee-mate
French Toast
3

eggs,

lightly beaten

1/3

cup

milk

1/4

cup

Pumpkin Spice Coffee-mate

2

tablespoons

butter

1/2

cup

heavy cream

1

tablespoon

Pumpkin Spice Coffee-mate
Instructions
Preheat oven to 325 degrees and lightly grease a 9x5-inch loaf pan.

Combine all ingredients for bread (flour through 2 tablespoons Coffee-mate) in a large bowl. Stir just until mixed.

Pour batter into prepared pan, place in oven and bake for 60 minutes. Let bread cool completely before proceeding.

Heat a large nonstick skillet over medium heat.

Cut bread into slices. In a pie plate, whisk together eggs, milk, and Coffee-mate.

Dip bread slices in egg mixture briefly, coating each side.

Lightly coat skillet with butter and place 2 pieces of bread at a time in the skillet. Cook for about 2 minutes per side or until lightly browned. Repeat with remaining bread. (If doing more than about 8 slices, you will need more egg mixture.)

Beat heavy cream using an electric mixer with a whisk attachment. Once stiff peaks start to form, add 1 tablespoon Coffee-mate and turn mixer off once it is mixed in.

Serve French toast with whipped cream and maple syrup.
Want to Save This Recipe?
I was selected for this opportunity by Clever Girls Collective, however all content and opinions expressed here are my own.