This is a Sponsored post written by me on behalf of PeiWei for SocialSpark. All opinions are 100% mine.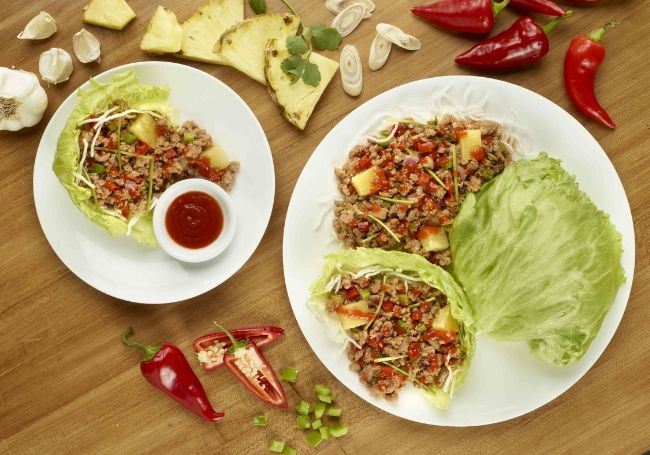 span>
Y'all know how I love spicy food. And out of all the spicy condiments available Sriracha is my absolute favorite. That's why I was so excited to learn about Pei Wei Asian Diner's new Sriracha Pineapple Pork Lettuce Wraps. Priced at just $6.95 they are made from all-natural, wok-seared pork, fresh cut ingredients (pineapple, red onion, and red and green peppers), topped with a spicy Sriracha sauce, and served with crisp lettuce cups.
They are amazing! The sweetness of the pineapple and the spice of the sriracha, all wrapped in a cool, crisp piece of lettuce, is positively delicious.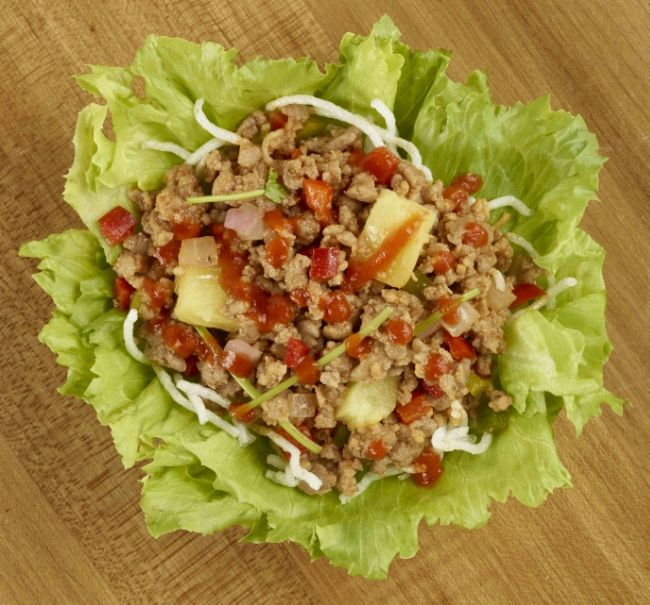 The only lettuce wraps I've had that compete with these Pineapple Pork Lettuce Wraps are the Chicken Lettuce Wraps at P.F. Chang's. They have been my favorite for years. So much so that I haven't even let my husband order lettuce wraps at any other restaurant. "Nope", I say, "Can't do it. They won't be as good as P.F. Chang's". But now that I've been introduced to Pei Wei's lettuce wraps, we have 2 places we can order them. And it makes total sense that Pei Wei makes such an excellent lettuce wrap seeing as it is owned and operated by P.F. Chang's.
Now I can't wait to go back to Pei Wei and order their other lettuce wraps- Traditional Chicken, Thai Chicken, and Korean Steak. Lettuce wraps make a perfect light lunch or starter to one of Pei Wei's Asian-inspired dinners made from 35 bright, flavorful hand-cut ingredients.
If you're a picky eater there's no need to worry. Every dish is wok'd to order. That means they have no problem pleasing my "doesn't like most vegetables" vegetarian daughter. Huge bonus points.
You can experience a lively, dine-in experience at Pei Wei or a convenient, take-out service. We usually prefer take-out, especially since my son now has his driver's license and can go pick it up for me. Fortunately the only Pei Wei in the Charlotte area is about 15 minutes from our house and in an area of town that my son feels comfortable driving to.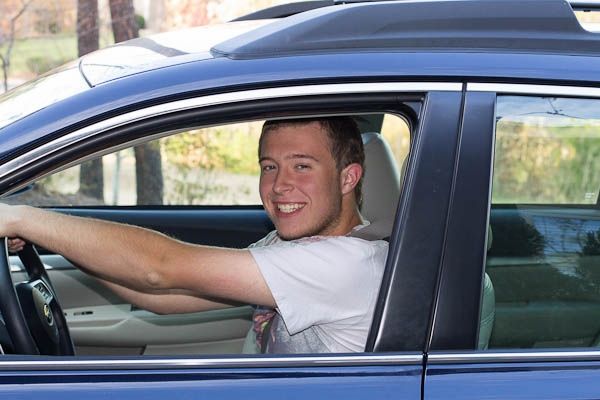 When he first got his license this past summer, I thought I was going to have to go on anxiety medications. But as the weeks passed with no incidents, my fears gradually subsided and now I realize how great it is to be able to send Chase out for meals. It's a huge timesaver. Now, if I could only get him to do my grocery shopping.
He'll gladly drive to Pei Wei any night of the week for some Honey Shrimp. And even better, you can place the order online. Just in case you don't trust your teenager to get the order right.
Honey Shrimp- one of our favorites
Pei Wei has a wide variety of freshly made meals to tempt you. You'll find dishes with Chinese, Japanese, Korean, Vietnamese, and Thai influences. The menu is extensive, customizable, and there are gluten-free and vegetarian options. Explore the full Pei Wei Asian Diner menu  and be sure to Like Pei Wei on Facebook, Follow Pei Wei on Twitter, and Follow Pei Wei on Pinterest.
And hurry up because the Sriracha Pineapple Pork Lettuce Wraps are only available through December.
What about Pei Wei's new lettuce wrap sounds appealing to you? Are you a huge Sriracha fan like me?