I created these Korean Beef Sliders with Asian Peanut Slaw using Campbell's Slow Cooker Sauce as part of a sponsored post for Socialstars. #CampbellsSkilledSaucers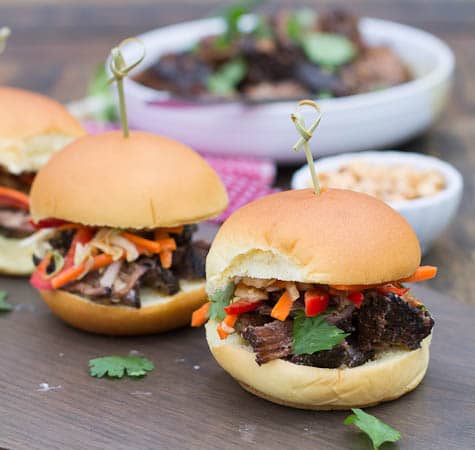 Slow Cooker meals are a favorite of mine for those hectic weeks when I'm running here and there all afternoon and evening. With two teenage kids, our schedules are always changing without notice. Thanks to Campbell's Slow Cooker Sauces, I can add a bunch of new recipes to my slow cooker repertoire.
Best of all, a meal made with Campbell's slow cooker sauces is easier than almost any slow cooker recipe you will find. You literally only spend about 5 minutes (I think I may have spent less) getting everything in the slow cooker and the slow cooker turned on to work its magic. Let it simmer on low for 7 to 8 hours and at the end of the day you have a hearty, comforting meal.
Since my son's diagnosis, easy slow cooker meals are a huge lifesaver, allowing me to put a simply amazing weeknight dinner on the table while attending to more important things. Lucky for us (and you) Campbell's Slow Cooker Sauces come in a variety of flavors for endless easy weeknight dinner options.
Varieties include:
Tavern Style Pot Roast
Sweet Korean BBQ
Hawaiian Luau
Moroccan Spiced Stew
Mexican Red Chili Tacos
I chose to try the Sweet Korean BBQ with roasted ginger and sesame for my first Campbell's Slow Cooker Sauce meal. I'm always a fan of foods with that sweet/savory combo, especially when a little spice is added to the mix!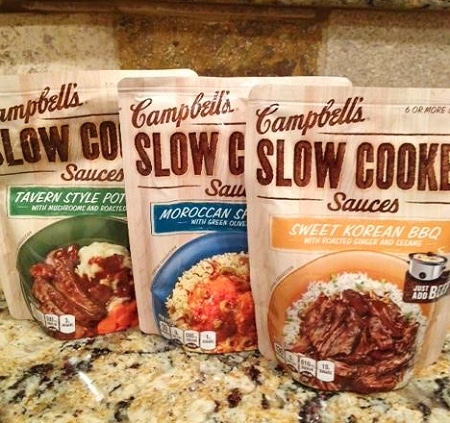 All you do to make the Sweet Korean Beef is place a 2 to 3 pound boneless chuck roast in the slow cooker and pour the sauce on top. How easy is that? And bonus points for chuck roast being economical and easy to find.
Seven to eight hours later, the chuck roast is fall apart tender and completely saturated with the sweet and savory Korean BBQ sauce.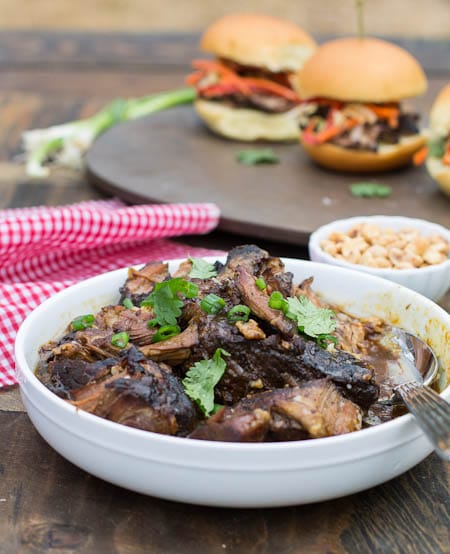 Instead of getting everything started in the slow cooker in the morning, I started it cooking Saturday night before I went to bed. Cooking food in the slow cooker at night while I sleep is something I occasionally like to do, especially if it's something I think I might like to serve around lunch time. In this case my husband, brother, and son were planning to gather for an afternoon of football watching and I wanted to have a little something for them to snack on.
I thought some Korean Beef Sliders with Asian Peanut Slaw would be perfect and I could still have enough of the beef leftover to make an easy dinner out of.
Tip: If you cook in the slow cooker overnight and plan to use the food around lunch time, just turn the setting to warm after the cooking time is up. If I cook at night but don't plan on serving the food until the next night, I just refrigerate it and heat it back up.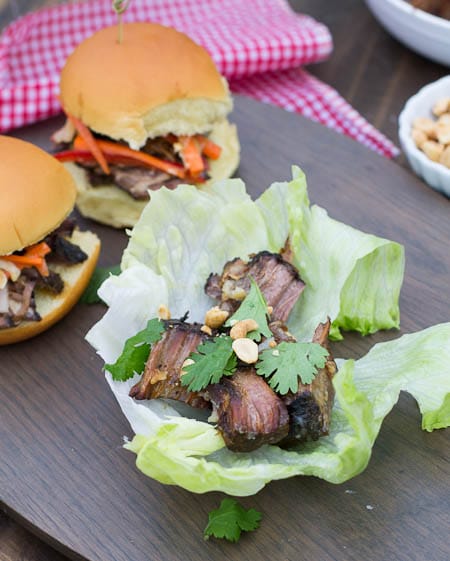 A pouch of Sweet Korean BBQ Slow Cooker Sauce is a fantastically simple way to make an easy weeknight dinner and there are many different ways to serve the Korean BBQ. Place in a lettuce cup and sprinkle with chopped peanuts and cilantro for a fabulous lettuce wrap. Or maybe wrap it in a tortilla with some Asian slaw and rice for a delicious Asian twist on a burrito. In the mood for an easy comfort food meal? Serve on top of rice or mashed potatoes. It's actually so tasty on its own, I had to scold myself for eating it right out of the bowl with my fingers. 🙂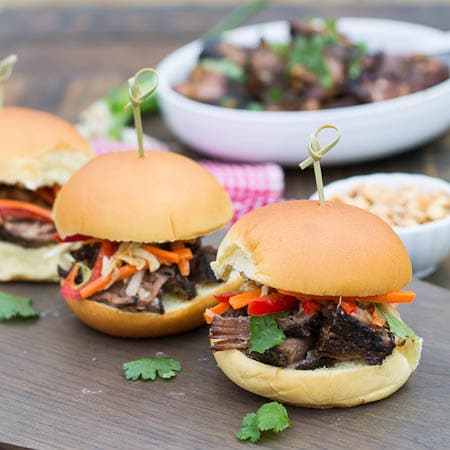 On the menu for next week- Moroccan Spiced Stew.
Follow Campbell's Slow Cooker Sauces on Facebook to find easy slow cooker recipes and be alerted about deals.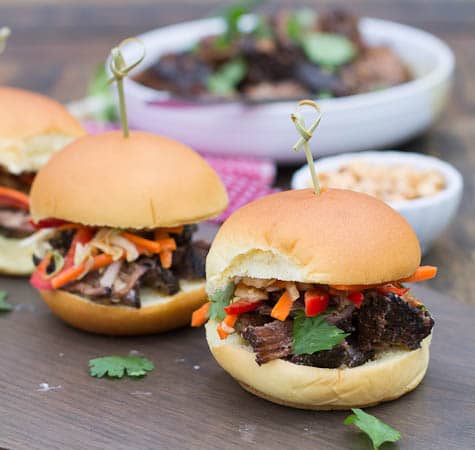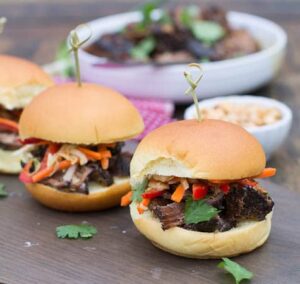 Korean Beef
Delicious Asian-style beef sliders are a breeze to make with Campbell's Slow Cooker Sauce.
Ingredients
1

(2 to 3 pound)

boneless beef chuck roast

1

packet Campbell's Sweet Korean BBQ Slow Cooker Sauce

12

slider buns
Slaw
1

cup

coleslaw mix

1/2

cup

julienned carrot

1/2

cup

julienned daikon radish

1/2

cup

red bell pepper

2

teaspoons

peanut butter

2

tablespoons

rice wine vinegar

1 1/2

teaspoons

sugar

1

teaspoon

soy sauce

1/2

teaspoon

grated fresh ginger

pinch of salt

2

tablespoons

vegetable oil

2

tablespoons

chopped peanuts

2

tablespoons

chopped fresh cilantro
Instructions
Place chuck roast in slow cooker and pour slow cooker sauce on top. Cover and cook on low for 7 to 8 hours, or high for 4 to 5 hours. Shred beef into bite-sized pieces.

Place coleslaw mix, carrots, daikon radish, and red bell pepper in a medium bowl.

In a small bowl, whisk together peanut butter, rice wine vinegar, sugar, soy sauce, ginger, salt, and vegetable oil. Pour over coleslaw mixture and toss to coat. Sprinkle peanuts and cilantro on top.

To assemble, cover bottom of buns with beef and top with slaw.
Want to Save This Recipe?