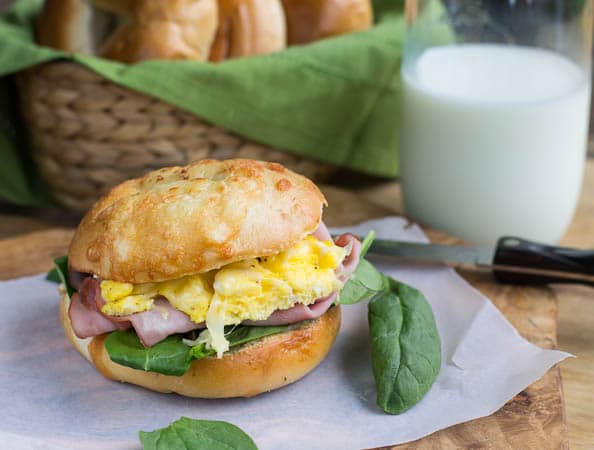 Happy New Year!!! We had a very low-key New Year's Eve. It was actually spent in a Residence Inn in Lexington, Kentucky. Anyone from that area? Our last meal of the year was Hot Browns at a restaurant called Ramsey's. They were so good! And I'm not even crazy about a Hot Brown. But these were absolutely covered in gooey melted cheese and topped with bacon. What's not to love about that?
For breakfast, one of my favorite things to eat is a bagel sandwich with egg, some type of meat, and of course some gooey melted cheese. For this one I've used scrambled egg, ham, gruyere cheese, some baby spinach, and just a light smear of a mayonnaise/mustard mixture, but the combinations are endless.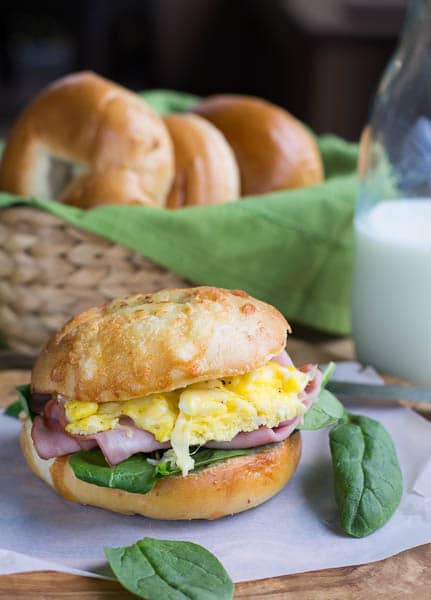 I'll definitely be making many more bagel sandwiches in 2014! I still can't believe how fast 2013 went by or that it's been almost a year since I started Spicy Southern Kitchen. I'm not even sure when exactly I started this blog (I'll have to look) but I know the 1 year mark is coming up soon. I've loved looking at all my favorite blogger's most popular recipes for 2013 posts and I had intended to do one myself, but I just haven't gotten around to it. By far the two most popular recipes on this blog in 2013 were Southern Broccoli Casserole and Double-Stuffed Oreo Pancakes. Definitely two of my favorites too!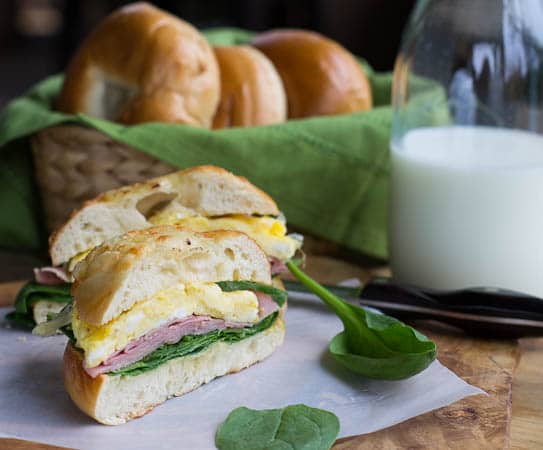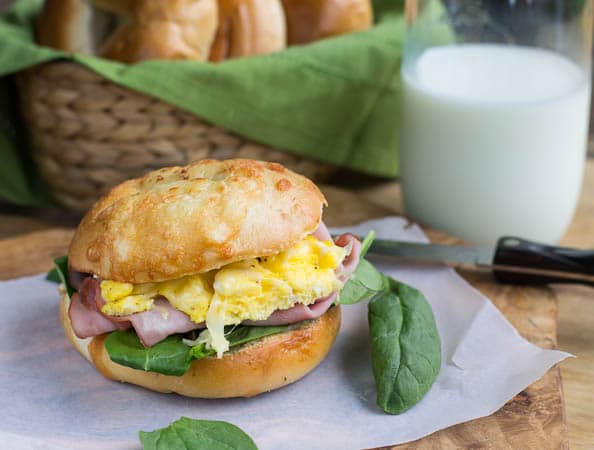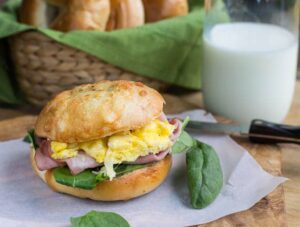 Ham, Egg, and Cheese Bagel Sandwich
A ham, egg, and cheese bagel sandwich with spinach makes a hearty breakfast.
Ingredients
4

Asiago Cheese Bagels split and toasted

or bagels of your choice

1/4

cup

mayonnaise

1

tablespoon

Dijon mustard

4

large eggs

1

tablespoon

butter

salt and pepper

1/2

pound

sliced ham

3/4

cup

shredded gruyere cheese

1

cup

baby spinach
Instructions
Combine mayonnaise and Dijon mustard in a small bowl.

Heat butter in a nonstick pan. Whisk eggs and season with salt and pepper. Add eggs to pan and use a rubber spatula to gently move eggs around the pan as they cook. Once almost cooked, sprinkle cheese on top of eggs so that it will melt.

Push eggs to one side of pan and add ham slices to other side of pan to warm them. Turn heat off.

To assemble spread a small amount of mayo mixture on one bagel half for each sandwich. Top with spinach, ham, and cheese-topped eggs. Place remaining bagel halves on top and serve.
Want to Save This Recipe?