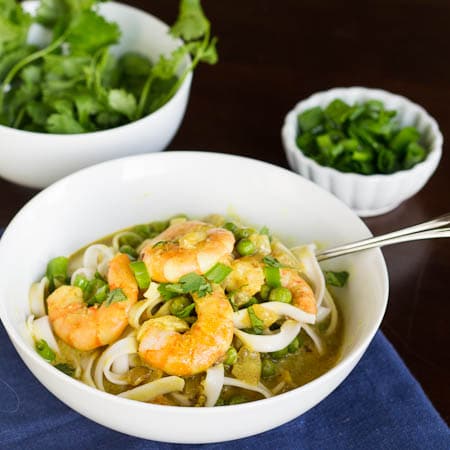 I don't think there's anything I don't like about Sara Foster, especially when it comes to her recipes. I own all of her cookbooks, but her second cookbook Fresh Every Day: More Great Recipes from Foster's Market
is the one I tend to use the most. Some of my favorites from this cookbook include Chipotle Maple BBQ Beef Brisket with Sweet Potato Salsa, Pot Roast, and Chicken Salad with Apples, Grapes, and Spicy Pecans.
Sara always comes up with recipes with unique pairings of ingredients, that are full of flavor, yet easy to make. Her style is sophisticated, yet simple. Something that I don't think is easy to accomplish.
This recipe for Curry Coconut Shrimp is a classic Sara Foster recipe. Beautifully paired flavors, with simple fresh ingredients. It's a breeze to make and perfect for a weeknight meal. I changed the recipe just a little, increasing the amount of curry powder, and coconut milk, and adding peas.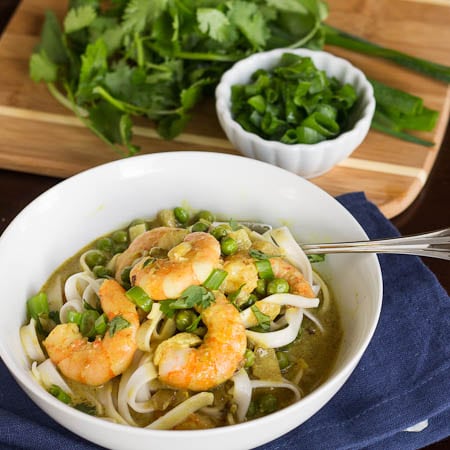 Curry Coconut Shrimp
3 tablespoons olive oil
1 small onion, minced
1 ½ pounds large shrimp, peeled and deveined
Sea salt and freshly ground black pepper to taste
2 ½ teaspoons curry powder
1 garlic clove, minced
1 1-inch piece fresh ginger, peeled and julienned
½ cup dry sherry
1 ¼ cups unsweetened coconut milk
1 cup chicken broth
1 cup frozen peas, defrosted
¼ cup chopped fresh cilantro leaves
2 green onions, minced (white and green parts)
rice noodles, cooked according to package directions
In a large skillet over medium-high heat, heat half of the olive oil. Add onion and cook until soft and translucent, about 3 to 4 minutes.
Add half of shrimp to the skillet, season with salt and pepper, and saute 1 to 1 ½ minutes per side. Remove shrimp from pan and place on a plate. Keep warm.
Add remaining oil to skillet and cook the remaining shrimp. Remove shrimp to plate with a slotted spoon, leaving accumulated juices in the pan.
To the pan, add curry, garlic, and ginger and saute for 1 minute. Add sherry and use a wooden spoon to scrape up any browned bits on bottom of pan. Cook for 1 minute and add coconut milk and broth. Bring to a boil. Reduce heat and simmer for 10 to 12 minutes, or until sauce thickens and reduces by two thirds.
Return shrimp to pan and add peas. Cook for 1 minute to warm and distribute flavors. Remove pan from heat and sprinkle with cilantro and green onions. Season with additional salt and pepper if desired.
Serve with noodles.
Yield: 4 to 6 servings
Disclaimer: Spicy Southern Kitchen is an amazon.com affiliate.