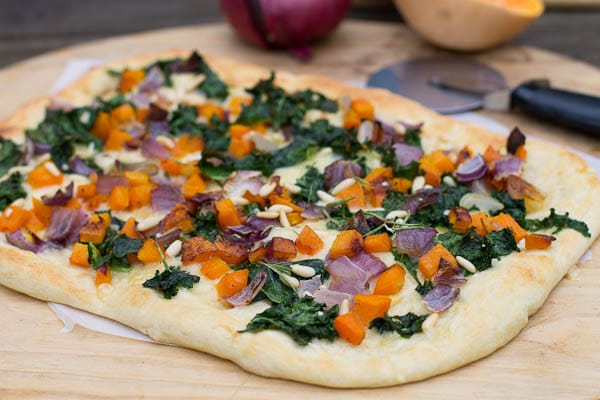 No fall would be complete without at least three butternut squash recipes, along with a few sweet potato and pumpkin recipes too! They are all pretty much interchangeable if you ask me. You could easily roast some sweet potato or pumpkin for this recipe. This flatbread is a wonderful savory sweet treat. I've made it vegetarian, but some bacon or pancetta would be delicious on it and give it some saltiness.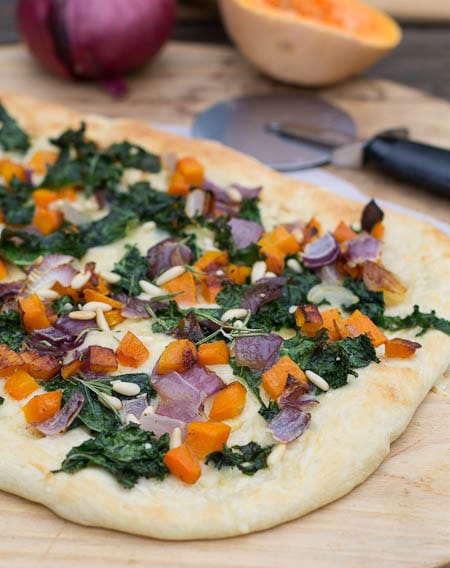 Another thing I like to cook with in the fall is lots of woodsy herbs. As the leaves begin to change color and die, everything seems to take on an earthy scent. This time of year I love foods flavored with thyme (no pun intended), rosemary, and sage. I didn't have any sage so I didn't use it for this flatbread, but it would taste wonderful with some. You could add it in addition to the thyme and rosemary or as a substitute for one or both. Flatbreads can be a quick and easy meal during the week. As it starts getting dark earlier, it seems like there's no time to make elaborate meals that take an extended amount of time. The roasted squash and onion as well as the kale can be made several days in advance. Since I've used a premade pizza dough, this meal can easily be pulled together in 20 minutes if the veggies have been cooked ahead of time.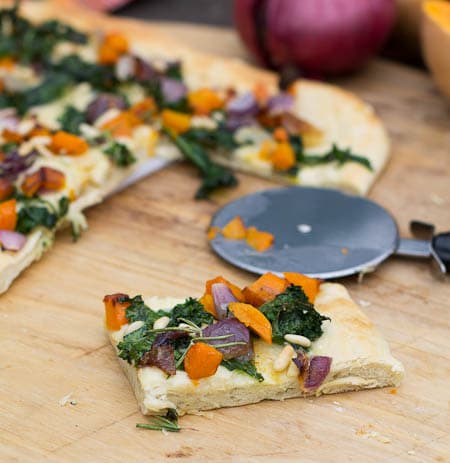 You could serve Butternut Squash and Kale Flatbread with a side salad but since it's loaded with veggies, there's really no need to. It's a meal in itself.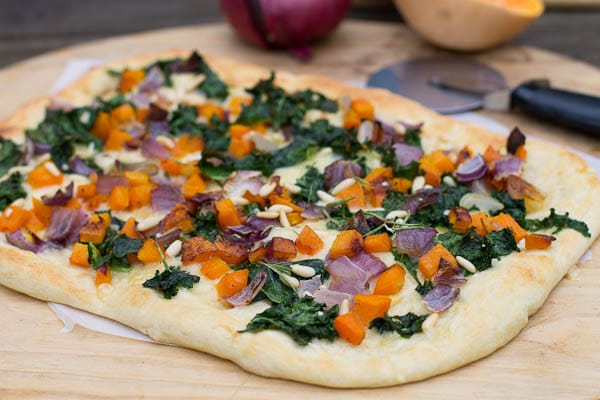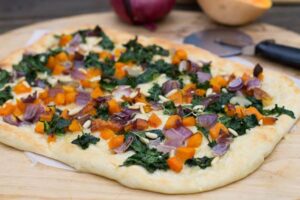 Butternut Squash and Kale Flatbread
A fall-inspired flatbread with roasted butternut squash, red onion, kale, and fontina cheese.
Print Recipe
Ingredients
2

cups

diced butternut squash

1

medium red onion,

chopped

1 1/2

tablespoons

olive oil

salt and pepper

1

small bunch kale,

rinsed well and torn into pieces

1

tablespoon

olive oil

1

pound

pizza dough

1

teaspoon

chopped fresh rosemary

1

teaspoon

chopped fresh thyme

1

cup

fontina cheese

1

tablespoon

pine nuts
Instructions
Heat oven to 425 degrees. Toss squash and onion with 1 1/2 tablespoons olive oil and season with salt and pepper. Spread out on a baking sheet and roast for 20 minutes, stirring half way through.

Heat 1 tablespoon of olive oil in a large skillet. Add kale and sauté for 1-2 minutes, until lightly wilted. Sprinkle with salt.

Lightly spray a jelly roll pan with cooking spray. Shape pizza dough to fit the pan. Prick all over with a fork and bake at 425 degrees for 10 minutes.

Remove from oven and sprinkle with cheese, squash/onion mixture, and kale.

Sprinkle thyme, rosemary, and pine nuts on top. Return to oven until cheese melts, about 5 minutes.