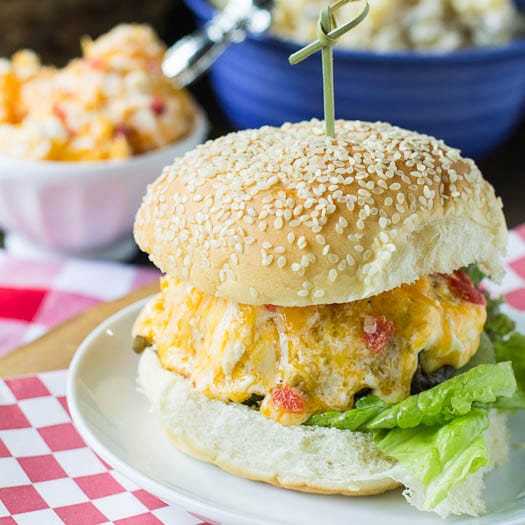 Topped with a southern favorite, Pimento Cheese, these burgers are over the top. A basic ground beef burger gets a flavor explosion when topped with a mixture of cheddar cheese, mayo, cream cheese, and pimentos.
It's insanely creamy and oozing with cheese to the point that the entire burger gets completely covered in a blanket of cheesy goodness.
To make them, you start with a simple homemade beef patty made from ground chuck, some Worcestershire sauce, and salt and pepper. Grill them until nearly done and then top with enough pimento cheese to make a serious mess.
This is a need a whole stack of napkins kind of burger. And maybe a few wet wipes too.
I've just added lettuce to keep it simple, but bacon and onion would also be delicious. Serve with some Buttermilk Coleslaw and Root Beer Baked Beans for an amazing southern cookout.
Leftover pimento cheese can be used to make sandwiches or as a dip for corn chips or fritos. Or try one of these recipes: Pimento Cheese Pizza, Pimento Cheese Omelet, or Pimiento Cheese Spirals.