This is a Sponsored post written by me on behalf of Libby's. All opinions are 100% mine.
These Enchiladas are filled with a pulled pork and corn mixture and covered in a pumpkin-ancho sauce. If you're a fan of spicy food, they are sure to become a favorite.
Pumpkin is one my favorite foods to cook with. I love its versatility. The flavor and consistency of pumpkin complements just about any sweet or savory food.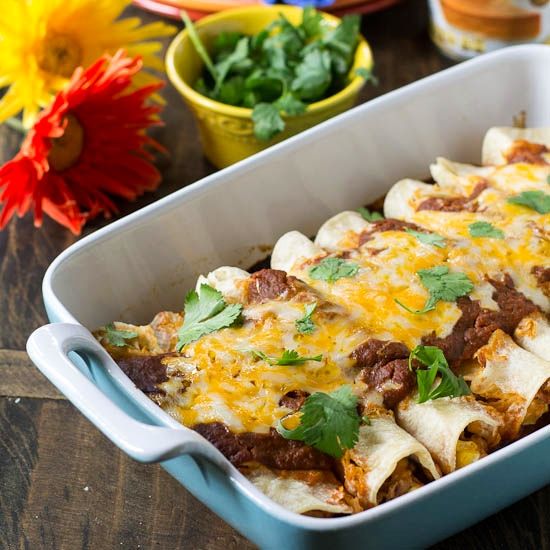 Another reason I love cooking with pumpkin is it is a Superfood, adding tons of good nutrition to any meal. Pumpkin is loaded with beta carotene and adds Vitamin A and extra fiber to recipes. It can be used in baked goods as a replacement for eggs, butter, or oil, allowing you to cut calories and fat without sacrificing moistness or flavor. Stir pumpkin into sauces to reduce sodium content per serving.
Breakfast, lunch, or dinner pumpkin can make any meal taste great. And look pretty too. We live in Clemson Tiger country and we love our orange!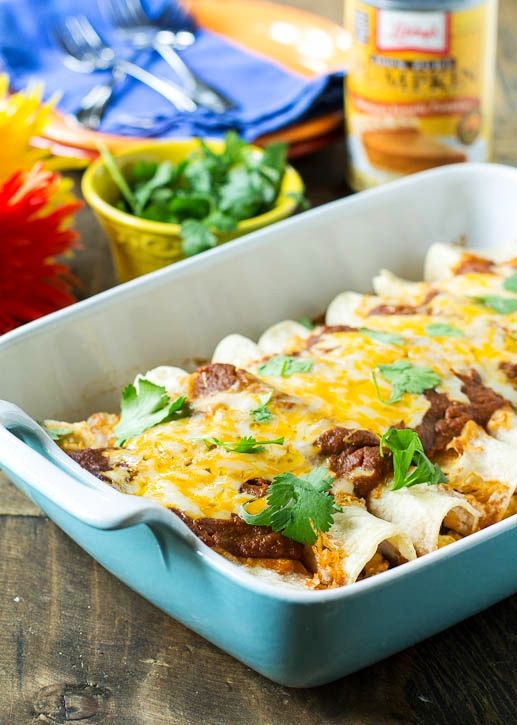 So don't just grab a can of Libby's pumpkin in November to make your Thanksgiving Pie. Pumpkin can and should be used all year long to make delicious meals and treats. Thanks to Libby's canned pumpkin, that height of season pumpkin flavor is available anytime of year. Not sure what you'd like to cook? Visit Libby's Pumpkin for tons of mouth-watering pumpkin recipes. One look and you'll be loading up your pantry shelves with cans of Libby's Pumpkin.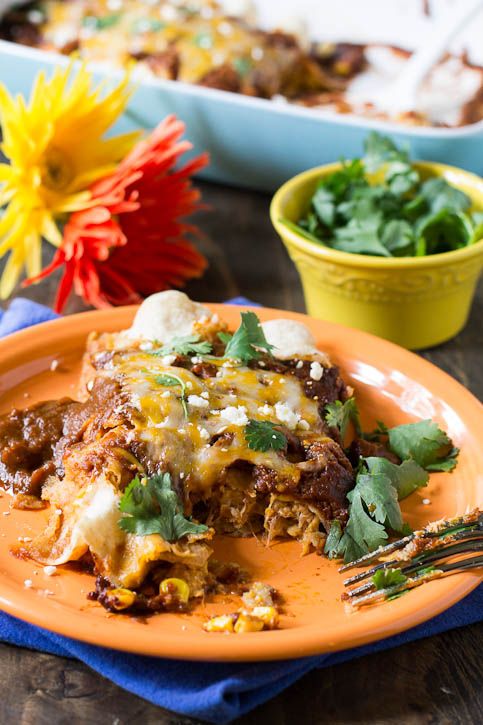 You can add it to oatmeal, smoothies, mac and cheese, and sauces for extra flavor and nutrition. If you're not using the whole can for your recipe, just place the leftover pumpkin in a ziptop bag and place it in the freezer for future use. Or use an ice cube tray to make pumpkin cubes that can easily be added to whatever you are cooking.
During the spring and summer we love to eat Mexican food. There's just something about fiery hot food that's irresistible this time of year.  Pumpkins are a common ingredient in Mexican foods and they are a natural complement to anything spicy.
I decided to make an enchilada sauce by combining pumpkin with ancho chili peppers and it was fantastic. The sauce was simple to make, had the perfect consistency and texture thanks to the pumpkin, and a fabulous smokey flavor. I used an entire can of Libby's pumpkin in the sauce so there's a whole lot of nutrition. The pumpkin really creates a wonderful platform for the flavor of the ancho chili peppers. Inside the enchiladas I did a mixture of pulled pork and corn to give them a little southern flair. You can either use leftover crockpot pulled pork or buy a pound of pulled pork from your favorite BBQ restaurant. You could also use shredded chicken.
I had a little sauce leftover and I'm already dreaming up what to do with it. I'm thinking a potato hash with a fried egg drizzled with Pumpkin-Ancho Sauce. How does that sound for a breakfast?
What is your favorite way to cook with pumpkin besides the traditional pumpkin pie?
Do you have your own great ideas for using pumpkin? Share them on Pumpkin Can  for the opportunity to win weekly prizes.
You don't want to miss out! They have some really great prizes! And be sure to follow Libby's on Pinterest for recipe inspiration and more. You can also follow Libby's on Facebook.