An Old-Fashioned Chocolate Meringue Pie with a rich custard filling, a light and airy meringue and a tender pie crust always brings back memories of childhood. Nothing beats homemade pie just like grandma's pie.
One of my great grandmother's specialties was chocolate meringue pie. She would tirelessly whip those egg whites by hand. Thank goodness, I can let my Electric Mixer do the work! That takes some serious forearm strength.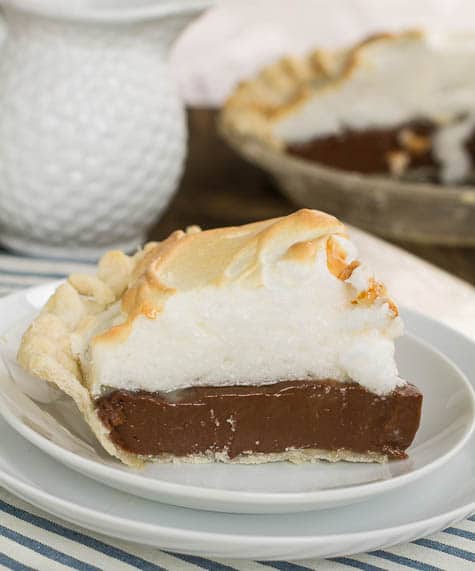 Unfortunately I don't have my great-grandmother's recipe, but this one is very similar. It's a recipe from Charlotte's Eats & Sweets in Keo, Arkansas that was published in Southern Living Off the Eaten Path: Favorite Southern Dives and 150 Recipes that Made Them Famous
. I've altered the recipe just a little, reducing the vanilla extract and adding an extra egg white to the meringue.
This is a really solid recipe that produces a super-sweet chocolate filling that is balanced out by a meringue with just a touch of sweetness.
The cornstarch really helps the chocolate filing set up so that it holds its form when sliced and doesn't make a soupy mess all over the plate. Don't be intimidated by the meringue. It's super easy. Just remember that eggs are easier to separate when they are cold but egg whites should be at room temperature when you make a meringue. And make sure to use a very clean and dry bowl. Just a tad of oil or grease will prevent the egg whites from whipping up nicely.
Once baked, cool the pie at room temperature for 1 hour and then refrigerate uncovered for 3 to 6 hours. To slice the pie, dip a knife in water before cutting each slice and don't wipe the knife dry. The water will help prevent the pie from clinging to the knife.
To store leftovers, gently place a few toothpicks in the meringue and cover with plastic wrap. The toothpicks will prevent the plastic wrap from clinging to the meringue and messing it up.
Below are a few pictures from my weekend getaway in Beaufort, SC. Beaufort is the second oldest city in South Carolina and has a very rich and interesting history. And I feel quite sure there have been more than a few Chocolate Meringue Pies made in Beaufort through the years.
Historic home on Bay St.
Unlike many southern cities, Beaufort was not burned during the Civil War and there are still block after block of beautiful antebellum homes. Beaufort was one of the first southern towns to be captured by Union forces and many of the homes were used as hospitals during the war.
The stone home pictures above is next to the white one in the first picture and it is for sale for just under $1.2 million. All that stone looks rather foreboding doesn't it?
If you sit on the front porch of either house you have this beautiful view of the Beaufort River.
Just a few blocks away on Craven St is the house pictured below which is one of my favorite in Beaufort. The house is so big, only part of it can be seen in the picture.
Known as "The Castle", this home was used as a hospital during the war and an outbuilding out back was used as a morgue. The home is now said to be haunted. Like almost all of the historic homes in Beaufort, it is still a private residence. The wedding scene from the movie Forces of Nature was filmed in the front yard.
Walking the historic streets of Beaufort, lined with live oaks draped in Spanish moss, is one of my favorite things to do to unwind. With the breezes of the water and the sound of the seagulls, it's hard not to relax. I'm hoping it won't be long before I get to go back.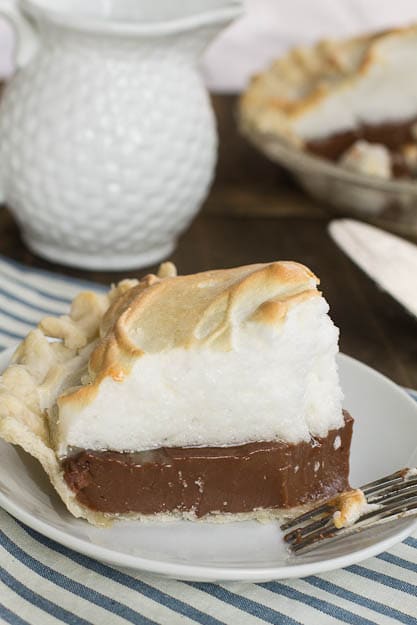 Never miss a recipe! Follow Spicy Southern Kitchen on Pinterest and Instagram.
Sign up HERE for the Spicy Southern Kitchen Newsletter.
Linking up with the
Weekend Potluck
at The Country Cook.
Disclosure: This post contains affiliate links.