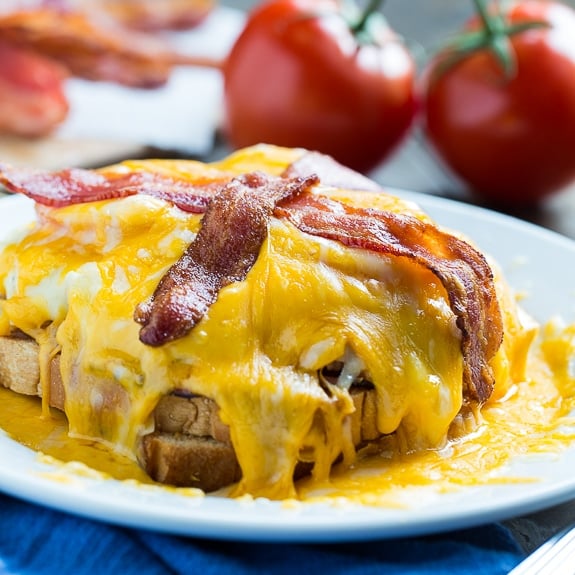 The Kentucky Derby is just weeks away so I have all things Kentucky on my mind- Juleps, Derby Pie, red roses, and yes- the famous Hot Brown Sandwich. This open-faced sandwich originated at The Brown Hotel in Loiusville, KY in the 1920s where it was served as a midnight snack.
This recipe I'm sharing today is an adaptation of a recipe from the cookbook The Southern Foodie: 100 Places to Eat in the South Before You Die (and the Recipes That Made Them Famous)
. This cookbook is full of recipes from restaurants around the south, and when I first got it and was flipping through the pages, this Hot Brown recipe from Ramsey's in Lexington, KY caught my eye.
We ate these very same sandwiches at the very same restaurant not too long ago during the most stressful time of our lives. And boy, were they ever comforting.
New Year's Eve 2013 we were on our way home from Indianapolis. At the time our son was being treated for advanced testicular cancer by local doctors in Charlotte, NC. But since testicular cancer is fairly rare, especially in teens, I knew we had to consult with an expert and it just so happens that the world's leading authority on testicular cancer is an oncologist at Indiana University- Dr. Larry Einhorn. Dr. Einhorn is the type of person who impacts the life of every person he comes in contact with. He truly is the most kind, generous, and humble person you will ever meet. Each time we saw Dr. Einhorn, I left feeling inspired to be a better person.
We had seen Dr. Einhorn that morning. He had been so positive and encouraging, expressing that he had every reason to believe our son would fully recover and be cured, that we really had a reason to celebrate.
And we did with the most delicious Hot Browns ever.
The Kentucky Hot Browns at Ramsey's Diner are slightly different from the original, but I think they are so much better. Toasted bread topped with turkey, ham, and tomatoes, covered in a thick, flavorful cream gravy. The whole thing is completely covered in cheddar cheese, plus a little parmesan, broiled until melted and then topped with bacon.
Hot Brown's don't get any better than this y'all!
For plenty more Southern Recipes and Food inspiration follow Spicy Southern Kitchen on Pinterest and Instagram.
Adapted from:
The Southern Foodie: 100 Places to Eat in the South Before You Die (and the Recipes That Made Them Famous)
Sharing this recipe with The Weekend Potluck. Stop by to see all the fabulous recipes.
More Kentucky Inspired Recipes
Mint Julep Brownies
Peach Basil Juleps
Disclosure: This post contains Amazon afilliate links.