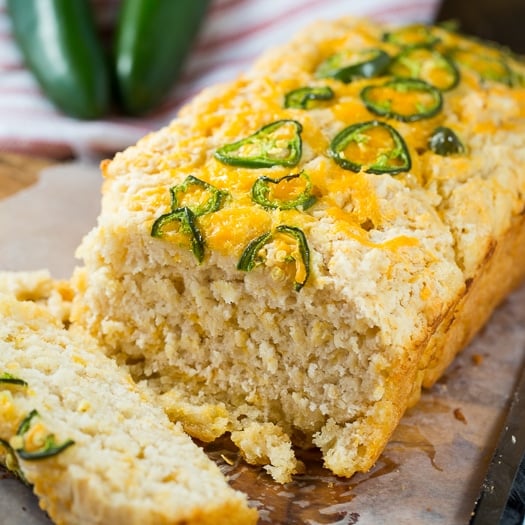 Jalapeno Beer Bread with cheddar cheese has a thick, crisp and buttery crust and a tender, moist inside. This bread is quick, easy, and delicious. A little sweet and a lot spicy, it pairs well with a bowl of chili or Brunswick Stew. If you have any leftover, it tastes good toasted for breakfast. There's never a crumb of this bread that goes to waste.
Beer bread is hands down the easiet bread to make. But just because it's easy doesn't mean it is lacking in flavor. Melted butter is poured into the bread pan before the batter is added. Then more melted butter is added to the top. The butter makes the outside bake up incredibly crispy and flavorful.
This is the perfect bread for people who don't fancy themselves bakers. Simple ingredients, Simple technique. It really can't be messed up. If you don't want any heat, just leave out the cayenne pepper and jalapenos. It will still be delicious.
Different beers can really change the flavor. I'd start with a light beer the first time and then maybe try a dark, craft beer to see which you like better.
Recipe Source: adapted from
The Pastry Queen: Royally Good Recipes from the Texas Hill Country's Rather Sweet Bakery & Cafe
Sharing this recipe with the Weekend Potluck