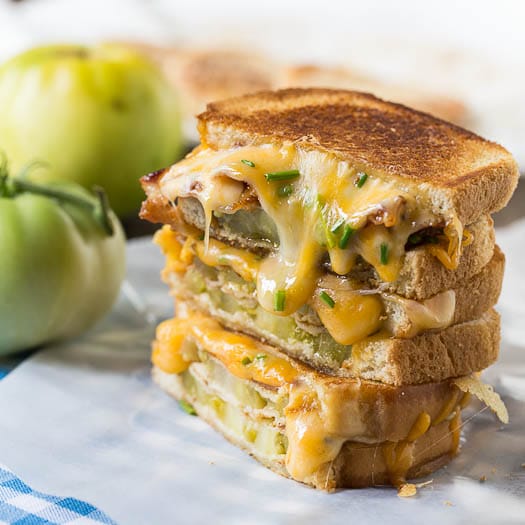 With crispy and slightly tart fried green tomatoes, a mound of gooey cheese, and several slices of bacon, this is the ultimate southern grilled cheese sandwich.
Ok,ok, maybe not quite the ultimate. That would include pimento cheese. But this is pretty close.
The real star of this sandwich is the fried green tomatoes. They are one of my absolute favorite foods. I love them served as an appetizer, Fried Green Tomatoes with Peach Pepper Jelly Sauce , on a burger, or in a grilled cheese sandwich.
They only improve when paired with bacon and covered in gooey cheese.
I wanted to use Texas Toast for this sandwich, but I went to 2 stores and couldn't find any. How can that be?
It's a shame too because 2 flimsy pieces of white bread can hardly contain all the yumminess in this sandwich.
Fried green tomatoes are best cooked in bacon grease in a heavy cast iron skillet. But you can also use vegetable oil and a regular skillet. They will be delicious either way.
Summer is almost over! Time to enjoy those fried green tomatoes while you can.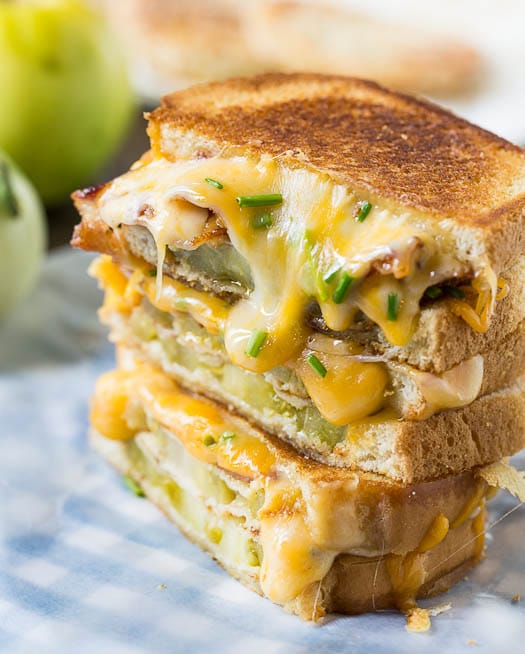 Sharing with The Country Cook's
Weekend Potluck
.