Easy Strawberry Poke Cake is a retro-style dessert made with a box of cake mix, strawberry gelatin, and a whipped cream topping. And of course lots of fresh strawberries.
It is just a matter of weeks before the pick-your-own strawberry field near my house opens. They are the plumpest, juiciest, reddest strawberries ever.
Spring should be full of plenty of strawberry treats.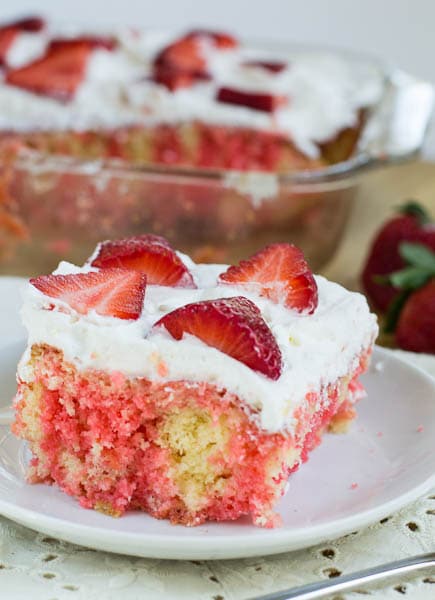 This Easy Strawberry Poke Cake is similar to the Strawberry Tres Leches cake I made last year. To make a poke cake, you first bake an easy white cake using a box of cake mix. I've added a box of pudding mix, 4 eggs, vegetable oil, and milk to make sure the cake doesn't come out dry.
Once cooked, you poke the cake all over with a serving fork or straw, just like you would a tres leches cake. Dissolve the strawberry flavored gelatin in water and pour on top of the cake. It seeps down into the holes creating a beautiful colored pattern and distributing that super sweet strawberry-flavored goodness throughout the cake.  Finish it off with some fresh whipped cream and fresh strawberries for a beautiful and delicious spring dessert.
You can make this recipe even easier by using cool whip to frost the cake instead of fresh whipped cream. But fresh whipped cream is one of my favorite things to make (and eat!) and it only takes a few minutes. The cream will whip up faster and better if you remember to chill the mixing bowl and whisk attachment for your mixer in the refrigerator before whipping the cream.