Chicken Alfredo Pizza is a pizza version of the creamy pasta dish and it has so much flavor. For the first level of flavor, the pizza dough is coated with a garlic butter. Next comes a rich and creamy sauce flavored with Romano cheese (parmesan cheese could be used instead).
The toppings include diced chicken, baby spinach, green onion, bacon, and of coarse mozzarella cheese.
For the pizza dough, you can use a premade crust such as Boboli, buy pizza dough from the grocery store or favorite pizza restaurant, or make your own.
If you make your own, I love Craftsy's Perfect Pizza at Home . It's a totally free online class taught by Peter Reinhart, the author of American Pie: My Search for the Perfect Pizza
. You can watch it as many times as you like and the recipes and instructions are excellent. It will take your pizza making skills to new heights.
I make this pizza vegetarian for my daughter by leaving out the chicken and bacon and using some steamed broccoli instead. She loves it!
Never miss a recipe. Follow Spicy Southern Kitchen on Pinterest and Instagram.
More Pizza Recipes
Chipotle Chicken Pizza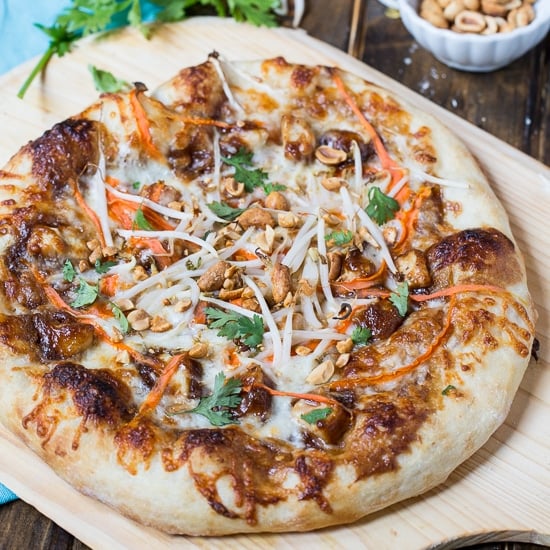 Thai Chicken Pizza
Follow Spicy Southern Kitchen| Christin Mahrlig's board Going Bananas! on Pinterest.
Disclosure: This post contains affiliate links.