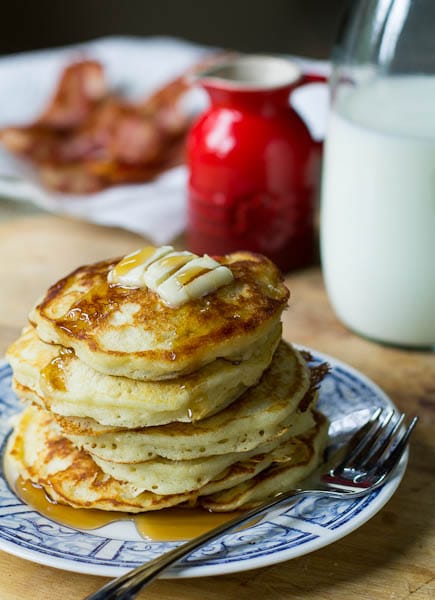 I've made all kinds of pancakes through the years. Caramel Cake Pancakes, Cake Batter pancakes, Double-Stuffed Oreo, Banana Pudding Pancakes, and Pumpkin Pancakes are some of my favorites. It's great fun to get creative with pancakes and add different ingredients. Some of the pancakes I've made are definitely more like a dessert than breakfast. That makes it even more fun.
But truth be known, this basic recipe for Buttermilk Pancakes, with no special ingredients whatsoever, is my absolute favorite pancake recipe. I used to make it just about every weekend and the recipe is permanently ingrained in my memory. It comes from the cookbook My Mother's Southern Kitchen: Recipes and Reminiscences
by James Villas which is full of old-school southern recipes. The kind your grandmother made.
These pancakes are exceptionally fluffy and buttery with a little sweetness from some added sugar. My daughter likes to eat them plain with no syrup. But I think they are out of this world with an extra dab of butter on top and drizzled with maple syrup.
I know it's tempting to grab a box of Aunt Jemima mix when you want to make pancakes. Aunt Jemima doesn't make a half bad pancake I must say. But these homemade pancakes are fabulous and they're really not that much more trouble than making pancakes from a box. Just quickly mix together some flour, sugar, baking powder, baking soda, and salt. Add in an egg, melted butter, and buttermilk and you are ready to go. I sometimes get the dry ingredients mixed the night before and then these pancakes can be made in a flash. Happy pancake eating!
Recipe Source:
My Mother's Southern Kitchen: Recipes and Reminiscences
Spicy Southern Kitchen is an amazon.com affiliate.