Cornbread made as muffins is one of the easiest ways to add bread to a meal. All you need are a few simple ingredients, a few bowls, and a muffin pan and you can have piping hot cornbread in a matter of minutes.
This recipe makes a large batch- 24 muffins, but the leftovers will freeze well.
People always debate whether cornbread should be sweet or not sweet. These are somewhere in between. There's  1/4 cup of sugar added to the batter, which divided between 24 muffins really isn't that much. If you have a big sweet tooth, drizzle a little honey on them for some added sweetness.
Or, if you really want a sweet corn muffin, try this Boston Market-style Cornbread. It's more like cake passed off as cornbread!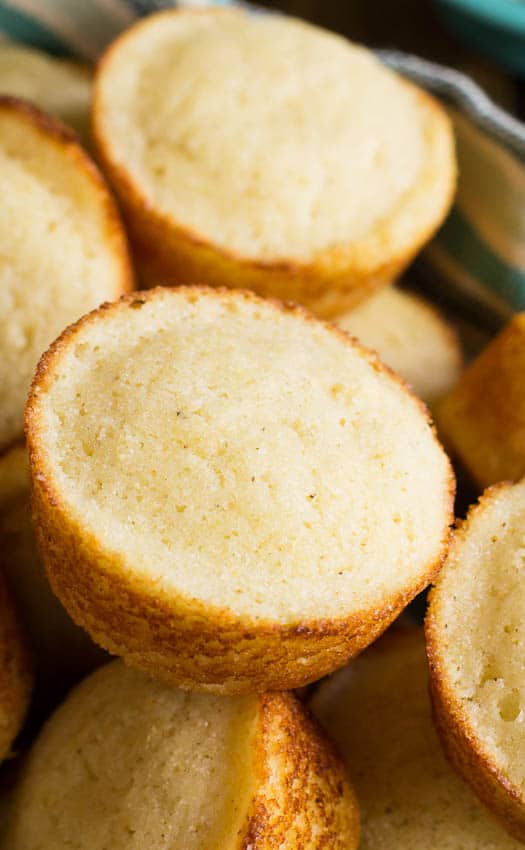 This Buttermilk Cornbread recipe is from the cookbook Southern Living Off the Eaten Path: Second Helpings: Tasty eats and delicious stories from the South's less-traveled trails
 which is one of my favorite cookbooks. (I have a lot of favorite cookbooks :). It just makes me want to jump in the car and do a road trip. The recipe is from Weaver D's in Athens, GA. Except for dropping my son off at tennis camp at University of Georgia, I haven't spent any time in Athens. Hopefully I can get back there sometime and go to Weaver D's for some home cooking.
Have you ever thought about planning a road trip solely based on a road trip?
Buttermilk Cornbread Muffins
These Buttermilk Cornbread Muffins get nicely browned on the outside and are delicious served with lots of butter.
Serves:
12 (2 per serving)
Ingredients
¼ cup vegetable oil
3 cups self-rising white cornmeal mix
¼ cup sugar
2 cups buttermilk
½ cup butter, melted
1 tablespoon mayonnaise
3 large eggs, lightly beaten
Instructions
Preheat oven to 425 degrees. Add ½ teaspoon of vegetable oil into each of 24 standard-size muffin cups. Place muffin pans in oven and heat for 5 minutes.
In a large bowl, combine cornmeal and sugar.
In a medium bowl, whisk together buttermilk and remaining ingredients.
Make a well in center of cornmeal mixture and pour in buttermilk mixture. Stir just until dry ingredients are moistened.
Spoon batter into hot muffin tins, filling ⅔'s full.
Bake for 12-15 minutes or until golden brown. Serve warm.
Disclosure: Spicy Southern Kitchen is an amazon.com affiliate
.