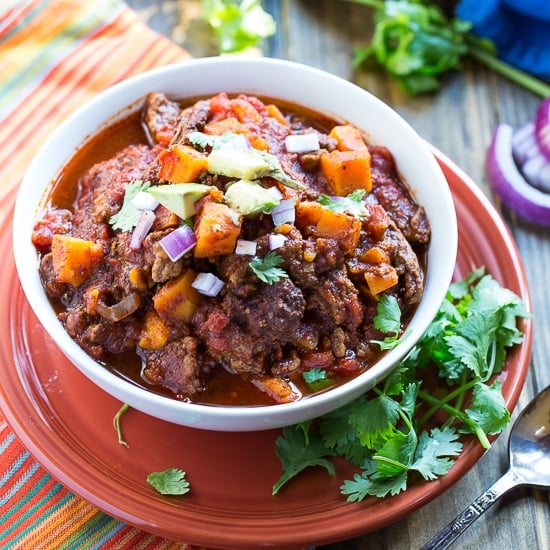 Just about nothing beats a bowl of chili on a cold day. This Beef and Sweet Potato Chili is loaded with ground beef and tender chunks of sweet potato. I'm a huge fan of sweet potatoes in chili. Not only does it add lots of good nutrition,  but the sweetness tastes wonderful with all the spices a good pot of chili has.
This one is spiced up with a hefty dose of chili powder, cumin, oregano, Italian seasoning, and red pepper flakes. The chili is started in a pan to brown the ground beef and soften the onion and garlic and then it is transferred to a crock pot to simmer away for hours and build lots of flavor.
After hours of slow cooking, the flavors are wonderfully blended. It tastes even better the next day if you have any leftover. Sometimes I like to serve the leftovers over a baked potato. This is especially good if you have some leftovers, but not enough for a full meal.
I wanted to keep this meal as healthy as possible so I only topped it with avocado, red onion, and cilantro. But if you want to load on the cheese and sour cream, all the better.
Thick, hearty, and spicy chili with a little sweetness from chunks of sweet potato – it is sure to be devoured by all.
Never miss a recipe. Follow Spicy Southern Kitchen on Pinterest and Instagram.
More Chili Recipes
Disclosure: This post contains affiliate links.